SETsquared company Blu Wireless wins Cambridge start-up prize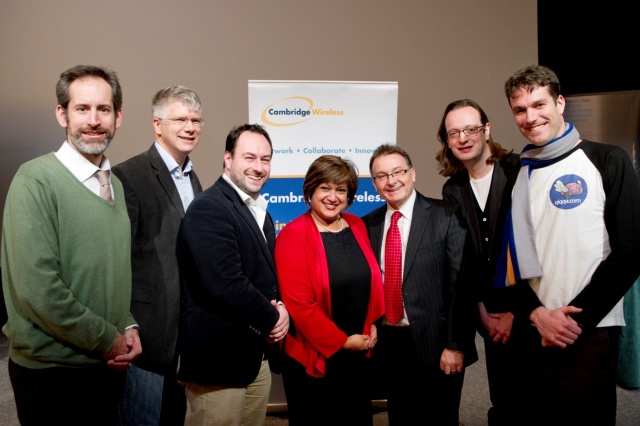 Innovative Bristol business bucks the trend for fabless semiconductor start-ups
Blu Wireless Technology, based at SETsquared's Business Acceleration Centre in Bristol, is one of five new technology businesses to win the Cambridge Wireless Discovering Start-Ups 2011 competition. The company was recognised for its low power 60GHz semiconductor technology.
The company was selected from 20 start-ups invited to pitch their innovative wireless technologies and business plans to 25 leading venture capitalists, angels and industry investors. Senior representatives from companies including Microsoft, RIM, Nokia, Qualcomm Ventures, Innovacom, Broadcom, Orange, O2 Telefonica and ARM were there to judge the finalists and provide expert advice.
The winners receive £2,000 each along with free business and consultancy services, and have the opportunity to present their new technologies and business visions to over 300 leading wireless industry delegates from more than 20 countries at the 2012 Future of Wireless International Conference next June.
"The quality of entrants shows that innovation and entrepreneurship is clearly very much alive," said Clennell Collingwood, investment director at TTP Ventures. "It was difficult for us to pick out five winners and we are confident that all the Discovering Start-Up winners and many of the other finalists will go on to make important contributions to the wireless industry."
Mark Barrett, CEO of Blu Wireless commented: "We are very pleased to win this award, as this provides further validation that our approach for delivering best–in-class 60GHz WiFi product has been recognised by leading investors and industry experts. Moreover, it also demonstrates that our capital-efficient approach is changing the investment paradigm for UK fabless semiconductor companies."
Nick Sturge, centre director at SETsquared, says this highlights the exciting opportunities arising out of the highly innovative technology, and specifically the micro-electronics cluster in the Bristol and Bath area. "Traditional VC investors are struggling to understand the opportunities around early stage, silicon-based technology businesses," said Sturge. "But we can see that the good businesses – and we only support ones we believe in – are managing to gain the recognition and the funding they need, albeit at a slower speed than we would like. It is great – but not surprising – that Bristol companies are winning awards wherever they go."
Blu Wireless Technology has already raised seed funding and is now actively discussing Round-A funding for the business. 
Mailing List sign-up
Get all the fresh insights first! Stay up-to-date with all the
latest investment news, blogs and all things SETsquared.
Sign-up
Close