SETsquared Exeter company honoured at prestigious awards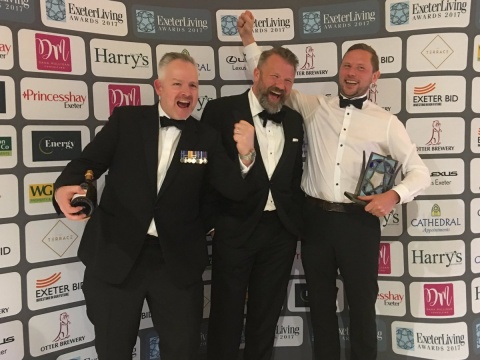 Exeter based tech company, Custodian Solutions have been honoured at the prestigious Exeter Living awards recently held at the University of Exeter's, Great Hall on 6 April . The company secured the award for Technology and Innovation, a newly added category in response to a great local strength in the city.
Custodian Solutions have developed a cloud based anti -counterfeiting platform. It helps large enterprises to secure, track, trace, authenticate and analyse evidence and data as part of their brand protection and product security strategy. The platform allows enterprises to efficiently identify products at risk and protect consumers. It also allows for thorough enforcement and successful litigation.
This award is the latest in a long line of awards that Custodian have received including the SETsquared Entrepreneurship Pitching session, the Judges Award at Pitchfest  and Global Anti-Counterfeiting Technology Award nominated by Unilever Plc.
Speaking of Custodian Solutions achievement the judges said: "Such a clever, unique business which could make a substantial difference and deserves to go far. The recognition it has had so far indicates how successful this company will be."
Joel Stobart, CEO of Custodian Solutions said: "Custodian is delighted and honoured to receive this recognition for its work in devising a ground-breaking technology to secure, capture and analyse anti-counterfeiting evidence from acquisition to  litigation. Our Exeter base is no coincidence, it's clear that Exeter has a unique quality of life. The natural beauty, sustainable growth, community pride and tech friendly culture all work together. Exeter is a place where technology businesses, like ours, are given opportunity to thrive."
Joe Pearce, Business Support at SETsquared Exeter said: "It is great to see Exeter continuing to be recognised for the impact delivered by its digital and tech businesses. Custodian Solutions is an excellent example of a thriving local company helping Exeter to secure its place on the global innovation map."
The Exeter Living Awards, now in its second year recognise business successes in the region, featuring a guest list of 400 people invited to a glamourous ceremony at the University of Exeter campus.
Other award winners at the evening included the Science Park which took the award for Property and three Science Park Centre companies who were finalists for awards across the categories.
Mailing List sign-up
Get all the fresh insights first! Stay up-to-date with all the
latest investment news, blogs and all things SETsquared.
Sign-up
Close