SETsquared named as winning university collaboration to deliver the Industrial Strategy for Scale-Ups across the South of England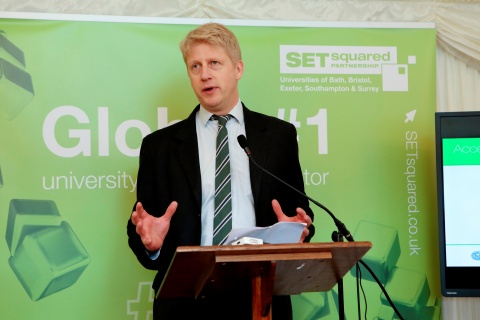 Jo Johnson, Minister of State for Universities & Science at SETsquared's House of Commons Reception
SETsquared has been awarded £5m by HEFCE to launch a new Programme for Scale-Up businesses from the most innovative sectors across the South of England.
Jo Johnson, Minister of State for Universities & Science, announced the award as part of £20 million allocation to the first round winners of HEFCE's Connecting Capability Fund competition. The Fund, which was announced in the Government's Industrial Strategy green paper (which also cited SETsquared), aims to support universities in working together and with external partners to commercialise research, help deliver the Strategy and share good practice and capacity.
The SETsquared Scale Up Programme will be open to businesses from the Advanced Engineering & Manufacturing, Digital Innovation, Environmental, Sustainable and Marine/Maritime, and Health and Wellbeing sectors from April 2018. Read the full announcement
Click here if you would like to be kept informed about developments with the SETsquared Scale-Up Programme
Mailing List sign-up
Get all the fresh insights first! Stay up-to-date with all the
latest investment news, blogs and all things SETsquared.
Sign-up
Close