SETsquared-supported company Karus Therapeutics secures $7.6 million funding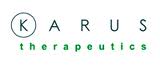 Investment for cancer and inflammatory disease medicines
SETsquared has announced that Karus Therapeutics, a company it has previously supported, has recently secured $7.6 million funding as the first tranche of Series B Investment.
Karus Therapeutics develops medicines for the treatment of cancer and inflammatory diseases such as arthritis. It will use the funding to advance its proprietary PI3-Kinase p110- delta/beta and HDAC6 inhibitor programmes through early clinical trials.
Karus was spun out of the University of Southampton in 2005. It was based at the SETsquared Southampton Business Incubator for three years before graduating on to the University of Southampton Science Park.
Whilst at the Incubator, Karus went through SETsquared's investor readiness programme. This included attending SETsquared's annual Investment Showcase event, giving it an opportunity to pitch to investors with the potential to gain funding and significantly raise the profile of the company. The company also participated in SETsquared's UK-US programme that resulted in a Connect Springboard Presentation in San Diego in 2007.
Simon Kerry, Chief Executive Officer of Karus, said: "From initial set-up through to the management of our ongoing relationship with the University, the SETsquared programme, including the technical expertise, facilities and network of business advisors, was a key part of our early development."
"Karus is an excellent example of a company that has benefited from SETsquared's Investment Showcase, and the opportunities it creates for early stage businesses," said Graham Harrison, Partnership Director at SETsquared.
The financing was led by new investors, SV Life Sciences, New Leaf Ventures, Novo A/S and International Biotechnology Trust, who were joined by existing investors, IP Group and a number of Angel investors.
SETsquared's 2012 Investment Showcase will be held on 18th October in London.
Mailing List sign-up
Get all the fresh insights first! Stay up-to-date with all the
latest investment news, blogs and all things SETsquared.
Sign-up
Close