SETsquared university teams reach final of Keyloop Dealer Tech Competition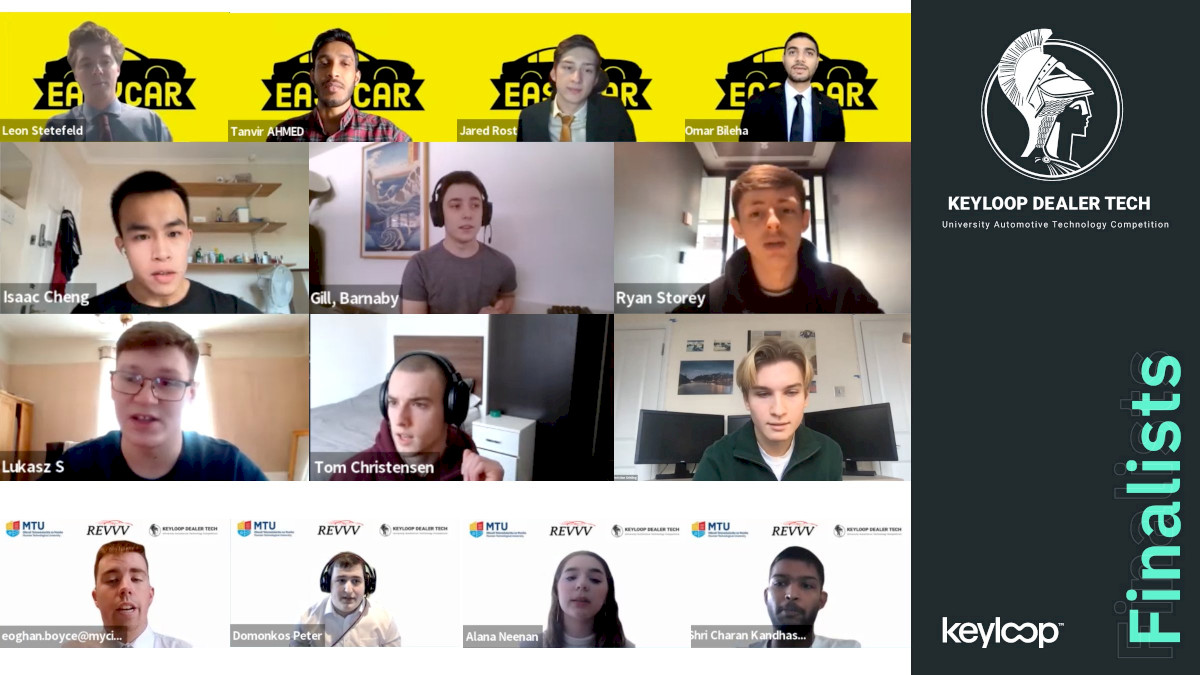 Four teams of students from SETsquared's partner universities have won the second annual Keyloop Dealer Tech Competition.
Over 1,000 students from leading universities across the UK, Ireland and Canada registered their interest in the competition held by the global automotive technology company. The competition encourages innovation in automotive retail and promotes the industry as a vibrant career choice for students.
The successful teams from SETsquared's partner universities and recipients of £1,000 were:
University of Bath
Winning Team: Tom Christensen
The Idea: A platform for consumers to compare and recommend the most suitable electric vehicle based on their typical daily routine.
University of Bristol
Winning Team: EDes
Team members: Kareem ELAHEE DOOMUN, Isfaaq JADAKHAN
The Idea: Incorporate devices (cameras, wearable, AR/VR) to measure and recall an immersive test drive experience to help support car buying decision.
University of Exeter
Winning Team: ExeTerminators
Team members: Barnaby Gill, Ryan Storey, Oskar Oramus, Isaac Cheng
The Idea: A web application that provides insights into people's travel habits including suggestions to reduce the environmental impact.
University of Surrey
Winning Team: SaFeT
Team members: Bhaldeep Bhogal, Yankho Mpokosa
The Idea: Incorporates the details of a car deal within an NFT including mileage, make/model, colour, tax status, MOT status and service history, which helps the transparent and trustful used car buying and selling process.
Tom Christensen from the University of Bath and the ExeTerminators from the University of Exeter progressed to the grand final, where they presented their ideas to a judging panel of senior Keyloop leaders and industry experts.
Tom won 'Most Innovative Idea' and was awarded £5,000 for developing a web-based platform that enables consumers to easily compare electric vehicles, based on their typical routine, to advise and simplify the purchasing process. The software will also help consumers visualise environmental benefits, by comparing electric vehicles against their petrol and diesel counterparts.
Glen Demetrioff, Chief Innovation Officer of Keyloop said: "At Keyloop, we are always keen to identify and develop the next innovative idea and future generation of talent for our industry. It was an incredibly difficult decision for the judging panel to choose an overall winner. We were very impressed by the level of innovation displayed by Tom Christensen from the University of Bath, who came up with a groundbreaking solution for the future sale and ownership of electric cars. To recognise his brilliant thinking, we created the Dealer Tech Innovation Award and awarded Tom a prize of £5,000."
This year's competition saw each student team tasked with developing an innovative tech-focused product idea that could make an impact on the automotive retail industry. The 30 successful proposals progressed to the 'Idea development phase', during which students built out their proposals into product ideas, with the help of industry experts, learning materials and mentors.
They were then asked to professionally present their ideas to a panel of expert judges at Keyloop, including a demonstration of the product and a Q&A to mirror a real-world pitch scenario.
Tom Kilroy, CEO, Keyloop comments: "We created the Keyloop Dealer Tech competition to nurture new talent and encourage them to discover the great career possibilities which exist within the automotive retail industry. In 2022 the competition equipped all our entries with new skills and experiences to help them succeed in the competitive graduate employment space. We have provided masterclasses and mentorship in business strategy, product design and development and in return we are seeing some truly ground-breaking ideas that could have a very positive impact on the way consumers buy, service or use cars."
Michelle Wells, Director Brand Strategy and Corporate Communications, Keyloop ends: "The Keyloop Dealer Tech Competition provides an opportunity for undergraduates to gain first-hand experience of industry challenges, current technology trends and entrepreneurship. It is also an opportunity for them to gain valuable experience with a global automotive technology company that strives to support their future job aspirations."
Find out more about the competition on the Keyloop website.
Mailing List sign-up
Get all the fresh insights first! Stay up-to-date with all the
latest investment news, blogs and all things SETsquared.
Sign-up
Close