SETsquared's Fashathon: When the heady worlds of fashion and technology collided
Last month, alongside the Fashion Innovation Agency at the London College of Fashion, we hosted our first 'Fashathon' – a two-day fashion and technology hackathon event.
31 fashionistas and technologists came together with the aim to develop new fashion technology ideas into investible business solutions in less than 48 hours.
At the beginning of the two-days, the participants pitched their ideas for fashion technologies and as a group voted on the best ideas to move forward with, forming teams with complementary skills sets around these ideas.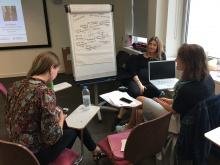 These ideas were then all pitched at the end of the two days to a panel of mentors, experts and investors. The three winning teams will now have the opportunity to pitch their ideas at Apple Regent Street on 8th November to a select audience from the Fashion Industry.
The winning ideas were:
| | |
| --- | --- |
| Stealthy | Developing a wearable to tackle Vitamin D deficiency in the UK and globally. The wearables will take three different forms; a Hijab pin, a necklace and a bracelet, which will monitor levels of Vitamin D. |
| Jeremy Mutebi | A fashion styling app for men which brings together separate items of clothing from across different brands to create recommended looks/outfits. |
| Bubba Little | An interactive clothing range for children which helps stimulate their senses through, for example smell, with a 3D fruit t-shirt collection. |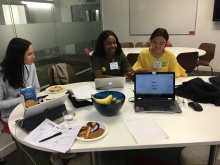 Simon Bond, Innovation Director, SETsquared says: "The energy and creativity evident at the Fashathon event was just incredible. The merging of technology and fashion has resulted in some incredible developments in recent times, with this sector set to continue its explosion over the coming years. Alongside the Fashion Innovation Agency, we are helping to nurture the next generation of fashion tech innovators and we are proud to be able to give them the prestigious opportunity to pitch at Apple Regent Street to the fashion retailers."
Participant Cristina Sabaiduc commented: "The Fashathon was an extremely fun, engaging and challenging experience to be a part of. Fast-tracking ideas through intensive mentorship and advice is a sure way to hone our idea, thank you for the opportunity."
Another, Jeremy Luzinda one of the pitch winners also commented: "It was amazing to have such a range of people from different backgrounds. From an economics background, I'm not around fashion people so the exposure and advice was amazing."
Mailing List sign-up
Get all the fresh insights first! Stay up-to-date with all the
latest investment news, blogs and all things SETsquared.
Sign-up
Close