Social Enterprise awards opportunities from UnLtd at Engine Shed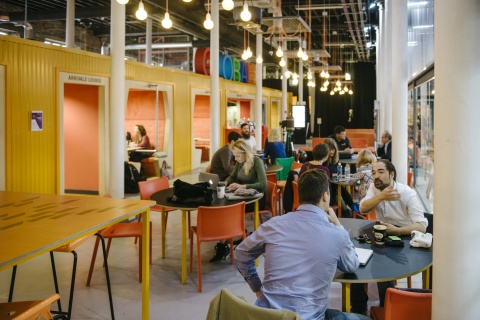 UnLtd and Engine Shed have announced a new partnership to support social entrepreneurs in Bristol and the South West. The collaboration will allow UnLtd staff and award winners free access to Engine Shed's Business Lounge; conveniently located next to Bristol Temple Meads station.
The agreement aims to build upon the existing support available to social enterprises in Bristol. It will provide UnLtd staff and award winners with a meeting space to facilitate collaboration and networking with academics, high-tech, creative and low carbon entrepreneurs and innovators, business leaders, policy makers and professionals and will provide a consistent location for their meetings and events.
Julie Carthy, South West Award Manager for UnLtd, says: "We are meeting so many fabulous Bristol-based social entrepreneurs and increasing our investment in them that a vibrant meeting space in the city is a priority for us this year.  Engine Shed provides this and more.  We will be running many of our social entrepreneur workshops from Engine Shed for UnLtd Award Winners this year as its accessibility is unbeatable.  I am looking forward to making the most of the networking opportunities and meeting potential future UnLtd Award Winners."
Their next deadline to submit an Expression of Interest for a Do-it Award or a Grow-it Award is 27 March 2017.  The Do-it Award is designed for people who have an innovative solution to a social problem and are at the start of their journey into Social Enterprise.  The Grow-it Award is designed for Social Entrepreneurs who are close to proving their models and are ready to grow their impact.  Each award provides funds and tailored support to individuals.  (See our website for more details https://awards.unltd.org.uk/)
Nick Sturge, Director of Engine Shed, added: "We are really keen to highlight the opportunities open to social entrepreneurs in the region and having the ability for UnLtd to support these new and existing businesses is yet another way we can support the scale up ecosystem here. We are keen to increase the learning and interaction between for-profit and not-for-profit organisations."
'As an UnLtd Award winner, having access to Engine Shed is very useful. It's close to the centre, close to the Bristol Hackspace, and the ideal place to meet the blind professionals who come into Bristol to try out our technology. A week into UnLtd's lounge membership and we have already made use of it."  Ed Rogers, Bristol Braille
'Having access to Engine Shed enables us to benefit from the excellent facilities and networking events. With Engine Shed at the centre of entrepreneurial activity, it provides us, our clients and partners with excellent transport links right in the heart of Bristol'.   Will Britton, Inclusive Media Solutions
The Business Lounge is open Monday – Friday, 8.30 am – 5.30 pm and members can arrange to meet with up to two non-members here. Other members of the Lounge include staff from University of Bristol, University of the West of England, University of Bath, Bath Spa University, Bristol Media corporate members, Institute of Directors (IoD) members, WebStart Bristol companies, Business West Initiative members, RSA fellows, ICAEW members, City of Bristol College staff, Lloyds bank staff, GWR business team, Temple Studios companies, SETsquared Bristol virtual members and SETsquared Bath companies.
Mailing List sign-up
Get all the fresh insights first! Stay up-to-date with all the
latest investment news, blogs and all things SETsquared.
Sign-up
Close