SoftIron receives $7m investment and introduces zero-risk storage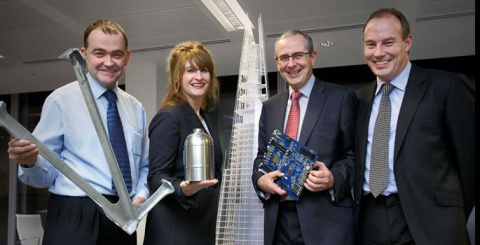 Nigel Bridges, COO at SoftIron, second from right at SETsquared's Investment Showcase in 2014
SETsquared Southampton member, SoftIron®, the creator of zero-risk enterprise data storage, recently completed a $7m funding round led by Earth Capital Partners (ECP) through its Nobel Sustainability Fund initiative. ECP invests in sustainable technology sectors to accelerate companies for growth, expansion, and acquisition.
ECP made the investment because SoftIron has re-designed enterprise storage from the ground up to be highly energy efficient while delivering outstanding performance.
Richard Smith, ECP Partner, explains, "The Nobel Sustainability Fund helps drive innovation with positive sustainability. Resource efficiency, particularly regarding energy, is critical when paired with solutions that offer compelling financial, performance, and commercial benefits. This is what SoftIron is aggressively targeting, and we are excited to support SoftIron at a critical point in the company's development and expansion."
"We strongly believe that enterprises should have more choices when it comes to data storage," says Tim Massey, SoftIron CEO. "Our engineers have shattered the traditional limitations of storage to create HyperDrive, an SDS appliance that is built on Ceph and runs at wire speed".
Mailing List sign-up
Get all the fresh insights first! Stay up-to-date with all the
latest investment news, blogs and all things SETsquared.
Sign-up
Close