Southampton students prove they have the entrepreneurial spirit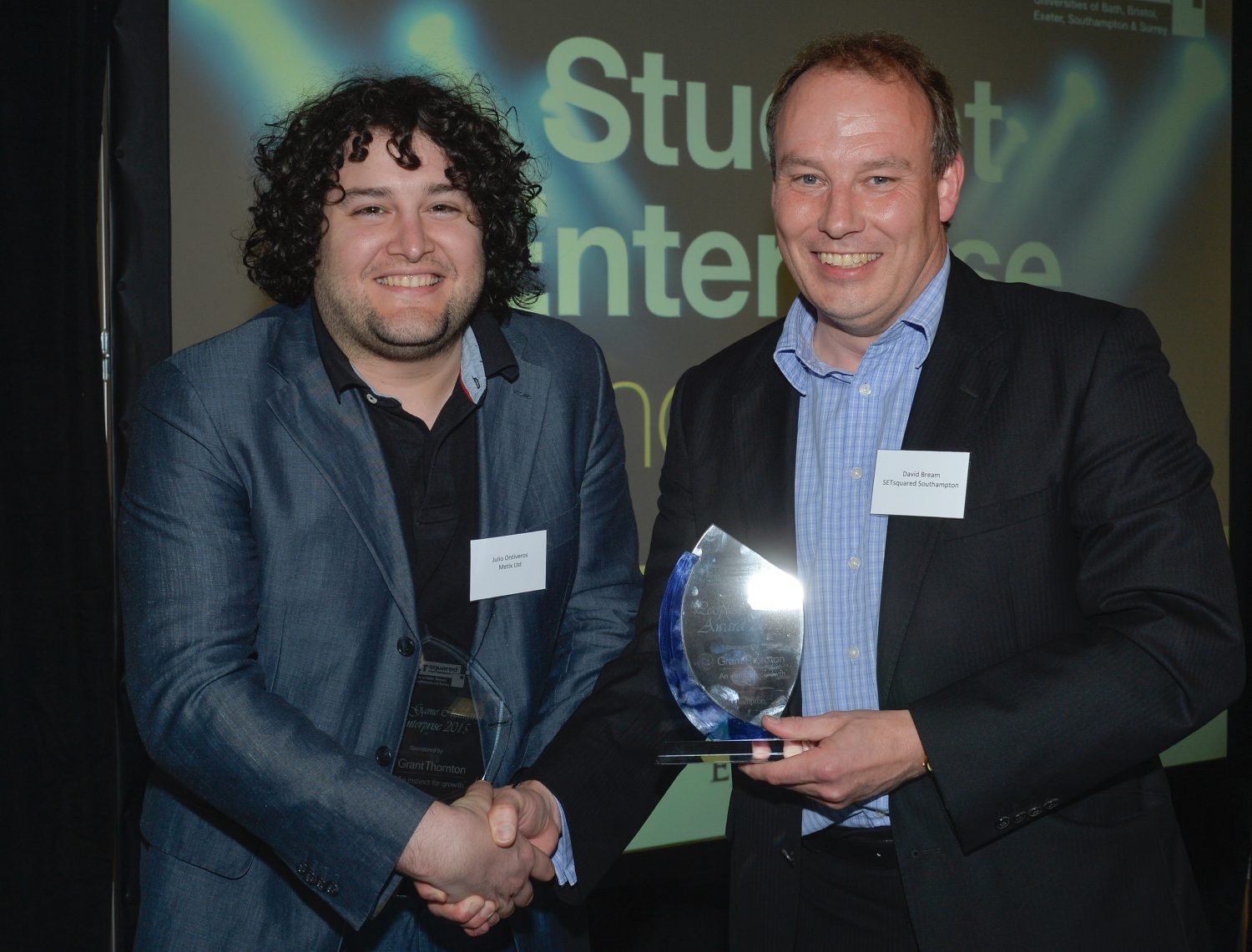 They could be the Richard Bransons and Duncan Bannatynes of tomorrow. And last night (June 4) they were honoured for their entrepreneurial spirit as SETsquared held its annual Student Enterprise Awards at St Mary's Stadium.
SETsquared, a partnership of the universities of Bath, Bristol, Exeter, Southampton and Surrey, brought together its top student and graduate entrepreneurs for an evening of pitching and awards.
There was victory for The University of Southampton as students and graduates picked up a number of prizes on the night. They included:
SanEco (winner, Best Student Enterprise, Southampton) – SanEco is a social enterprise business that empowers communities using sanitation and empowers entrepreneurs to change their own lives and their communities forever.
DividaBill (winner, Best Graduate Enterprise, Southampton) – The graduate business was set up by Jon and Saumeel, who had trouble with dealing with their bills while studying at The University of Southampton. They decided to solve the problem by setting up a business where customers can sign up once and all their bills are set up and managed. The system saves over £100 a year compared to leading providers.
Metix Ltd (winner, Game Changer Social Enterprise, Southampton) – a medical technology company that is developing a robust handheld vital signs monitor called COREMED® Aid.
There was double victory for Metix Ltd as it picked up the coveted People's Choice Award on the evening, which came with a £500 cash prize. The company's marketing director, Peter Street, said: "It's a huge honour to be voted the People's Choice out of all of the companies that were pitching. Choosing entrepreneurship as a career path may seem daunting to some university students but there is so much support out there from organisations such as SETsquared, The University of Southampton and Fish on Toast, the university's entrepreneurial society. Their advice and mentoring has helped us get our business off the ground and I'd urge any young person with a good business idea to take the leap and go for it."
The evening also saw inspirational talks from local business leaders. Max Toti, managing director and chief technology officer of Captec Ltd, gave guests his advice on how to become a successful entrepreneur. An alumni of The University of Southampton, he is a visiting lecturer for UK technology universities on innovation, entrepreneurship and wealth creation.
Norman Armstrong, partner at Grant Thornton, also spoke at the event and urged the young entrepreneurs to use their businesses to make a difference to society.
He said: "We are seeing a major shift in the way companies of all sizes are doing business and seeking to become more socially-responsible. There were some incredible examples of social enterprises on show tonight and I have no doubt that these students and graduates have the potential to create technologies, services and products that will change the world."
David Bream, director of SETsquared at the University of Southampton, said: "There is so much entrepreneurial talent in Southampton and we are immensely proud of all our students and graduates who pitched at the event. They have some fantastic business ideas with the potential to develop into even bigger companies that generate wealth and jobs for the local economy."
Mailing List sign-up
Get all the fresh insights first! Stay up-to-date with all the
latest investment news, blogs and all things SETsquared.
Sign-up
Close