South's healthcare innovators take business ideas to the next level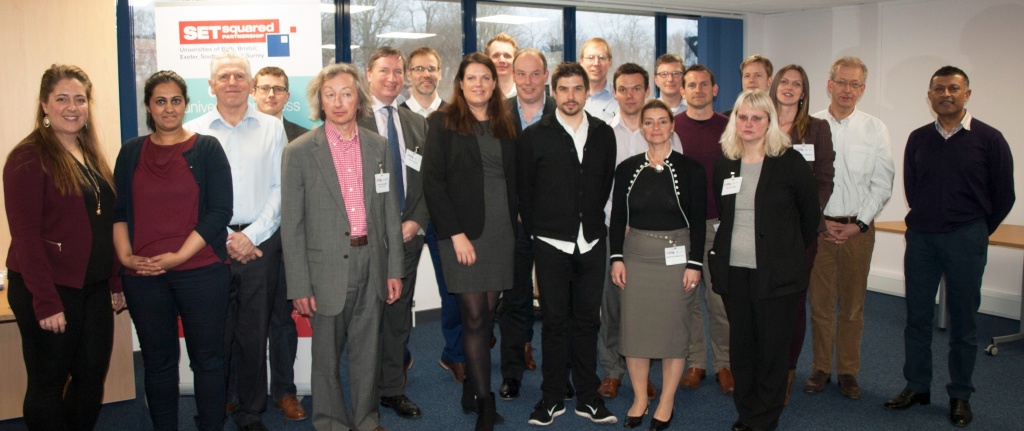 Image: Participants of the Healthcare Innovation Programme in Southampton with Caroline Nokes MP (front row, left of centre)
Healthcare innovators from the South of England discovered how to take their cutting edge technology and business ideas to the next level when they met in Southampton.
The three day Healthcare Innovation Programme for health professionals, health and life science academics and small businesses, was hosted by university business incubator SETsquared and the Wessex Academic Health Science Network (AHSN).
The intensive course, which took place in the University of Southampton Science Park recently, provided 9 healthcare ventures with the skills to take their innovative proposals to business realisation.
Delegates took part in sessions that covered customer analysis, funding strategies, building a business case and market analysis. There was also the opportunity to pitch their business ideas to an experienced panel and to network with other innovators.
Caroline Nokes, MP for Romsey and Southampton North, attended on the last day to celebrate the achievements of each innovator on the programme and present certificates to participants.
She said: "It was an honour to attend the Healthcare Innovation Programme and find out more from the healthcare innovators about their original business ideas. 
"I am delighted that SETsquared and the Wessex AHSN continue to bring this course to Southampton as it's a fantastic resource for those working on innovations that will hopefully go on to benefit many aspects of healthcare."
Simon Bond, Innovation Director at SETsquared, said: "We're delighted to be able to deliver this world class training programme again in Southampton with the Wessex AHSN.
"The calibre of innovators that we've seen this time has been as high as ever and we were very impressed with each of the participants' passion for bringing substantive benefits to the healthcare sector."
Andy Burroughs at the Wessex AHSN said: "The Healthcare Innovation Programme is invaluable for those looking to shape the next generation of healthcare. The innovations we've seen on this course have the potential to revolutionise aspects of healthcare and improve benefits to service users as well as save money for the NHS."
SETsquared, the world's number one university business incubator, joined forces with four Academic Health Science Networks in the South of England in 2014 to set up the revolutionary new programme that could see more effective and better value healthcare technologies benefitting patients quicker than ever. 
 
Mailing List sign-up
Get all the fresh insights first! Stay up-to-date with all the
latest investment news, blogs and all things SETsquared.
Sign-up
Close