Streeva secure £264k seed investment round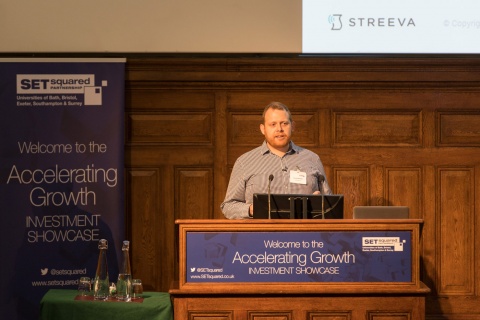 David Michael, co-founder of Streeva
Fin Tech start-up and Surrey SETsquared member, Streeva, has recently announced a seed raise of £264k.
The raise comes hot on heels of Streeva's investment pitches at three events: the Surrey 100 Club, Angel Acadame and SETsquared's own 2017 Accelerating Growth Investment Showcase.
Streeva has developed a payment communication platform that delivers secure, anonymous content directly to consumers through digital transactions. It enables banks to provide receipts and other content directly to consumers, while ensuring protection of merchant-sensitive data. Streeva's first product Swiftaid looks to automate Gift Aid on contactless donations, thereby increasing the amount charities receive without costing donors more.
The investment will be used to help set up offices, employ staff and for the founding brother and sister team to work full time on Streeva.
Beth Michael, COO & Co-founder of Streeva says: "With cash in decline, charities lost out in just shy of £200 million in 2016 and with the uprise in contactless donation terminals we saw a great opportunity for our technology platform to help get more money to charities without costing donors more."
"We reached out to the payments and charity industry and were excited to find that they were in agreement with us and feel this is something that needs to be done. So in order for us to build and develop Swiftaid for market adoption we put a pitch deck together (with help from SETsquared) and went out pitching for investment."
"Starting a technology business has given rise to both highs and lows but, nevertheless, what an exciting journey it's been so far."
Mailing List sign-up
Get all the fresh insights first! Stay up-to-date with all the
latest investment news, blogs and all things SETsquared.
Sign-up
Close