Surrey tech company, Cortirio pitches for £750k investment at SETsquared's 15th Accelerating Growth Investment Showcase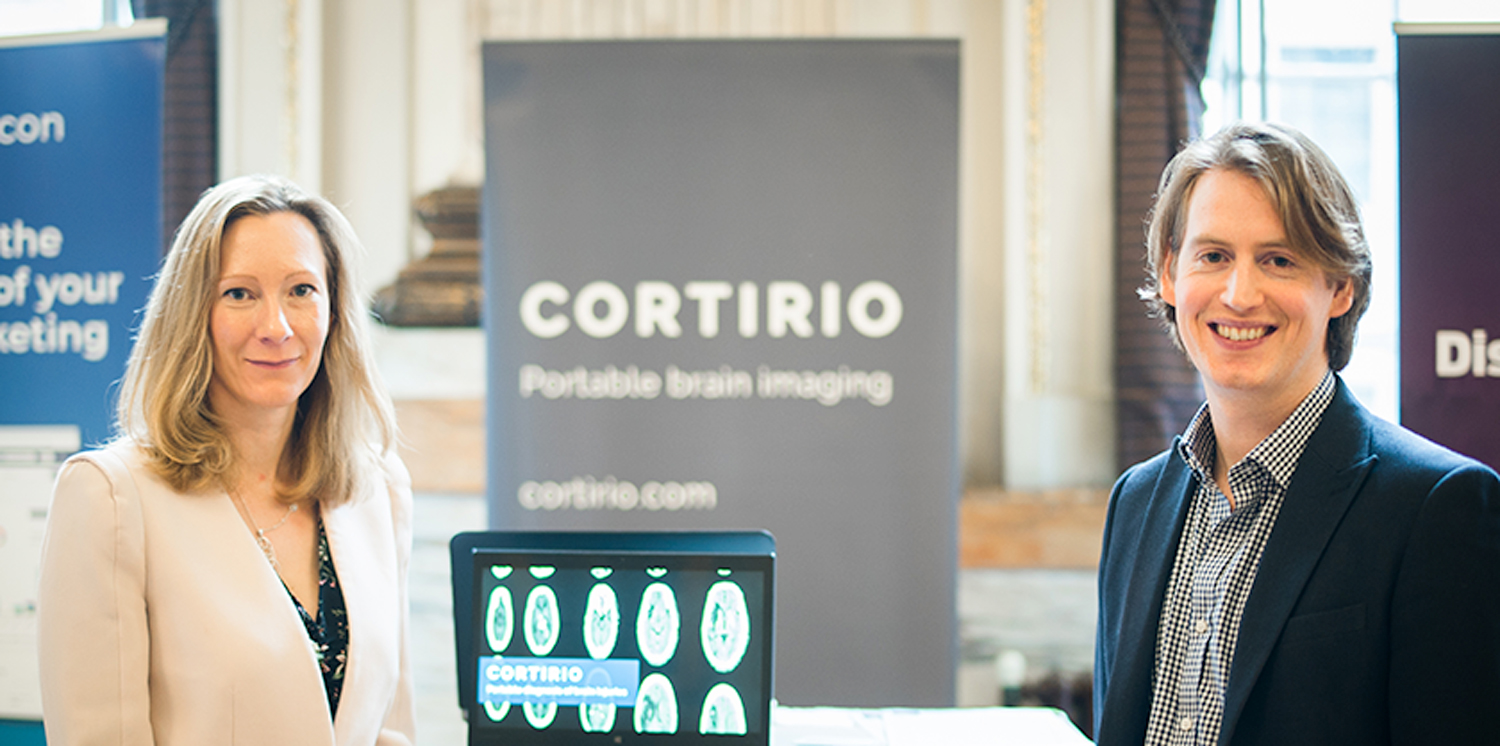 From left to right: Caroline Fleming, Head of Incubation University of Surrey, Patrick Beldon; Cortirio
UK entrepreneurs behind high-growth potential technology companies, including Surrey-based Cortirio Ltd, gathered in London yesterday to pitch for a combined £18m to an audience of investors at SETsquared's annual Accelerating Growth Investment Showcase.
Running for the past 14 years, SETsquared's Investment Showcase has become a huge success; attracting hundreds of investors, seasoned entrepreneurs, corporate investors and VCs, all looking to invest in companies with the potential to become the tech giants of tomorrow.
The 20 start-ups pitching for investment have all received mentoring and support from SETsquared, and were seeking financial backing, ranging between £150k and £5m, from an audience of more than 100 investors and corporates. Already, the total raised by companies who have previously participated exceeds £100m.
Of the 20 companies that participated this year, eight have female founders, the largest number in the event's history.
Patrick Beldon, CEO and founder of Cortirio, which is developing portable brain imaging to enable faster treatment for head injuries, reducing disability and saving lives, said:
"All the companies pitching today did a fantastic job and I'm incredibly grateful to SETsquared for the opportunity to take part. If we achieve our goal of raising £750k, we plan to the use it to prepare for medical device regulatory requirements and to expand the technical team."
Caroline Fleming, head of incubation at SETsquared Surrey, added:
"Our Digital Business Acceleration Hub programme, which launched in September 2016 and targets digital SMEs with high growth potential, has allowed us to expand SETsquared Surrey to support even more companies.
"The programme's success has resulted in us being able to put forward a much higher number of investment-ready companies. This year, 10 of the 20 companies selected for the Investor Showcase are from our SETsquared Surrey members, something I'm incredibly proud of."
Over the last 18 years, SETsquared has helped more than 3,500 businesses raise over £1.5bn in investment, as well as contributing over £8.6bn in GVA (Gross Value Added) to the UK economy rising to £26.9bn by 2030 – figures that contributed to it being named by UBI Global as the top university business incubator in the world in 2015 and 2018.
Mailing List sign-up
Get all the fresh insights first! Stay up-to-date with all the
latest investment news, blogs and all things SETsquared.
Sign-up
Close