Sustainable Tech Programme participant Sampson Solutions wins grand prize at Women Who Tech 2018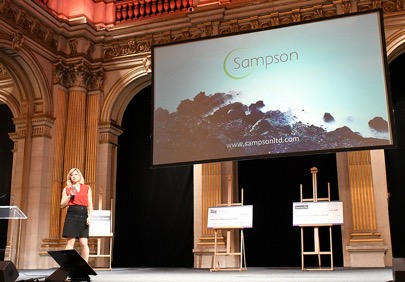 Women Who Tech, a tech nonprofit launched in 2008 by Allyson Kapin to showcase and fund women-led tech startups, launched its Women Startup Challenge in Europe. The inaugural event co-hosted by the Office of the Mayor of Paris, took place on Oct. 25 at Paris City Hall where finalists from women-led startups across Europe pitched their ventures before a panel of tech industry executives and investors.
The D.C.–based tech nonprofit took its Women Startup Challenge global after finding that only a tenth of investor funding in the EU was allocated to women-led startups in 2018.
The in-person panel of judges included Mitchell Baker, cofounder and chairwoman of Mozilla, Jean-Louis Missika, Deputy Mayor of Paris, Fatou Diagne, partner and cofounder at Bootstrap Europe, Julien Quintard, managing director of Techstars Paris, Alejandro Tauber, Editor-In-Chief of The Next Web and Stéphanie Hospital, cofounder and CEO of OneRagtime. There were three categories: grand prize, audience choice and Mozilla's choice.
The winning women-led startups were:
Sampson Solutions Ltd from the UK took home the grand prize, receiving $35,000 in funding from Women Who Tech to help scale their startup. This startup creates bio-based construction materials from sustainable sources using a closed-loop, carbon neutral manufacturing process.
Inorevia earned the The Audience Choice Award. This startup develops and commercializes a new generation of patented technologies that miniaturize lab instrument volumes for analysis.
Mozilla awarded an additional $25,000 cash grant to Vitrue Health, which was selected solely by Baker. Vitrue Health is system that sits in the background of clinical assessments, autonomously measuring motor function metrics, freeing clinicians to focus on more complex patient interactions, saving millions in healthcare costs.
Grand prize winner Sampson Solutions capitalises on business opportunities precipitated by the Paris climate agreement. Founded by Colleen Becker, Sampson Solutions is creating bio-based construction materials from sustainable sources using a closed-loop, carbon neutral manufacturing process.
This is a great milestone for the business that has been supported by the STBAH programme at the University of Bath. Many congratulations to Colleen!
Mailing List sign-up
Get all the fresh insights first! Stay up-to-date with all the
latest investment news, blogs and all things SETsquared.
Sign-up
Close