Tech innovators pitch to aerospace top guns at Farnborough International Airshow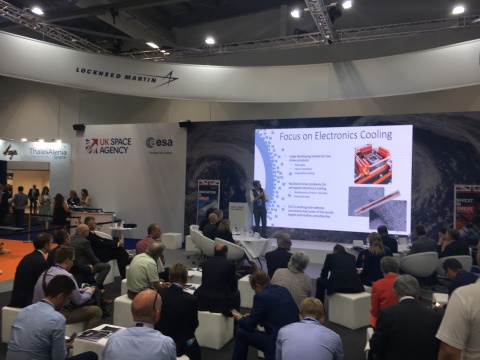 Tech Innovators present at Farnborough International Airshow
Six space-related UK tech start-ups got the chance to pitch their groundbreaking innovations to some of the world's biggest space companies at this year's Farnborough International Airshow.
The 'Pitch to Primes' technology showcase, an event run by the UK Space Industry Network, gave each company a stage and 10 minutes to convince a panel, chaired by Boeing and comprising specialists from Airbus, Thales Alenia Space, Lockheed Martin, Inmarsat, Earth-i and SSTL to invest in their business.
SETsquared, a multi-award-winning enterprise collaboration between five leading research-intensive universities, partnered with the UK Space Agency in 2015 to create the UK Space Incubator Network – a network of incubators dedicated to identifying and accelerating the growth of start-up and scale-ups that are leveraging space technology in their businesses.
In addition to the Network, the partnership spawned an incubation support programme for business and technology ideas that utilise space tech, such as GPS, 5G, location or satellite data. To date, SETsquared's Entrepreneur's Programme, which also covers digital and health innovators, has supported over 500 participants, with latest figures showing that its graduates have gone on to raise over £8 million investment and generate more than 200 jobs.
Several of the companies chosen that pitched for funding, partnerships and collaboration are alumni of the programme, with all of them boasting pioneering products, covering everything from nanotechnology, through to drone tech and cyber security.
They included:
Lexicon – a start-up developing new technologies for commercial space activity, industry, entertainment and government. Working with nanotechnology, optics, augmented and virtual reality, its systems are powered by big data and managed by artificial intelligence.
Oxford nanoSystems – develop innovative coatings that demonstrate significant improvements in heat transfer. This results in a reduction in the size of HVAC systems by up to 70 per cent, increasing efficiency and reducing energy usage and carbon emissions.
Spotlight Data – who build platforms and applications that provide insights and actionable intelligence with unstructured data. Its UI driven data intelligence platform 'Nanowire' captures, processes, analyses and stores data.
Vidrona – a company utilising drones and space tech-enabled analytics, with its proprietary computer vision, machine learning and AI algorithms, to generate valuable insights for the energy and utilities sector.
RazorSecure – a leading provider of cyber security solutions for operational technology (OT) systems. Its RazorSecure Delta platform uses machine learning to detect anomalies and attacks on critical infrastructure.
SATAVIA – an environmental data intelligence platform that enables airlines, OEMs and others to reduce the financial impact of unscheduled engine and airframe maintenance caused by ice, dust and corrosive air pollution.
Colin Baldwin, head of local growth strategy at the UK Space Agency, said:
"I look forward to seeing all the companies taking to the stage today. Setting up a space business is no mean feat but now is an exciting time to join this growing sector. The companies pitching today have all been carefully selected and have something unique to offer the UK space industry. My advice to them would be to get across their passion and vision for what their business idea can achieve, and what support it needs to do so."
Adam Durant, CEO of SATAVIA, said:
"Showcase events like these are a great opportunity for start-ups and scale-ups to get in front of a diverse audience, including aerospace and space primes who can really make a difference to our businesses. They also provide a great platform to hone pitches and, most importantly, get in front of potential customers."
Karen Brooks, programme director at SETsquared, added:
"We have been running the space tech Entrepreneur's Programme with the UK Space Agency now for a number of years, and I am delighted that it continues to show a real and tangible benefit to the UK's space industry. The start-ups chosen to pitch today all have something unique to offer potential investors. I'm looking forward to a great event."
For more information about SETsquared's Entrepreneur's Programme for space technology, visit: http://biz.setsquared.co.uk/spacetech1718/
Mailing List sign-up
Get all the fresh insights first! Stay up-to-date with all the
latest investment news, blogs and all things SETsquared.
Sign-up
Close