The British company enabling two-billion rural people to access affordable mobile networks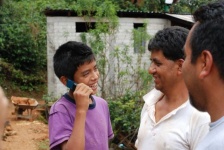 Two billion people around the world lack access to affordable mobile network connections and the emergency lifeline they bring.
A pioneering Guildford based company, Lime Microsystems, has developed a chip that is playing a pivotal role in enabling open source base stations, which allow rural communities considered too small and unprofitable for mobile phone operators to create their own mobile communications networks instead.
The Open Source base station technology – developed by Lime partner, Fairwaves – is now connecting a number of Mexican villages. One such village is Talea de Castro, where the 2,500 residents created their own mountainous mobile phone network for just a few thousand dollars, a key component of which is based on Lime's transceiver technology.
Calls and texts within the village are free and calls to areas outside are significantly cheaper than they would be using the big telecom companies.
Talea's example is leading the way for other remote areas across Central America and for the estimated 2-billion people globally living without access to cellular networks.
Just as open source project Linux has offered a genuine alternative to multinational corporate software producers in the PC operating system market, open source base stations offer a genuine alternative to the current solutions for network deployment. These can be easily manufactured and developed using freely available equipment for which Lime provides a key component.
Founded in March 2005, Lime has been based at one of the SETsquared Partnership business incubators. A collaboration between the universities of Bath, Bristol, Exeter, Southampton and Surrey, the partnership has incubated more than 1,000 technology companies, which have attracted around £1 billion of investment and Lime Micro Systems is the latest star performer.
Ebrahim Bushehri, CEO of Lime Microsystems said: "Wireless infrastructure is in the hands of a select few, principally tier one suppliers who dominate the roll-out of the infrastructure. Simply put, the availability of our technology means this is no longer the case. 
In areas where you don't have operators providing a service and communities are shut out of the wireless network, the availability of our transceiver means you can still provide mobile infrastructure. It is great to see that our aim in offering a highly integrated, low cost solution to the open source community has resulted in such an optimised network, bringing affordable wireless connectivity for the benefit of the communities around Talea de Castro."
"It is still early days but the fact that hardware platforms exist and the trials in Mexico have proved such a success indicates genuine potential for the future. We believe this is a game changer for the 2-billion people in the world who either can't afford or don't have access to mobile communications."
SETsquared Partnership Director Graham Harrison said: "The potential for this technology to change the world should not be underestimated. The vast numbers of people who will be helped to connect to each other will be speaking over technology brought to market in our incubator.
"Lime is typical of the kind of cutting edge company we are supporting. These have gone on to float, secure significant trade sales and deliver rapid growth with strong exports. Lime's potential demonstrates the important role SETsquared and the five Universities are able to play within the UK economy."
Mailing List sign-up
Get all the fresh insights first! Stay up-to-date with all the
latest investment news, blogs and all things SETsquared.
Sign-up
Close