The Duke of York visits Symetrica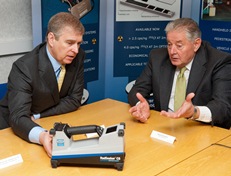 The Duke of York today visited UK technology company Symetrica, which was spun out of the University of Southampton and is based at the University of Southampton Science Park. Symetrica is a highly innovative company providing next generation radiation detection and identification solutions for the US Homeland Security Market.
Symetrica has been a beneficiary of support from the SETsquared Business Acceleration Programme, an enterprise collaboration of the Universities of Bath, Bristol, Exeter, Southampton and Surrey.
Symetrica has developed sophisticated techniques which can detect and accurately identify radioactive materials that could pose a threat to security, even when they are hidden in heavily shielded containers. The company's technology is at the heart of Smiths Detection's RadSeekerTM, a new radionuclide detector developed by the companies in partnership with the U.S. Domestic Nuclear Detection Office (DNDO) which recently issued a $4.5M order for RadSeeker DL units.
"Future success and continued growth is founded on the capability of our next generation technology some of which is currently being commissioned on our new portal test facility" said Heddwyn Davies, Symetrica's CEO. "There is a great opportunity for these technologies to solve some of the most difficult challenges faced by those who are charged with preventing the illegal trafficking of radioactive materials."
"His Royal Highness was keen to meet Symetrica, and to understand how their innovative technology is winning export sales for the UK," said David Bream, Director of SETsquared Business Acceleration programme at Southampton University. "Symetrica is one of many examples of early stage companies supported by SETsquared that have become commercial success stories, and that are helping to drive the UK's economic growth."
The Duke of York's role in support of The Queen as Head of State, focuses on helping British businesses to create prosperity for the United Kingdom. In particular His Royal Highness provides support to SMEs and entrepreneurs and helps young people gain the skills needed by Industry in areas such as science and engineering.
His Royal Highness was able to see some of this technology in action. 
Mailing List sign-up
Get all the fresh insights first! Stay up-to-date with all the
latest investment news, blogs and all things SETsquared.
Sign-up
Close