Twenty high-tech start-ups exhibit at UK's largest early-stage investment showcase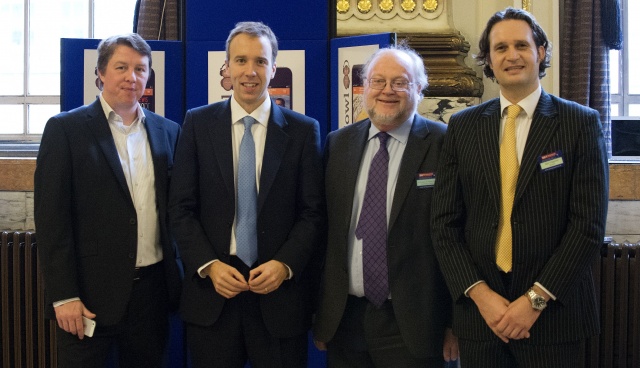 Investors see best of British innovation
At the SETsquared Partnership's 9th annual Investment Showcase yesterday, twenty high-tech early stage UK companies demonstrated innovations across sectors including energy generation, farming, enterprise software, clean technology, mobile apps and e-commerce.
The Investment Showcase was held at One Great George Street, London, and attracted over 140 venture capitalists, angel investors and high net-worth individuals, the largest number of investors for a UK event of this type.
Professor Sir Steve Smith, Vice-Chancellor and Chief Executive, University of Exeter hosted and spoke at the showcase. The event was also attended by Matthew Hancock MP, Minister for Skills, and Rebecca Harris MP.
"It's great to be able to come along today and meet the SETsquared team at their investment showcase event in London," said Matthew Hancock MP, Minister for Skills. "Through the SETsquared Partnership, five universities have the ability to incubate new ideas and turn them into practical businesses on the ground which is vital to the prosperity of the UK. SETsquared is demonstrating the ability to turn ideas into jobs and I'm impressed with the companies I've met today"
"It was wonderful to see some of the UK's most exciting start-ups meeting such a large group of potential investors," said Professor Sir Steve Smith. "The event is a great opportunity for the companies to show what they do, and with SETsquared's industry-beating average 90% survival rate for supported companies, it helps to reduce risks for investors."
"The format of the event is compact and punchy, and the quality of the companies is good – they're at an early stage and show a lot of promise," said John Kenny, investment professional at Delta Partners.
The businesses were pitching for investment of between £150,000 and £5 million each from venture capitalists, angel investors and wealthy individuals, and several of the companies are expected to announce investments soon. Over the past eight years participants at the Investment Showcase have raised more than £120 million in investment.
A full list of the twenty showcasing companies with details of their technologies is at the end of this press release.
The SETsquared Partnership is the enterprise collaboration of the Universities of Bath, Bristol, Exeter, Southampton and Surrey and provides incubation support to over 250 early-stage technology businesses.
For more information on the event go to http://www.setsquared.co.uk/partnership/investment-showcase/investment-showcase-2012. 
Notes to Editors:
Photography available on request.
Companies at the Investment Showcase:
Annotag: Video indexing and virtual events technology that enables users to intelligently record, tag, search and share live or pre-recorded content. www.annotag.co.uk
Antaco: Cost effective, sustainable, carbon efficient process to create high heat value coal replacement from biomass.
AppCast: Internal communications channel for companies, based on cloud-based administrative suite and app for employees' mobile devices.
Bardowl: Mobile service streaming audiobooks from major publishers to smartphones or tablets. www.bardowl.com
Bioinduction: Neuromodulation devices for Parkinson's disease and other chronic neurological disorders. www.bioinduction.com
Cognisess: Enterprise 'Talent Intelligence' platform enabling companies to identify, recruit, manage and improve their human capital. www.cognisess.com
CrisisVu: Unique and game-changing online monitoring tool – presenting online conversations in a visually intuitive, real-time mindmap to deliver exceptional clarity. www.crisivu.com
eCow: Cow health monitoring for the dairy industry with real time wireless data feedback, helping to improve animal welfare and profits for farmers. www.ecow.co.uk
Findsyou: Online service to match buyers and suppliers; a new take on search and classifieds initially trialled in car market as www.findsyoucars.com. www.findsyou.com
Hybrid Logic: Self-healing web hosting platform to improve reliability for the cloud and web hosting industry. www.hybrid-cluster.com  
Ikle: Real-time business intelligence for professional and financial services. www.ikle.co 
Mindings: Service to enable people to send personal, captioned photos, text, reminders and more from their mobile phone to a digital display – Facebook for the technology-shy! www.mindings.com
MrMash Ltd: Interactive video platform that allows users to create personal areas within videos and share via social media. www.murdge.com
Paralant: Development tools for high performance and power efficient applications on smart-phones, tablets, desktops and cloud computers. www.paralant.com
Red Skies Technology: Location based service that provides an e-ticketing/travel card system with tracking ability for informal urban transport operators in developing countries. www.redskiestechnology.co.uk
SEaB Energy: Portable device which converts organic waste to electricity, heat and fertiliser using a simple biological process. www.seabenergy.com 
Sibdocity: Integrated data analysis helping companies to easily analyse, share and trace data across multiple sources. www.sibdocity.com
Somnium: Disruptive solutions for ARM based embedded software development. www.somniumtech.com
Triggered Messaging: Helps online retailers increase online sales with real-time behavioural communication and reduced cart-abandonment. www.triggeredmessaging.com  
Venture Photonics: High-speed optical data switching for the internet, telecoms networks, large data networks and supercomputers. www.venturephotonics.com
Mailing List sign-up
Get all the fresh insights first! Stay up-to-date with all the
latest investment news, blogs and all things SETsquared.
Sign-up
Close