Two-day Entrepreneurship Programme gets off to a flying start

Our first two-day ERDF-funded Entrepreneurship Programme started with a bang at the beginning of Feb, with entrepreneurs bringing original and exciting tech-based business plans to the table.
This high-impact, fast-track programme is specially designed for entrepreneurs with an idea for a new technology product or service or founders of existing high-tech companies needing a boost to the next level.
It covers all the essential elements of starting a business such as getting to problem/solution fit, identifying the market opportunity and building a financial plan.
Here's what the attendees said about the programme:
"It's been excellent, I have a tech/scientific background and knew nothing about business. It's been the most productive two days I've had since we came up with the idea for the business.
It's brought together all of the missing pieces for me; how to sell, find clients and make sure you will make money."
Kasia Rybinska, founder Conscendence Ltd
"There are very few ways to spend two days more productively than in having your business idea rigorously challenged.  The Entrepreneurship Programme forced me to identify and confront a key area of my plan that was vague in my own mind.  I left with new contacts and a clear idea of the fastest way to get my new business to profit."
Chris Kavanagh, founder Executive Insights International Ltd
"The next step for my business is to raise investment, so the Entrepreneurship Programme has been the perfect opportunity to perfect my pitch.  Looking at the financials has been a useful refresher and the support from SETsquared has been amazing."
Hasmukh Patel, MD Spark Global
"The Entrepreneurship Programme has been very useful. I know where I want to get to and the course has helped put a structure around the chaotic start-up process, providing practical tools and techniques to use. I would recommend it to anyone else starting a tech business."
Tony Bull, founder Notitia-Sala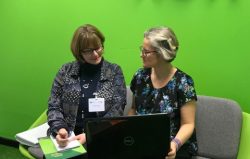 Alison Plank and Jemma Hillyer from Fixxr
Two of the participants, Alison Plank and Jemma Hillyer, who originally took part in and won SETsquared's Hackathon back in December, are now launching an exciting venture called Fixxr.
They have developed a smart user interface that enables housing association residents to report property maintenance and repair issues, in response to the hackathon challenge set by Sentinel Housing. 
Fixxr presented their concept during the Entrepreneurship Programme and were crowned winners of the pitching session.
Having now successfully completed the Entrepreneurship Programme, the Fixxr team is set to become a member of the SETsquared Digital Business Acceleration Hub, with potentially their first commercial customer in place.
Alison and Jemma commented: "We're extremely proud of what we've managed to achieve so far and are looking forward to working with SETsquared – using their winning incubation formula – to turn our concept into an exciting business solution."
The next programme is in Woking on 27th & 28th April and we will be adding plenty of other dates and locations in the every near future.
Find out more and apply

Mailing List sign-up
Get all the fresh insights first! Stay up-to-date with all the
latest investment news, blogs and all things SETsquared.
Sign-up
Close