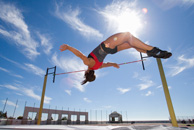 Intelligent, Inspiring, International
UK Trade & Investment and JStone are delighted to announce the winners of the second edition of UK-Italy Springboard which took place in Turin in the presence of HM Ambassador to Italy Christopher Prentice: RF Microtech, a Perugia University spin-off which designs solutions for microwave and radio frequency technologies, and Fubles, an innovative "Social Sport Sharing" platform for the organisation of sports matches.
RF Microtech – the overall winner – will be experiencing a six month incubation period in one of SETSquared's five accelerators/business centres where it will benefit from mentoring and the opportunity to take part in funding and networking events in order to grow internationally. Fubles – in second place – will be attending a Business Coaching week in one of SETSquared's facilities.
Animoka, Agrinewtech, Wise, Remembrane, Elite Financial, Bit4ID, Jooink, Toscana Biomarkers and Viamente are the other companies which took part in the final event of the business plan competition organised by UK Trade & Investment and JStone on November 10th.
The different projects were evaluated by a jury which included Danielle Allen of UK Trade & Investment, Dario Peirone of JStone, Zaira Burlo of Selex Galileo, Massimiliano Canestro of SMS Engineering, Oliver Rothschild of Oliver Rothschild Corporate Advisors, David Bream of Southampton University (SETSquared), technology broker Gianpiero Negri, Tommaso Micaglio of IDEA Alternative Investments, journalist Gianluca Bauzano of RCS Group, Leonardo Camiciotti of Topix and Rob Mocatta, UK business angel and entrepreneur.
RF Microtech will be officially awarded on 18 January 2012 during the UK-Italy Business Awards ceremony at Palazzo Mezzanotte, home of Borsa Italiana – London Stock Exchange Group.
UK Trade & Investment (UKTI) is a British Government organisation that supports companies in the UK doing business internationally and overseas enterprises seeking to set up or expand in the UK. Backed by a network of sector specialists in London UKTI has direct presence in 96 overseas markets, providing support and contacts through local staff. In Italy UKTI is located in the British Consulates in Milan and Naples and in the Embassy in Rome.
JStone Srl, created by Fondazione CRT in Turin, is an Italian company active in the management of the innovation process. Its purpose is to foster knowledge and cases of innovative excellence. Through its international network, JStone helps companies find opportunities, partnerships and support for innovative business ventures.
Fondazione CRT originated from the Cassa di Risparmio di Torino at the end of 1991 in the context of the banking sector's privatisation. It is a private, non-profit organisation with complete statuory and managerial autonomy. The Fondazione financially supports initiatives and programmes that promote economic development and social well-being: from the preservation of artistic heritage and cultural activities to scientific research; from civil defence and environmental issues to the promotion of innovation in local governments and economies.
Mailing List sign-up
Get all the fresh insights first! Stay up-to-date with all the
latest investment news, blogs and all things SETsquared.
Sign-up
Close