UltraSoC attracts £5m of fresh investment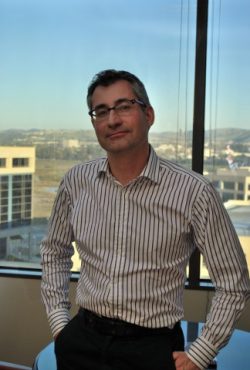 Rupert Baines, UltraSoC CEO
Bristol SETsquared member, UltraSoC, has announced the completion of a £5m funding round to drive continued deployment of its technology and realise its vision of embedding intelligent analytics capabilities into every chip. Atlante Tech leads a strong line up of new investors including Enso Ventures, Oxford Capital, and successful CEO and serial entrepreneur Guillaume d'Eyssautier, who join existing investors Octopus Ventures and South East Seed Fund (FSE Group).
Rupert Baines, CEO, UltraSoC says "Hard tech is back in favour with the UK and global investment community, with recent funding for Ultrahaptics, Graphcore and SiFive successful exits at Movidius and Mobileye. Our investors are excited by the potential of UltraSoC's technology and are committed to supporting our aim of putting intelligent analytics into every chip."
As part of the funding, Miles Kirby of Oxford, Kirill Mudryy of Enso and Alvise Bonivento of Atlante will join the UltraSoC board, alongside existing investor representative Luke Hakes (Octopus), board Chair Chris Gilbert and non-executive director Chris Wade.
UltraSoC's semiconductor intellectual property (SIP) enables designers to easily and cost-effectively create complex SoCs (systems on chip) with built-in intelligence that continuously monitors and responds to real-world behavior. This allows SoCs to optimise power consumption and performance and deal with security threats or safety breaches.
Successful development of the company's debug tools and increased awareness of the technology's potential benefits has meant a series of significant commercial engagements, with more in the pipeline. Amongst others, HiSilicon (Huawei), Imagination Technologies, Movidius (now Intel), and Microsemi all use UltraSoC technology in their designs, delivering proven hardware-embedded benefits to their customers. To ensure these benefits are accessible to customers in all sectors across the globe, UltraSoC partners with leading names in the semiconductor industry including ARM, Baysand, Cadence/Tensilica, CEVA, Codasip, Lauterbach, MIPS and Teledyne LeCroy.
The significant line-up of new and existing investors in this funding round reflects the company's growing commercial traction and technological progress. Likewise, the company's potential is being realised as the need for safety, security and performance-tuning becomes critical. Embedded analytics allows the chip to monitor and optimise its own behaviour at a hardware level; and provides insights that enable engineers to make improvements and fix problems. The same technology can detect evolving real-world threats and problems – for instance those caused by malicious attacks. These features benefit any electronic system, but are particularly attractive in the automotive and high-performance computing (HPC) sectors.
The investment in UltraSoC also reflects changes taking place in market areas where embedded analytics offers chip makers and their customers a distinct competitive advantage. Dr. Alvise Bonivento of lead investor Atlante Tech commented on this point: "UltraSoC has a great team, technology and substantial commercial traction. The time is right for UltraSoC's embedded intelligence to make a significant difference to mass market and mission critical applications."
Chris Gilbert, Chairman, UltraSoC, commented: "We are delighted to receive the backing of prominent industry figures and distinguished investors like Atlante, Enso and Oxford, as we take UltraSoC to the next level of success. It's great to welcome these new investors on board, and we are delighted to retain the support of our existing backers Octopus Ventures and the FSE Group's South East Seed Fund."
Kirill Mudryy, Partner at Enso Ventures, added: "We at Enso Ventures are always looking to support companies that have innovative and truly disruptive technology. That is why we are delighted to add UltraSoC to our portfolio."
UltraSoC was named one of the 100 most exciting companies in the UK in the 2016 Mishcon de Reya CityAM "Leap 100" list, and nominated by Gartner as one of its 2016 "Cool Vendors". It was recognised as "Best New Company" in the 2015 ELEKTRA Awards.
Mailing List sign-up
Get all the fresh insights first! Stay up-to-date with all the
latest investment news, blogs and all things SETsquared.
Sign-up
Close