University incubated start-ups dazzle big name corporates in new event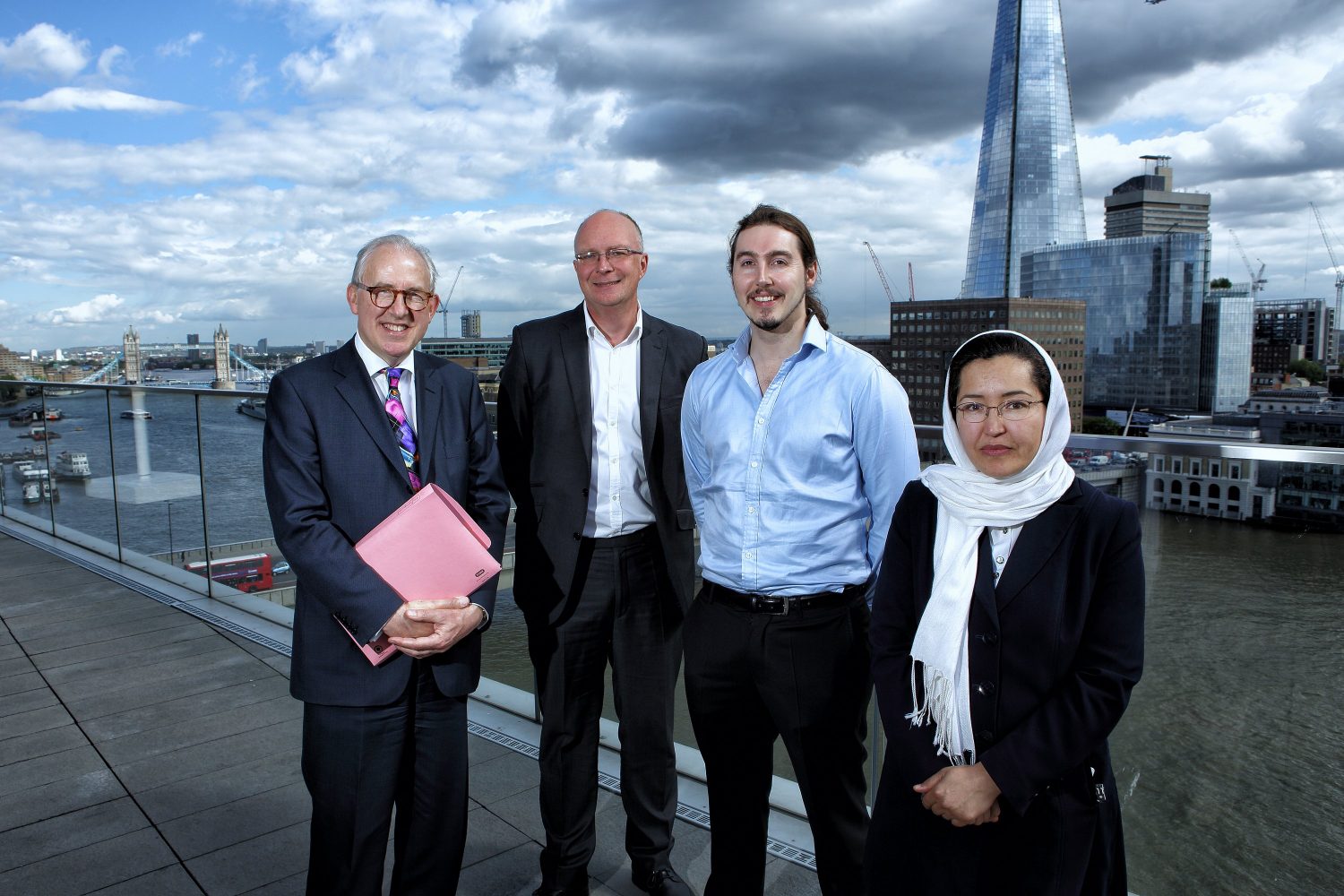 Photo left to right: Hamish Sandison of Fieldfisher, Simon Bond of SETsquared, Peter Davies of Green Running, Shakardokht Jafari of Invivo Dosimetry.
A group of universities has launched a brand-new event that aims to get university spin-outs and technology start-ups into some of the world's biggest corporates.
SETsquared, a partnership of the universities of Bath, Bristol, Exeter, Southampton and Surrey, says that the UK economy could be boosted by large corporates adopting technologies from agile start-ups to increase their productivity, sales and innovation.
Today it held its first ever 'Open Innovation Showcase', which brought 20 of its most cutting-edge technology start-ups face to face with corporates including Barclays, BAE Systems and Intel. It is the first time such a large-scale event, with start-ups pitching to more than 50 corporates, has taken place. The start-ups, working across a range of sectors including healthcare, mobile technology and environment, had the opportunity to pitch the corporates on how their technologies and products could be adopted by the businesses to the advantage of both sides.
Among the technologies showcased were:
A software platform that analyses location data by time, not distance. The technology, from iGeolise, is already being used by the likes of Zoopla and Countrywide.
A social network based on physical interactions that uses wearable technology from Siymb
A measurement system which checks the quality of radiation treatment from start-up Invivo.
A number of strong leads were made at the event and over the coming months some of the start-ups could enter negotiations with the corporates to take on their technologies.
Today's showcase marked the launch of the next phase of SETsquared's Open Innovation activities. Initially funded by the IPO, the programme has already seen success in phase one with Ripjar, part of SETsquared's incubation programme, having its advanced social media analysis software taken on by a large banking corporate.
Tom Griffin, CEO of Ripjar, said: "The Open Innovation Programme enabled Ripjar to form a close relationship with a global institution, which would otherwise have not been possible. We have now developed a collaborative partnership and have adapted our solution and business to meets their requirements."
Simon Bond, Innovation Director at SETsquared, said: "The Open Innovation Showcase provides a vital link for many start-ups, as talking to companies at an early stage means the products can be refined for use and the wider market. It's exactly what the UK economy needs, as it helps big businesses streamline and innovate by working with universities, SMEs and start-ups."
Dr Dave White, Senior Technology Advisor at Schlumberger, said: "Start-ups are an important source of technology and ideas for larger corporates. As someone whose role is to scout out new technologies, it's been incredibly useful to hear succinct and polished pitches from such a wide variety of start-ups and have the opportunity to speak directly with them. I've already seen some technologies here today that I can see could potentially have applications in Schlumberger."
Hamish Sandison, Chair of Fieldfisher Consulting and Partner in the Fieldfisher law firm, which hosted the event, added: "We are really pleased to be hosting this Open Innovation event because innovation is our lifeblood. Without innovative clients, we would not have a successful law firm. Without innovation in the delivery of professional services, for example by offering an integrated legal and consultancy service, we wouldn't be able to meet our clients' constantly changing needs."
Six of the start-ups at the showcase came from the ICURe programme, which is funded by SETsquared in partnership with the Higher Education Funding Council for England and Innovate UK. ICURe is a multi-million pound pilot programme giving early career researchers at the five SETsquared universities access to up to £50,000 each to explore the market potential of their ideas, technologies and products.
To find out more about the Open Innovation programme and find out how to get involved visit http://setsquared.co.uk/info-industry/open-innovation
Mailing List sign-up
Get all the fresh insights first! Stay up-to-date with all the
latest investment news, blogs and all things SETsquared.
Sign-up
Close