Achievement WINNERS: Andrew Wilson, University of Bristol and Joe Pearce, SETsquared Exeter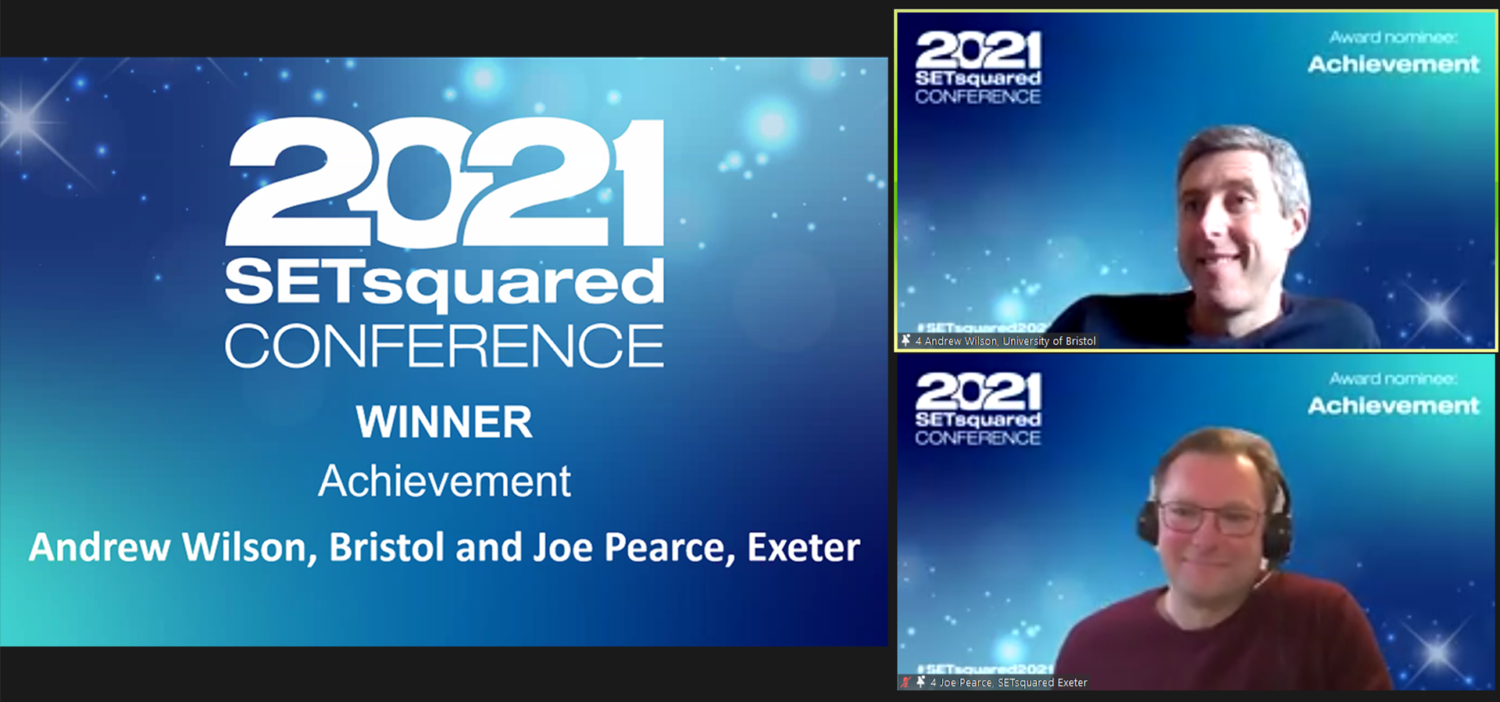 Year of overwhelming challenge and accomplishment sees two winners presented with the SETsquared Achievement Award.
Securing unprecedented investment and opportunities for university entrepreneurs amid a global pandemic has won not one but two individuals the 2021 SETsquared Achievement Award.
Joe Pearce, the University of Exeter's Head of Business Support and lead for SETsquared Exeter, and Andrew Wilson, Senior Research Commercialisation Manager at the University of Bristol, were both recognised for their contribution to the SETsquared partnership during 2020.
Joe Pearce will be known to many as the voice of SETsquared's first online GradInvest, but he has also been working non-stop behind the scenes to build Exeter's enterprise programmes. He is involved in everything from Scale-Up to Business Acceleration to Student Enterprise and has been recognised by his colleagues as someone who 'just wants things to succeed'.
Joe also has ambitions to expand entrepreneurship the South West.
"We're looking at the bigger picture," he said. "SETsquared should have an impact on the regional economy through championing and supporting entrepreneurship activity. And that starts on campus with our students from undergraduate – day one, year one – helping them to think about developing entrepreneurial skills and exploring that as a career path.
"But the key thing is that we want this activity to stay in the region."
Joe recognises that the route for undergraduates to become entrepreneurs is much easier when there is a well-trodden path, with success stories to follow and a dynamic support system in place.
Exeter already supports innovative start-ups such as Role Mapper. This HR focused tech company uses AI and machine learning to help businesses run more inclusive recruitment processes by focusing on the language they use in job descriptions. In 2020, it was named UK Tech Start-up of the Year and in 2021 it has already been highlighted as one of TechNation's Rising Stars.
"They're a fantastic example of what can be done," said Joe. "You don't ever want to get in the way of the spotlight shining on these businesses because they have lived a 24/7 existence to get to where they are. But to feel that we've helped them avoid potholes along the way or just being able to make a couple of connections that help them accelerate that progress is massively satisfying."
Joe has been involved with SETsquared for four years and has been building momentum throughout that time. But it was in 2020 that he feels massive leaps were made in the support network for student entrepreneurs.
He explained: "In the past 12 months, we've been able to secure longer term funding that has allowed us to make appointments across the team to support more students, researchers and businesses. Once you've got really good people, really good things start to happen."
As well as coordinating a growing team in 2020, Joe stepped up to become the host of the first ever online GradInvest – SETsquared's annual showcase for the best graduate start-ups from across the partner universities.
He loved his role as compère, which he said allowed him to unleash his frustrated radio presenter.
"It's no challenge to be able to bring enthusiasm to something like GradInvest, because it's a really great opportunity," said Joe. "I still very much enjoy working with the student start-ups. It's really satisfying being able to help undergraduates and researchers discover a pathway they probably didn't consider when they came to university.
"GradInvest is the end of that journey," he added. "They've come through the support within the institution and they're out in the real-world. So, to be able to give them the opportunity to pitch to investors, accelerator programmes and mentors is a really nice thing to do."
Looking ahead, Joe's team is putting the finishing touches to a two-year European Regional Development Fund programme that will help them support early-stage businesses across Devon.
He said: "We've got some really great ideas coming into the business accelerator; some potentially world-class, spin out businesses coming from the university.
"They're laying the trail for the students and start-ups that are coming behind them and will make it easier for people in this part of the world to feel that it's possible to do it from here – they don't need to go to London or anywhere else. They can do it in this part of the world."
It's this real-world application of innovative ideas and research that's led to a massive coup for a University of Bristol start-up and the joint winner of SETsquared's 2021 Achievement Award, Andrew Wilson.
In November 2020, the Senior Research Commercialisation Manager was instrumental in securing one of the largest first round investments in a UK university spin-out – a £45million commitment for the launch of Purespring Therapeutics.
This ground-breaking gene therapy start-up, founded on the work of Bristol's Renal research group, is one of the first adeno-associated virus (AAV) gene therapy companies focused on the kidney.
More than two million people worldwide currently receive treatment with dialysis or a kidney transplant, yet this number may only represent 10% of people who need treatment to live.
Conversely, the advances in the treatment of kidney diseases have lagged behind other diseases such as cancer and heart disease. Until now…
Professor Moin Saleem, Professor of Paediatric Renal Medicine at Bristol Medical School, and Dr Gavin Welsh, Associate Professor of Renal Medicine, have been leading research into gene therapy for chronic kidney disease.
Gene therapy replaces or alters a faulty gene or adds a new gene to treat or prevent disease. Unlike other drugs, they offer a once only treatment, providing a potential new and more cost-effective type of treatment for renal conditions, particularly in diseases where current therapeutic options remain limited.
The challenge with treating kidney disease to date has been targeting the genetic material to the correct cell type. Professor Moin Saleem and the Bristol Renal research group have overcome this crucial hurdle.
The therapy they are developing directly targets the glomerulus in the kidney, which is a cluster of capillaries around the end of a kidney tubule where waste products are filtered from the bloodstream.
This novel approach won interest from Syncona Ltd, a leading healthcare investment company who have founded several successful gene therapy companies as part of their portfolio.
Andrew led the transaction for the university. He said: "I've not negotiated anything like this in terms of the size of the immediate financial commitment.
"The fundamentals are the same for most deals; making sure the parties are aligned on plans for progressing the technology and trying to make sure everything is structured to ensure the success of the company, and therefore patient benefit. The team at Syncona were great to work with, particularly since the vision was shared."
Purespring could now see its gene therapies progress from lab to patients in three or four years.
It has already begun building a world-leading team to make that happen.
Andrew said: "I see my role as facilitating the progression of technologies out of the university and into the commercial environment that is best placed to take them forwards to maximise impact and patient benefit.
"It's great to be a joint winner of this year's Achievement Award," he added. "It shows that all knowledge exchange activities are extremely valuable and are recognised as such by our peers."
Mailing List sign-up
Get all the fresh insights first! Stay up-to-date with all the
latest investment news, blogs and all things SETsquared.
Sign-up
Close