Basingstoke MP visits SETsquared after award success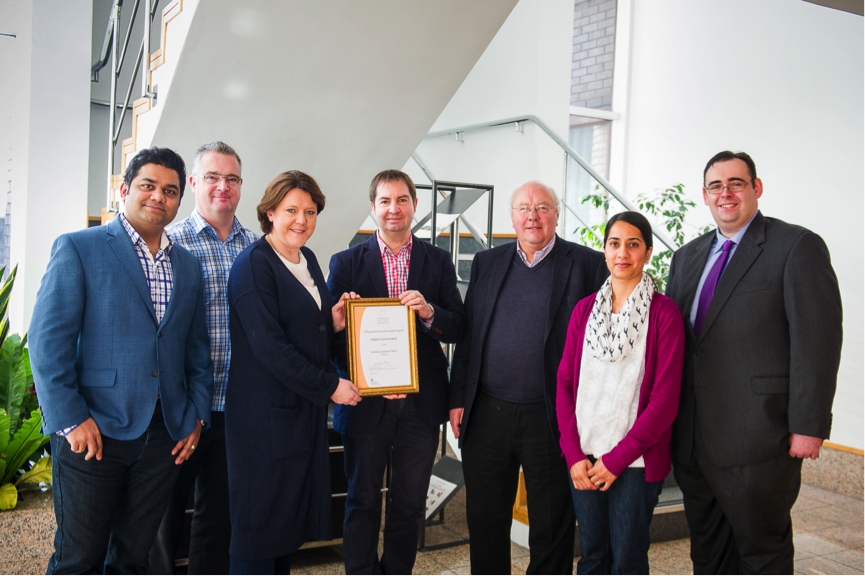 Image (from left-right): Mahesh Hariharan, Xscalo; Robert Sharpe, Evergreen; Maria Miller, MP for Basingstoke; Adrian Braine, SETsquared; Cllr Clive Sanders, leader of Basingstoke and Deane Borough Council; Rajpal Rai, NowTranscribe; Alex Cowan, RazorSecure with SETsquared's award
Basingstoke MP Maria Miller visited SETsquared's innovation hub for high-tech start-ups and entrepreneurs in Basing View on Friday (8 January) to celebrate its Entrepreneurship Training Programme which was highly commended at the Enterprising Britain Awards.
The ground-breaking programme was highly commended by the UK Government in the Building Enterprise Skills category at the awards in November last year.
Maria Miller met with SETsquared's entrepreneur in residence, Adrian Braine, as well as innovators from start-ups including RazorSecure, Xscalo, Evergreen and NowTranscribe, to congratulate the team on its recent accolade.
The programme, which is run across Southern England and works to turn entrepreneurs' technology ideas into business investment propositions, was introduced into Basingstoke in partnership with Basingstoke and Deane Borough Council and has kick-started some fantastic new tech businesses in the area. The course gives delegates a opportunity to pitch to a panel of investors and get candid feedback on their businesses proposition and training on marketing analysis, funding strategies and business plans.
SETsquared's Adrian Braine said: "It was fantastic to be able to show Maria around the hub and show her all the exciting work going on by the businesses who use SETsquared's services. We're very proud to have been highly commended by the judges at the Enterprising Britain Awards, and our Basingstoke hub is the perfect example of the excellent results of the programme as we're now working with eight high-tech, high growth potential start-ups."
Maria Miller, MP for Basingstoke, said: "I was glad to meet some of the entrepreneurs based at the SETsquared hub in Basingstoke and hear from them how this important business support programme is helping them to develop and grow. I look forward to hearing about their future successes.
"Basingstoke is one of the top ten centres of employment in the South East and has a particular strength in high-tech industries, so it makes perfect sense for SETsquared to have located this important technology centre here at Basing View."
Basingstoke and Deane Borough Council gave £100,000 to set up the incubation hub in its town centre business zone and supports and promotes its projects. Borough council Leader Clive Sanders said: "It is excellent that our investment is starting to pay off. These businesses are likely to grow quickly with the support of SETsquared and have ambitious plans for their future success that will really benefit the borough."
SETsquared is running its next Entrepreneurship Training Programme in Basingstoke on 11-13 May. People who are interested in applying should visit: localhost/setsquared-live/enterprise
Mailing List sign-up
Get all the fresh insights first! Stay up-to-date with all the
latest investment news, blogs and all things SETsquared.
Sign-up
Close