Bristol's Basecamp Enterprise Team pivots online to support emerging entrepreneurs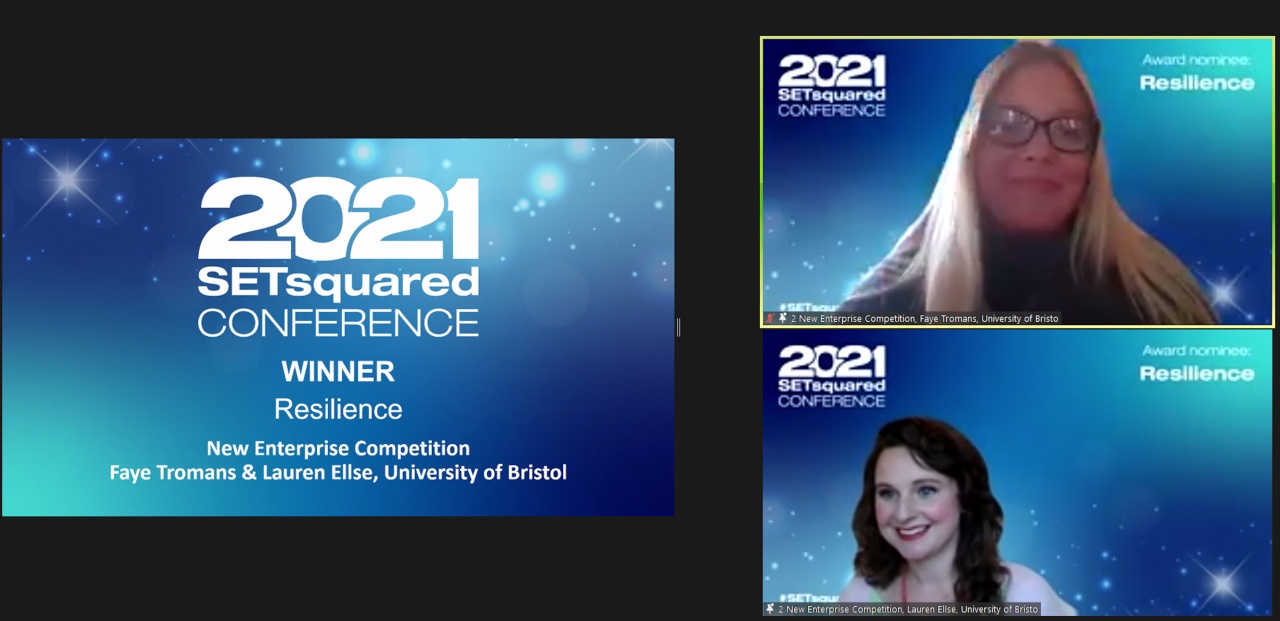 The University of Bristol's Basecamp Enterprise Team's ability to change tack and throw a digital competition to launch new student ventures mid-pandemic has won it the 2021 SETsquared Resilience Award.
'Pivot' is a word that has been used liberally in virtual board rooms across the country in the past 12 months. It's also what Bristol's Basecamp team knew they had to do if they were going to help newly fledged student and graduate enterprises secure investment when the country went into lockdown.
Each year the team runs the New Enterprise Competition, helping graduates develop their business concepts and entrepreneurial mindsets to the point where they are ready to pitch for funding and incubation.
During the past two decades the competition has played a key role in University of Bristol success stories like Ultraleap, which has combined the world's most advanced hand tracking with its ground-breaking haptic technology to create the sensation of touch in mid-air. Essentially, it makes it possible to 'feel' a digital world – something that is now making waves in Silicon Valley.
"We have some fantastic entrepreneurial alumni who've come through the Basecamp team and gone on to be supported by SETsquared Bristol," explained Basecamp Enterprise Advisor Lauren Ellse. "Ultraleap is just one example, which has given the competition a lot of prestige.
"One of the great things about our job is we never know what business ideas the graduates are going to present next. In the morning, it could be an ice cream parlour and in the afternoon an AI prosthetic limb company."
When the pandemic hit in March 2020, the New Enterprise Competition was just about to enter its final stage – the Growth stage – which always includes a celebration event where the winners are announced.
The Basecamp team and entrepreneurs were suddenly faced with remote working and no prospect of the normal, glitzy awards party that allowed them to network with business mentors and investors who are important for their future growth.
Enterprise Officer Faye Tromans joined the Basecamp Enterprise Team in January 2020, so was just getting to grips with her role when lockdown happened.
She said: "It was quite challenging at the beginning. When we started working from home, we weren't sure how long it would be for. We didn't have access to Zoom or anything like that."
Despite the hurdles of lockdown and remote working, the team knew there was no question of stopping the competition.
Lauren said: "We were mid-flow organising the competition, and while some of the founders had a few low days at the beginning like everyone else, they soon started saying: 'this is how I'm going to pivot'. That drove us forward as well. We wanted to do our best for them."
This is when they came up with the idea of running a People's Choice Award. For the first time in the competition's 19-year history it went online with a £2,000 prize for the business concept that won the most public votes.
Each of the 10 finalists recorded a two-minute pitch that was uploaded to YouTube and promoted with the help of the Basecamp and University of Bristol's marketing teams. There was an email campaign, social media promotion and a series of blog posts to highlight the competition and encourage votes.
The result was thousands of people heard about the entrants' businesses. In the four days that the ballot was open just under 3,000 individuals cast their vote and 700 potential mentors and competition sponsors came forward for future competitions.
The People's Choice Award campaign had surpassed the reach of any previous activity, achieving more recognition and publicity than ever before for the competition and the finalists.
"It was really tough, but it worked," said Faye. "I think it is quite fitting that we were nominated for and won the resilience award.
"We had people voting from around the globe, whereas usually it would have just been people in Bristol, or perhaps the UK, that would have been aware of the competition. So, this has helped our entrepreneurs reach new leads and connect with people that are outside of our usual remit."
The winners of the public vote were E2E – an intelligent learning platform that personalises the experience for each user. The overall 2020 winner was Kaedim – a student start-up using Artificial Intelligence (AI) to turn sketches into 3D models. They won the top prize of £10,000 and 12 months SETsquared Bristol incubation.
Lauren, Faye and the rest of the Basecamp team are now in the thick of the 2021 New Enterprise Competition. The People's Choice Award is returning, and the celebration event will be run online too.
They admit it isn't ideal – they much prefer to see the students pitching in person and celebrating with them at a physical event. But running the competition online has given them plenty of ideas that they will be taking forward to 2022 and beyond.
"One of the big lessons we're taking from this is the benefit of encouraging the students to promote their businesses more," explained Faye. "They've never really had to do that outside of the pitching process but it's a skill that they'll have to learn when it comes to the real world."
Lauren added: "We wouldn't have thought of offering online pitching in the past either but actually, if that helps us be more international and helps graduates who are in different countries, then we should absolutely do it. We've become more adaptable and that's a really positive thing."
They also see that the pandemic and the rise of remote working has created an opportunity for Bristol's graduate entrepreneurs.
"There's definitely lots that could be done to make home working easier," says Lauren. "Maybe students from Bristol could do that. There are some really exciting tech ideas being talked about here. I'm always excited to see what they do next."
Mailing List sign-up
Get all the fresh insights first! Stay up-to-date with all the
latest investment news, blogs and all things SETsquared.
Sign-up
Close