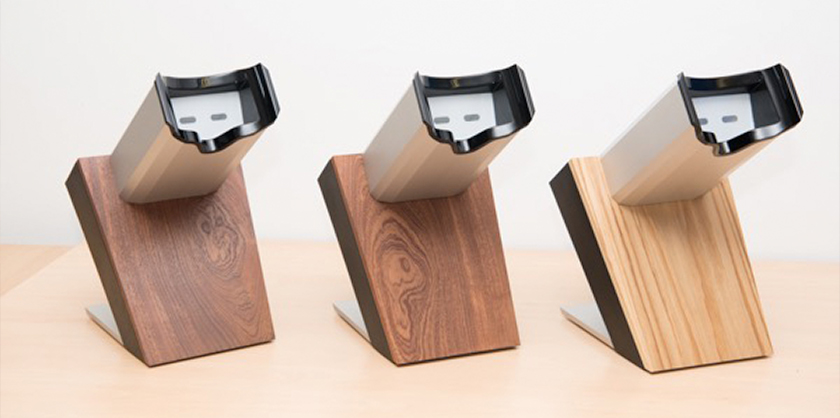 Azul Optics has developed a new technology to assess our eye's natural protection against harmful blue light and oxidative damage (macular pigment density). A low level of macular pigment can indicate a higher risk of blindness from Age-­related Macular Degeneration (AMD). In the UK alone, AMD affects more than 600,000 people and is estimated to cost the healthcare system £1.6bn annually. Its device, the MP-eye, is designed for optometrists and enables them to identify people who are at increased risk early so that they can be empowered to take preventative actions such as wearing protective eyewear and hats, quitting smoking, improving diet and or taking supplements and increasing fitness, all of which can reduce the risks of going blind later in life.

FACT FILE
Start date: 2016
Website: Visit website
Location: Bristol
Employees: 4
Innovation to Commercialisation of University Research (ICURe)
Funding: Grants: £500k; Equity: £310k
KEY MILESTONES
December 2015
Started on ICURe Programme
October 2016
Innovate UK funding received
April 2017
Private investment funding received
May 2017
Named BBSRC Innovator of the Year
March 2018
MP-eye Registered as class 1 medical device
May 2018
Product given to opticians and first sales made
October 2018
UK distributor signed on and distributors in 20 other countries engaged
December 2018
CE marking of the product obtained
2020
Trials with global partners begin
January 2021
£1m sales pipeline

"The ICURe programme drives you to develop a business plan at an early stage. This is so useful, as it accelerates your thinking beyond academia, which is mainly based around the technology. This is combined with the intensive market research; over the course of four months I spoke to 105 people from across five countries, which enables you to quickly understand if there is a market for your product."
"During this period, I actually made a significant pivot to my business model. I had initially conceived that my device would be available in doctors waiting rooms for people to undertake the test themselves, but the feedback I got from the marketplace was that this wasn't a good idea. They felt that people wouldn't understand the results and would actually be left without support if the results showed increased risk. It was at this point that I changed my business model to target optometrists – as it would be better for eyecare professionals to adopt the technology first."
"The device is all about empowering patients to make lifestyle changes now to improve their vision and protect their eyes throughout life to reduce their risk of losing their sight later in life."
"Since ICURe we have kept the team small. We increased the team to four people last year after bringing in a sales and marketing hire, which has been crucial for us at this stage. She has revolutionised our business so much that we now have a million-pound sales pipeline order book. For a health tech or med tech company to go from concept to breakeven in four years it's unheard of, so we're very proud of our success so far".
"Being a small team has worked to our advantage during the COVID pandemic as it means we're already a lean company with limited overheads. We have also managed to capitalise on opportunities to open up new sales channels through providing content to our customers. As a scientist I found I could deliver scientific lectures via our distributors that optometrists can log into from around the world instead of going to trade shows. Some of our webinars have seen a 50% sales success conversion ratio, which is amazing. COVID has had a positive impact with respect to the healthcare industry generally, because it has made people much more health conscious, they are much more invested in preventative measures."
"There have of course been some challenges along the way. One of our previous hires wasn't quite right for the business, and having to deal with that is very difficult. Business is all about people. At the end of the day, even if you have the best invention in the world, somebody has to use it, and somebody has to help you sell it. They're all people. It's a cliché but it's so important to have the right team around you".
"The future for us is looking very bright. We're at breakeven point now and we want to grow faster. We plan to bring in more investment and expand the team to start scaling up. Now that we're selling units around the world the business is becoming as much about box pushing as the science. We will need somebody who has done that before and is better placed to help us navigate those uncharted waters, whilst I focus on what I'm really good at, which is the science and technology side and developing our next products".
"ICURe afforded me a very large number of the connections and networks that have been important to different parts of our business in different ways. Some of them have become distributors, some of them are key opinion leaders and the first users of the device in their practices. Some of these connections also continue to be helpful advisors. The content of ICURe is still feeding into our success today".

Dr Shelby Temple, CEO
Azul Optics