FOTENIX: Next generation crop analytics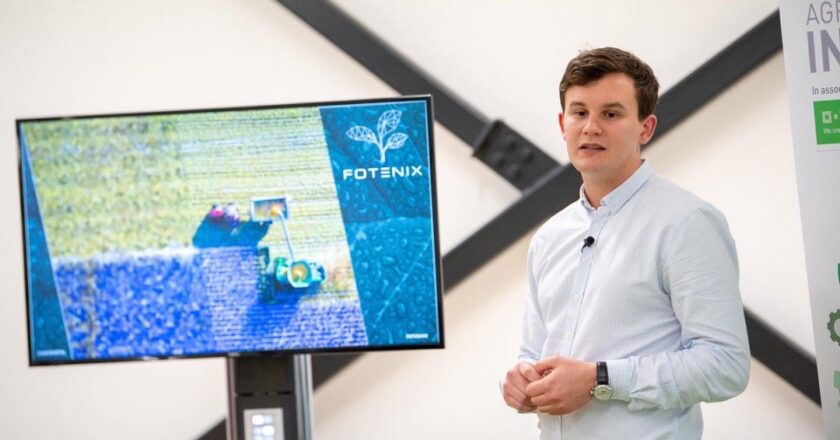 FOTENIX is a developer of crop analysis tools designed to increase efficiency in the agri-food industry.
Its key technology is three-dimensional multispectral imaging which allows laboratory analysis at economic cost. A FOTENIX-enabled sprayer or harvester provides the next step of data-driven farming to producers, whilst the cloud platform ensures agronomic insights that compound with each use.
Using the FOTENIX technology can halve the time taken to find performing crop varieties that are less susceptible, thus reducing the collective reliance on using large amounts chemicals when grown in the field.

FACT FILE
Start date: 2018
Website: Visit website
Location: Manchester
Employees: 7
Innovation to Commercialisation of University Research (ICURe)
Funding: Grants: £1.1m; Equity: £250k
KEY MILESTONES
Dec 2017
Took part in ICURe
Sept 2020
Highly Commended Finalists in Tesco Agri-T Jam 2020
Sept 2020
Selected to take part in Innovate UK's Seed investment programme
Oct 2020
First sale of product
Jun 2021
£2m Seed funding round due to close

"As a PhD student I was interested in starting a business and I used my thesis as an opportunity to put together a business plan for using sensors on farm equipment to try and reduce the environmental footprint of farming. I had the idea, and a number of products and solutions that I thought would solve the problem, but I had no knowledge of who the market was and which of my products would be the most suitable."
"The ICURe programme was recommended to me by the University of Manchester Tech Transfer Officer (TTO) as a way for me to develop my business plan and target a specific market. I knew I had a prototype product that worked, but I needed to understand if there was really a business opportunity there."
"I went into ICURe with an open mind about where it might lead, whether that was starting my own business and spinning out, or just licensing out the technology. ICURe is a fantastic way to get impartial guidance and advice from people outside of the university environment so that you can make those informed decisions."
"The part of the programme that I found the most valuable was Boot Camp. The pitch training was intensive, and it felt like a "reprogramming" of the way that I would have normally approached a commercial pitch presentation. I had always thought that I spoke in a quite a commercial way (for an academic), but Boot Camp proved I had a lot to learn. Investors want to understand the opportunity, not the science. It's a concept I try to instil in my own team and others to this day."
"During the market validation phase, ICURe really solidified our focus on agriculture and helped us to look further afield to different regions. We've had a lot of interest from Canada, for example, which without ICURe we wouldn't have previously considered. By travelling around the world to make these connections, we have also built up the most valuable 'founder's phonebook' of contacts which is so essential as start up."
"Since ICURe, we have grown the team with a combination of full time, part time, and student placement hires to fill the skills gaps we needed. In January 2021 we hired a Commercial Director, who was one of the main contacts that we made during ICURe. Now that we're generating revenue, the focus of the company is less about new capabilities and more about how far we can push the product – how can we ensure its reliability, how can we post it, how can we scale it? By bringing in commercial experts we can actively answer these questions and start growing."
"One of the challenges I've felt as the founder of a company, is that it's been difficult to let go and allow other people to take up the reins. You must give other people that responsibility and trust them to get the job done, but that's a task for me as a leader after so many years of being a one-man-band. It makes it easier though when you know you're bringing on board experts that are better in each individual sector than I am."
"Looking ahead, we are due to close our Seed round later this month and that will help us to expand our two main products in the breeding industry and horticulture markets. We hope to get thousands of our devices out into the market so we're trying to scale the size of our customer and look beyond Europe."

Dr Charles Veys, CEO
FOTENIX