Inductosense: A wireless ultrasonic sensor for rapid and low-cost inspections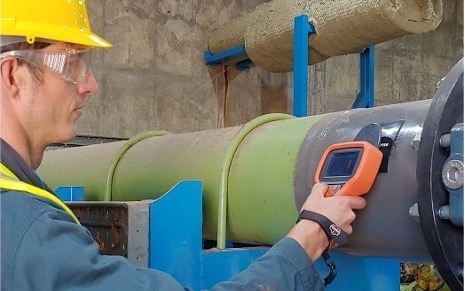 Inductosense Limited is a spin-out from the University of Bristol that has developed compact, wireless, sensors for the fast, repeatable detection of corrosion or other defects in structures or products. The Inductosense WAND sensors do not contain any batteries or wires, enabling them to be permanently embedded into structures and products for through-life monitoring.

FACT FILE
Start date: 2014
Website: Visit website
Location: Bristol
Employees: 16
Innovation to Commercialisation of University Research (ICURe)
Funding: Grants: £1.1m; Equity: £3.8m
KEY MILESTONES
October 2014
Started on ICURe programme
October 2015
Received Innovate UK Aid for Startups grant alongside investment from founders and chairman
April 2016
First R&D contract awarded
November 2016
Launched evaluation kit for initial trials
September 2017
Received £1.35m in investment
February 2018
Obtained ISO accreditation
April 2018
Launched first commercial product – the WAND system
July 2019
£500k Innovate UK grant awarded for development of composites applications
October 2019
Received £2.3m in investment
January 2021
Received contract for deployment of sensors in volume with SinoChem in China
April 2021
Company reaches a milestone of 4,000 WAND sensors shipped

"The ICURe programme helped us understand the market need for our technology and identify the immediate and easier to access opportunities which subsequently fed into our business plan. During the programme we met with over 100 companies from the oil & gas, nuclear, automotive, aerospace, defence and composites industries; and their insight helped us to refine our technology. ICURe provided invaluable training and support, and we wouldn't have got to where we are now without it."
"We realised there was a business opportunity but ICURe accelerated our progress, and the intense three-month period of going out and doing the market validation really propelled us forwards. Without ICURe it would have taken much longer to get the business off the ground. The Innovate UK funding also helped us develop much faster. We were proud to be one of the first ICURe projects to receive Innovate UK funding and it enabled us to develop an initial evaluation system and work with partnering companies on a range of applications."
"In 2017 we secured £1.35m in funding from a consortium of investors. We used that investment to conduct initial trials with large companies in the Oil & Gas industry, to build our team and to develop a full commercial offering. In early 2018 we also received ISO accreditation and ATEX/IECEx certification on our sensors – necessary milestones to enable us to deploy sensors across Oil & Gas infrastructure."
"In 2019 we received additional £2.3million in investment to develop more automated solutions for our product, feeding into the digitisation agenda of our operators. These solutions are due to be launched very soon. We also diversified into a number of different markets and we now have trials going on across marine, chemical, nuclear, mining, renewables and composites applications."
"We have our own facility in Bristol for production and R&D and we have increased our team to 16 employees. We have completed a number of trials and had approval from a number of major companies. Our focus is around opportunities where there is a need for volumes of sensors. Last month alone, we shipped over 1000 sensors which was a real milestone for us."
"COVID definitely had an impact on us and has restricted our growth over the past year. However, we have still grown with a 70% year on year increase in revenue. The major impact for us has been not being able to travel to support customers with installations and trials."
"Looking ahead we will be moving more towards robotic based and IoT enabled devices for data collection. We are also planning to shift our business model more towards a subscription basis. We are at a point now where the technology and business case has been validated across multiple applications so it's a matter of getting it deployed widely.
"ICURe allows you to test your idea out, but I think the real marker of success is to actually get on with it and to get to a place where you have a profitable, growing business."

Dr Matt Butcher, CEO
Inductosense Limited