ORCA Computing: A new era of computing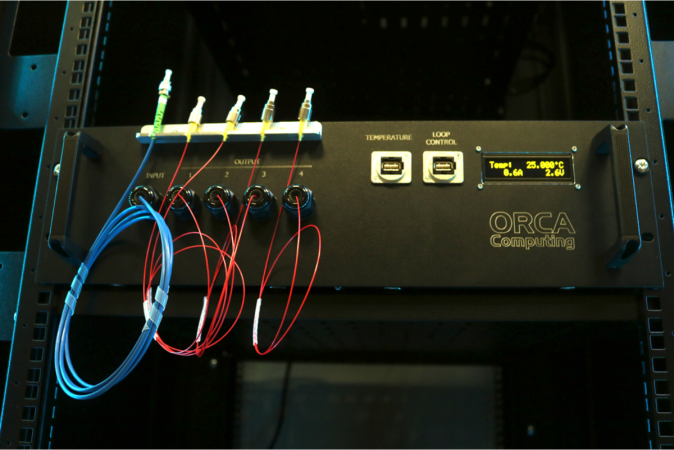 Quantum computers use quantum physics principles to unlock a realm of capabilities not available to traditional computers. ORCA Computing has created a new approach to quantum computing with its quantum memory technology.
It harnesses the power of photons to reduce the number of redundant components that current photonic machines require and enables a high-speed, streamlined operation. This novel solution allows room-temperature quantum computers to be built using industry-standard elements for the first time, providing a viable and faster path to scale to large quantum computing systems.

FACT FILE
Start date: October 2019
Website: Visit website
Location: London
Employees: 22
Funding: Grants: £700k Innovate UK 'Quantum payload factory', £600k Innovate UK 'Discovery'
KEY MILESTONES
January 2020
£500k grant from Innovate UK
July 2020
Won prestigious Institute of Physics Business Start-up Award
December 2020
Finalist in the 2020 SPIE Start-up Challenge
February 2021
Joined SETsquared's Scale-Up Programme
August 2021
Acquired proof of concept
September 2021
Featured on the BBC
November/December 2021
Launched PT Series product
December 2021
Awarded £11.6m Quantum Data Centre of the Future project with KETS Quantum Security
December 2021
One of ten finalists in the 2022 SPIE Start-up Challenge

"At ORCA Computing we are creating the next generation of quantum computers, using our quantum memory technology to create commercially scalable solutions that utilise industry-standard infrastructure. We see quantum computing as the moon landing of our generation, but it is a huge engineering challenge, especially for a small, growing business."
"A huge benefit of SETsquared's Scale-Up Programme is that it can support businesses that are already familiar with the grant process by helping them refine and improve their bids. Although ORCA Computing had previously won funding, we had support from the Scale-Up Programme with two funding bids, both of which were successful and required different forms of support."
"The first bid was for a small feasibility project that without SETsquared we wouldn't have applied for. As a scaling business there is a lot of admin to juggle, and although smaller grants bring in extra money, the time it takes for us to pull together a high-potential application can sometimes mean it is not possible for us to apply."
"SETsquared provided bid writing support to help streamline the process and connected us with an academic at the University of Bath to review our application. Not only was this a great opportunity to work with a university, but it also opened a lot of conversations that led to us submitting a second, large bid with support from the Scale-Up Programme and two of SETsquared's partner universities."
"This second bid was for the Quantum Data Centre of the Future project, which we submitted in partnership with KETS Quantum Security. We won £11.6m from Innovate UK and this is the largest grant the UK Government has ever given in quantum technology. It was also the first time that quantum technology and quantum communications have partnered together for industry."
"When you are going after larger pots of funding it is important to up your game, especially if the project you want to deliver requires a co-ordinated approach with multiple partners as you must feature information on what each partner is doing, whilst producing a coherent project outline. We had 12 partners to co-ordinate for the Data Centre project, which made the application process challenging as it had to be precise, and we needed to condense a large project into its core essences."
"SETsquared's Scale-Up Programme was significant for our application for the Data Centre project as they matched us with academic expertise at the Universities of Bath and Bristol to review our proposals for our technology and consider new approaches. We also had access to bid writing support to fine-tune the language in our application to tell our story in a compelling way, but also ensure we had covered all the key information that was going to give our bid a higher chance of success."
"As part of our Scale-Up support, we also participated in two mock interviews where we were required to prepare for them as if they were real pitch presentations. This was excellent practice for us as it gave us useful feedback on our performance and helped us to sharpen our skills, ultimately pushing us beyond where we would've been had we not had this opportunity to practice and get feedback from experts."
"I would thoroughly recommend the Scale-Up Programme to other SMEs as it is a perfect half-way house between businesses and universities. There is often a mismatch of time between small businesses and universities, and it can be time consuming and overwhelming to sift through lots of contacts trying to find the right person to boost your bid, on top of the day-to-day running of the business."
"The Scale-Up Programme is extremely well resourced with people that understand how industry works and that businesses do not have infinite time; the whole process is extremely efficient. The team's support and knowledge of how universities and funding opportunities work saves you precious time that you can spend on your business. It is also easy to get started and you know you are partnering with academic expertise and bid support that is extremely high-quality."
"After the success we've had with the academic partnerships we formed through the Scale-Up Programme, we intend to sponsor PhD students and recruit from universities as there is such a wealth of knowledge and skills that would be fantastic for ORCA Computing and its future."

Richard Murray, CEO and Co-Founder
ORCA Computing