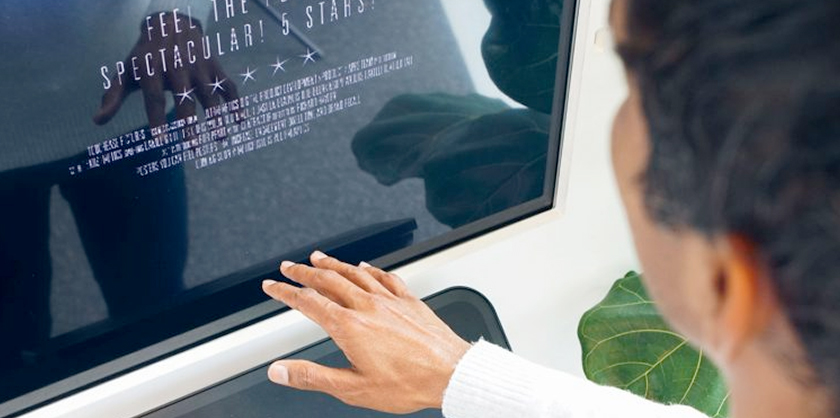 Ultrahaptics has created a truly exceptional technology that uses ultrasound to enable people to feel virtual objects in mid‐air with their bare hands. The business has enjoyed phenomenal growth across markets from automotive to Virtual Reality (VR).
The technology works using ultrasound projected through the air onto your fingers to create a vibration on your hands that enables you to feel feedback on gestures, buttons or controls in the air, or even to reach out and feel digital content. This enables the user to control devices without touching them – in the home or in the car, or in augmented reality.

FACT FILE
Start date: 2013
Website: Visit website
Location: Bristol, US (California), South Korea (Seoul)
Employees: 88
SETsquared Programme: Business Acceleration and Scale-Up Programme
SETsquared support received: Mentoring, Office support, Training events, Investor readiness training, Investment Showcase
Investment raised: £31m
KEY MILESTONES
2013
Joined Bristol SETsquared centre
January 2014
£105k grub funding received
October 2014
Received seed funding of £600k
January 2015
Opened Evaluation Program (oversubscribed by February)
February 2015
£10.1m funding from Woodford Investment management
May 2015
Additional £500k seed funding
June 2015
First patent granted
September 2015
European Commission Horizon 2020 Grant of €1.49m
October 2015
Closed £10.1m funding round
Ocotber 2015
First customer prototype products being demonstrated
September 2017
£17.9m Series B round of investment completed
November 2018
Announced as Innovative VR Company of the Year at the VR aWards 2018

"SETsquared has been our home since the early days of the business. Not only have they provided a literal home, in the form of our first office space, but they've also provided everything else we all need from a home: support, advice, connections, guidance and training."
"Growing pains from being a start-up are generally around people and process, because when there are three of you, everybody does everything. SETsquared helped us in the early days with services such as legal, financial and PR all helped us go from three people to 80 people that we are now. There is a lot of help and support so you get answers to questions quickly. 
"SETsquared have helped us manage our growth by facilitating introductions to help us build our board and an experienced management team. The space at Engine Shed in Bristol has been great, allowing us to not only have offices in an environment buzzing with entrepreneurial spirit, but also take advantage of meeting rooms, and function space for recruitment events, as growth continues to be a key driver of the business."
"SETsquared has a really large network of contacts that can be useful, not just inside the organisation but outside it too."
"All of our employees have taken part in at least one SETsquared training session as they offer a wide range of subject matters, from intellectual property licensing and negotiation to PR."
"In the near term, we'd love to be one of the UK's leading technology companies, and the world leading in haptics, which is where our business is focussed."
Steve Cliffe, CEO Tom Carter, CTO, Ultrahaptics