Day 3: Take out the tech and focus on value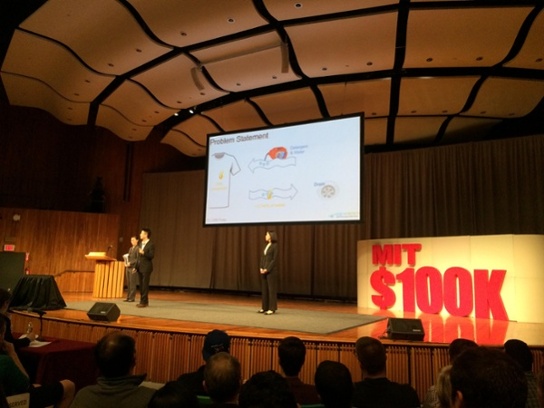 More work on positioning today, focusing positioning further for the USA and for the selected audience. The focus remains simplifying and concentrating on the bare essentials. Extensive work on the slide deck resulted in many changes, completed only whilst the previous person was pitching to the invited audience.
In the afternoon, the tables were turned and we were invited to be the audience for MIT students giving pitches as part of their entrepreneurship project. These were for applications of real technologies being developed for MIT. Whether any of the student business plans make it to the market is less certain, but the underlying technologies are fascinating and there was an abundance of good ideas.
For a bit of fun the evening, we attended the MIT $100K pitch competition. In this, student teams enter and compete to win various prizes, the top one being $100,000.
The partisan crowd was soon whipped into a frenzy worthy of a ball game with loud cheers whenever MIT was mentioned. 8 wildly different pitches followed – from a radically improved screening test for lung cancer to an automated restaurant which cooks the food robotically without kitchen or serving staff. The worthy winner was the new test for lung cancer, but the automatic restaurant won the audience award!
So what to take away from another 16 hour day? Lots of pitches given and listened to today.
Here are my key take-away points:
Take out most of the tech – leave hints and mainly the value proposition
Simplify and make it a sales pitch
Let go of what you think are your best features
Work out which bits of your proposition will get best interest and encourage the right people to talk further.
You're not trying to explain everything, just explain enough of the value to get that next conversation.

Mailing List sign-up
Get all the fresh insights first! Stay up-to-date with all the
latest investment news, blogs and all things SETsquared.
Sign-up
Close