Day 9: Networking and serendipity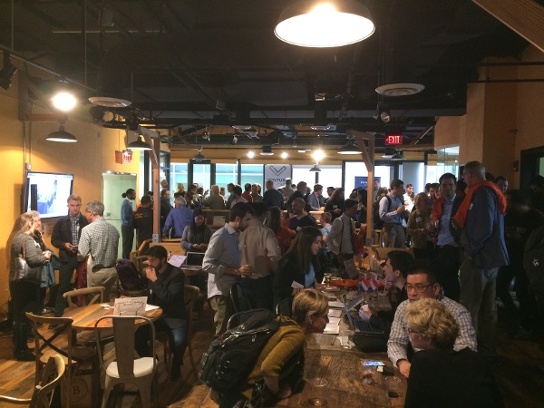 Day 9 of the 'Market Exploration Program' in Boston, where we are getting ready for our USA launch later this year.
I've heard 'Serendipity' mentioned a lot here in Boston. There's lots of stories about chance meetings, overheard conversations which changed the course of companies. I've even experienced it myself whilst here – a chance meeting lead to an introduction to a company we'll probably end up partnering with.
I've been based at the Cambridge Innovation Centre (CIC) whilst in Boston. They're keen on serendipity here, and create a social environment where meeting people is easy. Communal kitchens with shared tables and free fruit, snacks and drinks leads to lots of meetings 'by the coffee machine'.
They're not  alone – lots of co-working spaces round the world are following the same or similar model. However, I've never come across quite such as supportive and helpful environment as here in Boston. The vast majority of people are happy to stop, talk and help, even though you've never met them before.
The principle is exemplified by the 'Venture Café' held here at the CIC every Thursday evening. It's a networking event, with name badges, and meeting people and making new connections is easy. The name badges include the number of times you've attended the event.  It's clearly valued by locals, with many badges showing over 100 visits. Having been there twice, I've met lots of interesting people, and had at least two serendipitous introductions which may well take our business forward faster. In the end, that is the whole point.
Final day tomorrow.

Mailing List sign-up
Get all the fresh insights first! Stay up-to-date with all the
latest investment news, blogs and all things SETsquared.
Sign-up
Close