How green scale-ups can secure investment in a post-pandemic world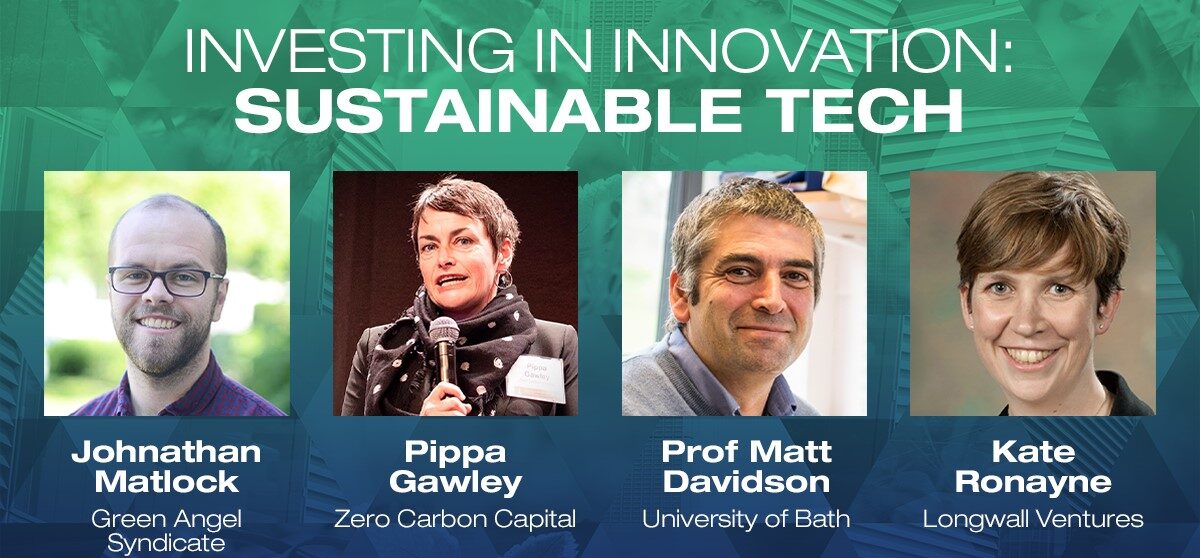 Climate conscious businesses could be the next big target for investors as the UK sets its sights on a green industrial revolution to kick-start economic recovery and meet carbon neutral targets.
In November the government announced a 10-point plan focusing on industries working in clean energy, transport, nature and innovative technologies. Between now and 2050 it wants to support and create up to 250,000 British jobs, and eradicate its contribution to climate change. Key to this strategy is ensuring that innovative sustainable technology gets the support of ambitious investors who want the nation to bounce-back greener after Covid-19.
In light of the green industrial revolution, SETsquared held a webinar on investment in sustainable technology to take a look at the steps needed to attract private funding for start-ups working in this exciting sector. It also gave entrepreneurs the chance to find out what motivates investors to get involved with green industries and how best to pitch to them.
I was fortunate enough to chair this unique, online Q&A with a range of experts in investment and sustainable innovation. The insights they gave were so valuable, we wanted to share them here.
With so many different types of private investment, including crowdfunding, how should green start-ups pursue their search for early funding?
Pippa Gawley, Founder and Managing Director of Zero Carbon Capital, invests in early-stage companies on a mission to address climate change through deep-science and hard-tech innovation.
"I think there's a lot of confusion around different types of investment," said Pippa. My advice about finding early-stage investors is to be as direct as you can. If you are a non-profit, ask the person who's giving out grants or giving out an investment if they invest in non-profits and if your business is a good fit for their investment thesis.
"Last year I was on the pitching side of the table trying to raise investment for our fund, so I know how hard it is. Finding the right match is like finding a needle in a haystack. I wasted a lot of time being scared to be direct with people. In one case I'd had three coffees before I finally asked the person if they actually wanted to invest. It turned out they just thought it was interesting and wanted to chat with me over a nice coffee."
Kate Ronayne, Investment Director at UK-based Longwall Ventures, focuses on long-term investments in early-stage science, engineering and healthcare companies. Her aim is to back businesses that want to solve a problem rather than passing it on.
"I'd encourage people to think about their longer-term fundraising strategy. Crowdfunding can be really good for B2C businesses because they get the benefit of that PR and can generate some excitement in the market," explained Kate.
"But I think it's a much tougher place to raise funds for B2B businesses. As venture capitalists, we look at who's invested in the business already. Are they going to be able to help the company grow in the future by investing alongside us in the next round? We look at whether you've got angel investors at your top table who can provide added value, links into networks and maybe some market intel.
"I've been involved with companies who've had lots of small investors, which meant they had a very long tail of shareholders. From a corporate governance perspective, that can actually be quite difficult to manage.
"I think all routes for funding are equally valid. But it's very important to think about what's right for you and your business today and whether that's still going to be right tomorrow."
Johnathan Matlock agrees. He is a member of the Green Angel Syndicate (GAS), which is the only UK angel syndicate specialising in the fight against climate change and global warming.
"Most crowdfunding platforms co-invest alongside angel syndicates. One thing you do get from angel syndicates is that value added post investment. The really good angel syndicates have extensive networks that they can use to the benefit of your company. The other important aspect is they can often help with your next funding rounds.
"That's one of the critical aspects of being an investor. If you've invested in a company, you need to pull your finger out and help it raise money in its next rounds as well."
Do investors expect a lower return when funding green enterprises?
Pippa Gawley said: "This is a subject for hot debate within the impact community. Historically, impact investing has gone hand-in-hand with the concept of concessionary returns, but that's not the case now. There are so many studies that show that actually investing in line with your values leads to better returns.
"At Zero Carbon Capital, we are firm believers in profit because of purpose. So, we're looking for business founders who are aligned in terms of their values and what they're trying to achieve. We want to see that being embedded at every level of the business.
"Historically, investors have ignored the impact of the pollution and the resource consumption of companies. This has gradually led to company valuations being affected by things like stranded assets, asset write-downs, and inability to get finance and insurance. We think that's a mega trend that'll continue to act over the coming years until this situation is corrected.
"I think climate tech is an area where the impact can go hand-in-hand with the financial returns. There are other areas of impact where that linkage might not be so direct."
Kate Ronayne, whose company invests in Let Us Grow – a Bristol SETsquared member on a mission to reduce waste in food production – added: "We look at the investment case in terms of the financial returns and how it fits with our investment thesis. We all have various filters that we use, and, for a lot of impact investors, climate impact is a filter.
"So, if you're aligned with that, it gets you through a gate, but it doesn't mean that other things are not important. So, Let Us Grow is a really interesting one because it fitted really well with the type of business that we want to invest in and the type of business where we think we can add value. The fact that it's in a sustainable area is an exciting additional benefit for me. It means we can deploy the money into companies where there's a really nice purpose, but it's not what'll sway us to invest.
"Increasingly, I think that there are more businesses that are strong investment propositions in the sustainability area. And this makes them more exciting to the more traditional, mainstream investors.
"One of the things about the 'public good' aspect is that there tends to be a lot of government money that people can leverage. Investors always like to hear that there are ways to spend other people's money to help a new company achieve important milestones."
When do investors expect to see a return on their investment?
"We'll all have different expectations; there are different kinds of trade-offs that any investor will have, whether they identify as being an impact or values or mission investor," said Pippa Gawley. Some may be willing to take a slightly longer perspective on timelines or risk in return for what they think will be a better return in the long run.
"For us, our whole investment thesis is based around the idea of financial returns going hand-in-hand with the impact. We're looking for companies that we think will be more valuable in the future because of climate change."
Johnathan Matlock added: "When it comes to biotech funding, timelines and return horizons in the clean tech space – people have to approach it patiently.
"You've got to create your company around a business proposition, developing a product, piloting that technology and then entering the market. The time horizon for that is often 7-10 years or more. So, as an angel investing in those technologies, I think I'm fully aware that's the time horizon that I'm investing in.
"I'm looking for companies that can tackle the bigger issues to counter for the fact it might take 10 years or more for that company to exit."
How should start-ups go about finding angel investors?
"One of the best places to start is the UK British Angels Association (UK BAA). It's like the trade body for angel investors. They've got a very comprehensive list of syndicates around the UK," explained Johnathan Matlock.
"Focus initially on who's in your region because there's a chance you may know them already. Once you've identified angel syndicates of interest to you try to find their members on LinkedIn. Focus on those who have the most expertise aligned with your area of business and then try to figure out if you can create a warm introduction to that person through someone else in your network.
"This is important because angel syndicates thrive off shared trust in their investment community. If someone I know recommends an investment opportunity to me then the door is now half open for that proposition. Whereas, when I'm approached by someone I don't know about a general investment opportunity in an industry I know nothing about, then the door is half closed.
"Treat every investment round in the same way as you would treat sales and marketing. Capture every bit of information about the people you're meeting: what they're interested in; what sort of capital they deploy; are they a lead investor; or are they a co-investor? All of this information can be collated in a Google sheet or Air Table, which is a bit more dynamic and flexible. This exercise is all about touch points and following up with investors. Sometimes you have to send three or four emails to someone to grab their attention.
"I'd add that angel investors are often much more willing to be mentors in the first instance. That gives you an advantage because it allows you to form a relationship with that individual. They also gain insight about you as an entrepreneur. That can be a segway to future investment," added Johnathan.
Should green start-up companies be looking for investment from abroad and how should they approach this?
Pippa Gawley has a particular interest in impact investment in the UK, US and the rest of the world.
"The climate crisis is a global problem and great technologies, novel business models and fantastic teams will get attention from investors around the world," said Pippa. "We've invested alongside the US in many deals in this country. In particular, in markets where perhaps the US has been a little bit further ahead in the way they're thinking about these problems.
"Start-ups may find that crowdfunding is not the best way. To take the US as an example, equity crowdfunding is a recent phenomenon there and it does not have the credibility that it has here in the UK.
"On the whole, angel investors tend to invest in things that they know. They like to invest in their local area, in companies that they understand, and in the regulatory and legal framework in which they're going to be operating. I think it's generally quite hard to find angel investors overseas who are going to be interested in investing in a UK company at an early stage of inception."
What can start-ups expect when approaching venture capitalists?
Kate Ronayne said: "A venture capitalist's (VC) business model will determine the investment that they're prepared to make. For example, some won't do cheques lower than £2m, so it's not worth spending an awful lot of time talking to those if your funding expectations are lower.
"It's worth looking at whether they have invested in businesses similar to yours and who they like to syndicate with. This can be a good indication of whether or not yours is the sort of business they're going to want to come into. Ask them: will they invest alongside angels or are they more likely to want to come in with other VCs? At Longwell, we're a very early investor so we're sometimes the first money in. Other times we're part of a round that includes angels and other early-stage investors as well.
"You also need to ask yourself whether this is your last round of investment or do you think you're going to need more? If so, you might want to consider having more VCs so that they can follow on in future.
"I think if you can get warm introductions that's always really helpful. If you tell people, why they're emailing them specifically that's more likely to get looked at than something that's obviously been sent to 50 or 100 VCs in one go. I think it's definitely worth doing your homework and targeting individual investors, much like a customer engagement process. Approach people before you've got your product to tell them what you're planning to do. Get their feedback. Talk to investors early to understand their sweet spot, and what type of businesses and what stage they're interested in. Build up the relationship and the door will be more open when it comes to fundraising," added Kate.
How can entrepreneurs deal positively with rejection?
"If you've had a knock back from an investor, there's often a reason why they're not investing at the moment," Pippa Gawley. "Be direct. Ask why they're not currently investing and if your proposition is the kind of thing they would be interested in at another time.
"You can ask for feedback. Try and accept it humbly and don't argue with it. It's important to respect the investment thesis of an individual, a fund or of a grant-giving body. You're unlikely to influence it or change their mind. It's always worth doing your homework about what kind of things they invest in and whether it's going to be a good fit for you."
How can universities help build relationships between green enterprises and investors?
Professor Matt Davidson, Director of the Centre for Sustainable Circular Technologies (CSCT) at the University of Bath, has been working in the area of sustainable tech for 25 years. The CSCT provides business support and university research collaboration opportunities to small firms in the sustainable technologies sector.
"I think there is a role for university researchers in this, whether it's in being able to facilitate proof of principle, funding or feasibility studies," said Professor Davidson.
"Any investor will be interested in the credibility of a prospect. Even with relatively small investments they'll want to see feasibility studies on the environmental impact and the environmental assessment of a prospect. There's technical R&D that can be done very effectively with the help of university resources. If companies can build more credibility early on it'll benefit them later.
"Covid-19 has brought this into sharp focus. Everybody can see a direct link between the fundamental science and the application of it in the development of vaccines.
"There is a will to build back greener, but I think there are also some challenges for universities and businesses. We speak different languages. We have different drivers. We have different reward systems. Universities are not necessarily agile in the way that small companies are. But I think it's worth businesses persevering with this. Universities are fabulous. They have major facilities. They're globally networked. They train people to a really high level.
"We've worked with SETsquared on the Sustainable Technologies Business Acceleration Hub for three years now and it's been incredibly rewarding for the companies, the universities and the researchers involved.
"I think universities and businesses need to start speaking the same language, be agile and we need a one-stop-shop – a gateway to a large but complex academic resource. Ultimately, I believe this dynamic requires co-location of researchers and businesses. Of course, I think it needs public funding. It also requires getting the right people to drive these ventures and make them work."
Johnathan Matlock added: "Lots of early-stage companies need access to talented scientists and engineers in order to make things happen. Driving forward innovations is not just about having talented founders. In universities, you've got a whole talent pool that can be leveraged in the start-up world.
"The focus should be on how these academics can be brought into exciting, early-stage start-ups and contribute to solving climate change."
Kate Ronayne, who has a PhD in Physical Chemistry and started her career at the Science and Technology Facilities Council, added: "Co-location is a question that I spent an awful long time thinking about when I was part of the Research Council. How do you convince private money to sit alongside public money? They are funding quite different things but there are obvious benefits. Co-location of business and universities allows them to access really high-quality people and resources that you couldn't possibly afford in a new company.
"One of the things that public money ought to be looking at is how it can help create these communities, so they grow and thrive. It doesn't happen by accident. They need a catalyst to provide direction and stimulus. I think the government has not yet realised what it can do by seeding and stimulating things.
"Once you've co-located lots of really good companies into a thriving cluster this will help attract other entrepreneurs because the risk of failure is much less. They know if their idea doesn't quite work out there are other options really close by, so it's much lower risk to get going. However, if you're the only start-up company for 50 miles, it's quite hard to get people to come and join you.
"In my mind the government ought to be investing in fundamental science and targeting investment at creating innovation hubs with a sense of place. This'll help these communities thrive and grow. And I think that'll then help bring the private money."
Professor Matt Davidson added: "The support coming from the government is incredibly strong, particularly for co-location of universities and businesses, and building that critical mass of niche technologies in particular places. Universities and research organisations need to step-up and take their place in a new infrastructure and a new culture that the government will support."
What hot innovations do investors want to get behind now?
"Given my chemistry background, I'm really excited by innovations in carbon capture technologies," commented Johnathan Matlock. "I think there's a really nascent industry in turning captured carbon into value products, so I think that could be a really interesting space to get into early.
"Another science-based sector tackling climate change is the impact of synthetic biology on our feedstocks. For example, scale-up companies looking at where we get proteins from, how we access them, cellular agriculture or protein replacement. I think those areas are really exciting.
Professor Matt Davidson said: "We're looking at electrolysis and direct air capture of carbon dioxide. Both have an incredibly steep learning curve but in the next 10 years we're going to see some disruptive change in making things out of carbon dioxide and hydrogen, as we already have with energy. In the short term we'll have digitally distributed manufacturing of platform chemicals. That's where I would put my money if I had it."
Kate Ronayne said: "I'm really interested in better energy generation storage management because I think there's a lot of wastage in the resources that we currently consume. There's an awful lot that can be done better there. Also using chemistry smarter in order to improve the world we live in is something that'll always get my attention."
Pippa Gawley added: "I find carbon capture, food, and agriculture very interesting, especially in bio-manufacturing. I think that's a really hot space for the UK at the moment, especially with our historic strengths in life sciences. We're also pretty excited about hydrogen and its potential to help with the challenges of industrial heat and long-distance transportation. So, that's another space we're looking at."
How has COVID-19 affected investors and their interest in green industry start-ups in the future?
"We're open for business and as busy as ever," said Johnathan Matlock. "The past six months have been the most productive in terms of capital deployed and new members joining the Green Angel Syndicate. I think this is because Covid-19 has brought into sharp focus the impact that climate change is having. There's lots of people doing research looking at how climate change could have actually enhanced the rate at which things like coronavirus is passed from species-to-species. So, I think people are really interested in this space."
Kate Ronayne added: "Investors have adapted to doing things remotely very quickly. There are an awful lot of companies that are pitching and meeting investors online. The whole due diligence process has now moved online too. There's certainly lots of people out there looking to invest money in really good businesses."
Pippa Gawley said: "The Cleantech Group recently revealed numbers for last year's investment levels, and they showed it being a record year. It's unbelievable given everything that's happened. So, whilst early-stage investment might be down across the whole market, clean tech is a growth area. There's more and more capital coming into this space every day from the government, from philanthropic investors and from fiduciary investors.
"This juggernaut is not slowing down or changing direction. So, it's up to all of the fantastic entrepreneurs out there to keep going and find that right fit."
The Government's green industrial revolution and a swell in support for clean technology has created a golden opportunity for entrepreneurs founding green start-ups. Now is the time to pitch to investors and secure funding to scale-up your business.
The panellists set out the different types of investment opportunities available, including their potential flaws depending on the investment being sought, and how best to make an initial approach to investors. A well-researched and targeted pitch to someone interested in your industry will have a better chance of success.
It is important for entrepreneurs to recognise that investors have different drivers and expectations. However, those looking to back sustainable start-ups are less likely to demand a rapid return on their investment. Profit is still important, but there are other considerations like associating themselves with a company with a shared agenda on climate change.
Everyone is agreed there is an important role for universities in adding credibility to green tech businesses. All of the panellists were keen to see more government investment in co-location of start-ups and academics to facilitate closer R&D relationships that will lead to thriving business communities.
In terms of the green industries that are getting investors excited, carbon capture technologies, energy generation storage management and advances in bio-manufacturing are all seen as hot areas for innovation, with plenty of scope for market growth.
The panellists also sought to reassure sustainability start-ups that despite Covid-19 investors are keen to fund enterprises like theirs. If anything, the global pandemic has accelerated interest in funding new technologies that will address the climate crisis. The entrepreneurs' job now is to keep delivering novel ideas to address this global challenge.
The SETsquared Scale-Up Programme provides support to high-growth SMEs around the key challenges of R&D, raising investment and accessing new talent. It includes a direct-link to leading research expertise at six scale-up partner universities – Bath, Bristol, Cardiff, Exeter, Southampton and Surrey.
Mailing List sign-up
Get all the fresh insights first! Stay up-to-date with all the
latest investment news, blogs and all things SETsquared.
Sign-up
Close