"IKEEP was great for our business and was worth its weight in gold"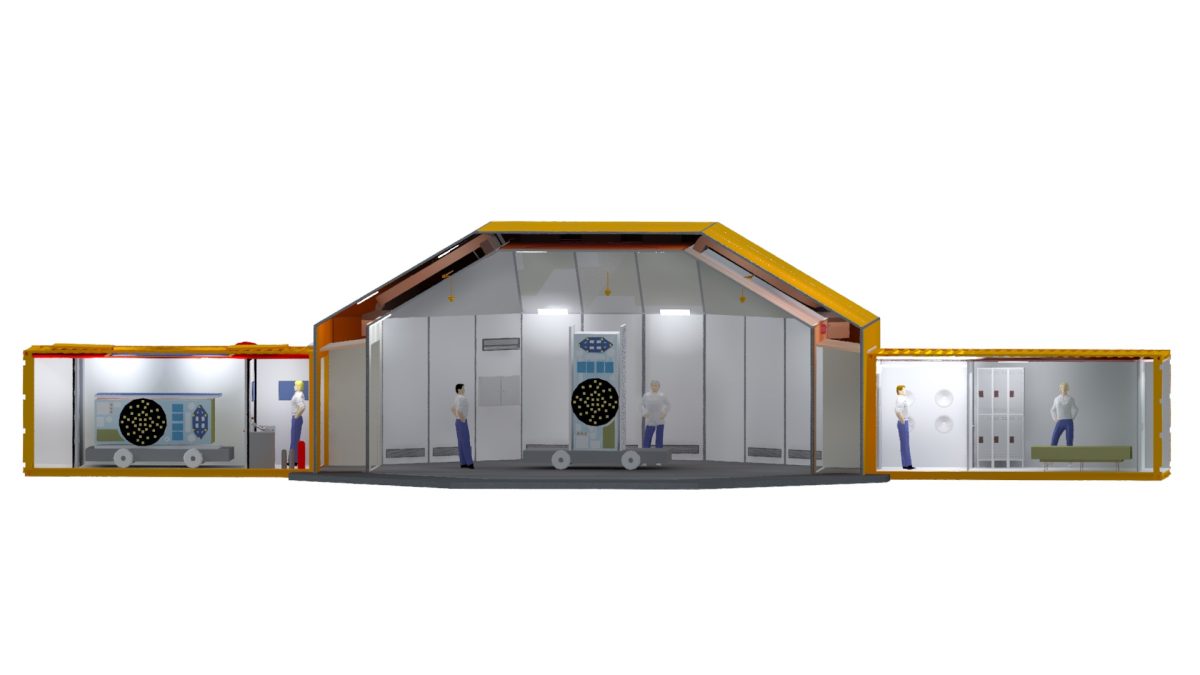 Image of Plastron's modular facility. Copyright of Plastron Ltd.
Charlie Young, Joint Managing Director of Plastron UK Ltd, tells us about his experience of the IKEEP Programme and how it helped his business.
Plastron was set up specifically for the NewSpace industrial movement, developing safety infrastructure, including modular satellite processing facilities, to support efficient and high-quality operations in this growing industry. These facilities are specialist, high-tech cleanrooms, which are vital for preparing satellites for launch as they provide a controlled environment to protect sensitive flight hardware from micro-debris or electrical damage.
Our purpose centred on the growth of the NewSpace sector, where great ideas are being developed at pace, but often without the deeper experience and process which the conventional space industry has worked to. Our aim is to bridge this gap – applying the historical experience of safety and quality space engineering so that the UK NewSpace sector can grow at pace whilst mitigating risks that come with disruptive change. The Plastron facility was the first step on this journey for us.
As part of the IKEEP Programme, we had a team of three students join us remotely, which was brilliant as each student had a different academic background and brought different skills to the table. We set each student their own task to help us develop the design of the facility.
One student was studying for a business degree and although he had no technical background, he designed a prototype product control system in XML. He helped us understand inventory planning and stock tracking, and he addressed wider requirements for reporting on the life history of key equipment and components. This has been an excellent contribution as we enhance the design over time, as well provide customers for detailed governance records.
We asked another student in the team studying for a PhD in Electrical Engineering at the University of Exeter, to convert our technical design sketches into formal design drawings. I was amazed how he just walked into it and produced high quality outputs which drive our design process as well as contribute to our sales and marketing. It was refreshing to have his support and how he interpreted our designs, challenged technical aspects and devised assembly processes really made me think. We have a strong and intuitive working partnership because of this experience, and it was a privilege to work with him with my own design office.
Our third student, who also had a non-technical background, was an enthusiastic motivator of the team and assisted in external procurement activities with me. They joined me on business calls with suppliers where we explained our niche area of business and then scoped out how we could use their technology in our design. This support ensured a greater level of detail was achieved, which directly contributed to the work of the rest of the team.
IKEEP was great for our business and was worth its weight in gold. The quality of the work the students produced was outstanding and we have kept one of the students on to work on new space engineering projects we have started since we took part in IKEEP.
The whole experience has saved us time and money, but it has also supported my self-development. I learnt from working with students at different stages of their learning journey, understanding the difference between the capabilities of undergraduates and postgraduates, and how this translates into soft skills.
It was also a good opportunity to get fresh perspectives on the business as we would ask students to consider a problem and they would enthusiastically respond with 10 or more ideas to think about!
It was this innovative thinking that has made me want to employ graduates and postgraduates in the future, especially those have gone through industry mentoring such as IKEEP – they have the confidence to look at a problem, understand it, and then question it. And it's this questioning that is such an important part of their self-development – developing an entrepreneurial spirit which is invaluable to any business that wants to be more innovative and successful.
SETsquared has created a fantastic programme in IKEEP, truly hats off to the team, and I'd encourage other businesses to get involved and see how it could help you.
Find out how IKEEP can benefit your business
Mailing List sign-up
Get all the fresh insights first! Stay up-to-date with all the
latest investment news, blogs and all things SETsquared.
Sign-up
Close