It's not opportunity that women in business are lacking, it's confidence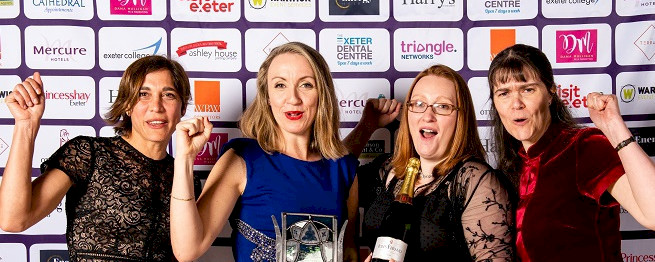 The team from BioSystems Technology, including founder Olivia Champion, second left
To celebrate International Women's Day, Samantha Mickleburgh, Entrepreneur In Residence at SETsquared Exeter, shares her view on improving women's representation in business
According to new research published earlier this month from Beauhurst, female start-up founders are missing out on billions of pounds of investment. The UK VC & Female Founders report found that for every £1 of venture capital investment in the UK, all-female founder teams get less than 1p. By comparison, all-male founder teams get 89p and mixed-gender teams get the remaining 10p.
The disparity has been explained partly by the fact female founders have a very low representation in venture capital deals (only 5% of pitch decks that reach a VC firm are from an all-female founder team), but also because it is well known that the sectors focused on by VC firms, such as software, AI and medical technology are currently underrepresented by women.
Given that it's International Women's Day today it feels like an opportune moment to consider these statistics.
In my mind, it's not just about the sectors but often its confidence that holds female entrepreneurs back. It's an issue I am aware of in my parallel roles as Entrepreneur in Residence (EiR) at SETsquared Exeter and as Managing Director of specialist ladies footwear retailer, DuoBoots.
In Exeter, female founders are still in the minority but the ones we do have are a very encouraging start. We have some inspirational female talent, including Olivia Champion, founder of BioSystems Technology who has developed a low-cost, ethical solution for medical testing. I was delighted to be part of the [email protected] judging panel last month which saw Olivia's company being selected to go on to the national competition in June. It's great to see businesses such as hers doing so well.
At the other end of the scale, I am also working with one female founder who has admitted that it's her own self esteem that's holding her back. This feels like a common problem for female entrepreneurs, but in my experience acknowledging this is already a step towards the solution. I have found that women are more willing to take the support offered and this can help pave the way to commercial success.
I have been fortunate to have worked in a variety of industries and sectors throughout my career to date. Having started at BP, I then moved to British Airways, going from check-in assistant to managing Customer Services over the course of 13 years. After moving to Devon I took a role with Reuters, and later with ROK construction where I had my first brush with the University of Exeter as an MBA student, graduating in 2010. Since then I have helped start up the UK's first online pound shop, set up a menswear manufacturing and retail business, been part of the turnaround team for Axminster Carpets – becoming the first female executive director in the industry – and become a council member for the CBI for the South West Region, before buying and re-structuring, the DuoBoots business with my business partner in 2016.
Despite my own successes I too have sometimes doubted myself. When I took on the role of EiR at SETsquared Exeter I questioned my own confidence in being able to impart knowledge and experience to help others. Could I really help? Did I know enough?
There is an incredible variety of technologies being developed by entrepreneurs in Exeter, across a wide range of sectors and industries, most of which were all new to me. But despite the diversity they are all underpinned by very similar business issues. It doesn't matter what industry, sector or idea it is, the business issues don't change and I realised there is relevancy to my experience across the board.
Once I got started I soon realised I had something to offer, with entrepreneurs I've worked with telling me they saw value in what I was bringing –  which is always good to hear! In my view, women who are successful in business have a responsibility to support others who come through the ranks so I'm proud to be doing the job I'm doing now.
I do think, however, that the gender balance is, albeit slowly, starting to change. The younger female generation are coming through the ranks with more surety. At both school and university now, girls have better access to STEM subjects and I think as a result we'll see the diversity mix changing over the next few years.
As an entrepreneur starting out, those first few steps can definitely be the hardest and I would encourage all women thinking of taking that leap to really take advantage of all the help and support on offer. Programmes such as SETsquared's Entrepreneur's Programme are the ideal start point to road test your ideas in a safe environment and make that break out of your comfort zone that you'll need to succeed.
Mailing List sign-up
Get all the fresh insights first! Stay up-to-date with all the
latest investment news, blogs and all things SETsquared.
Sign-up
Close