Knowledge Transfer Partnership helps accelerate growth in leading AI SME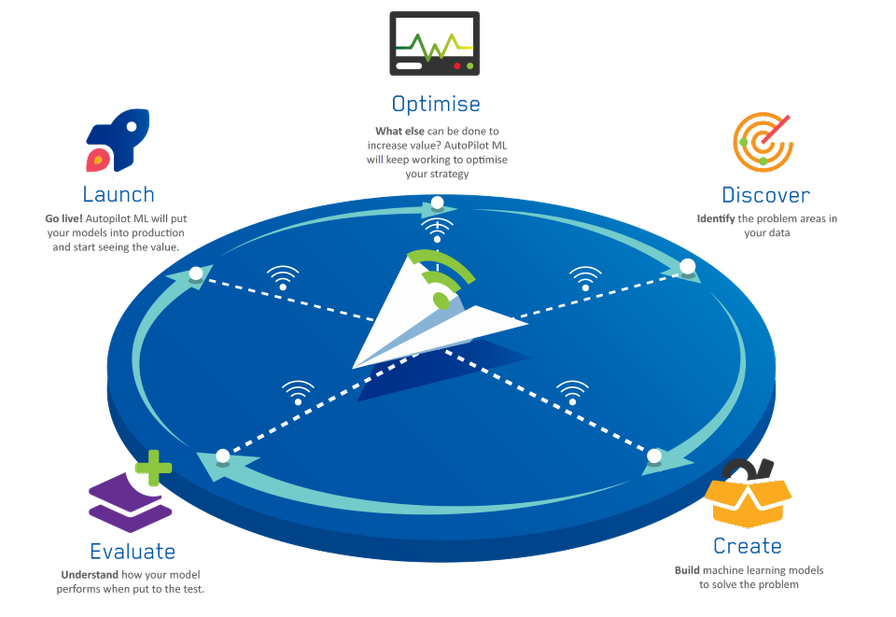 Image above shows the key components on how aiAutoPilot ML™ automates the process of managing machine learning models.
An R&D collaboration between the University of Southampton and The ai Corporation (ai) has helped deliver a machine learning fraud prevention solution ahead of schedule and put the business on course for further growth.
The ai Corporation has just come to the end of a successful two-year Knowledge Transfer Partnership (KTP) supported by Innovate UK and the University of Southampton.
The aim of the grant-subsidised KTPs is to help SMEs unlock the benefits of collaborative R&D by bringing in graduates – known as associates – supported by university academics to deliver a project of strategic importance, create transformational change and embed that knowledge within the business.
Over the past 45 years, more than 12,000 businesses have been paired with a KTP associate who has acted as a conduit for knowledge transfer to help them achieve a commercial opportunity. Benefits have included accelerating new product development, facilitating entry to new markets, and improving productivity.
These partnerships have been an enormous success. Virtually every project exceeds expectations and approximately 70% of associates are offered employment by businesses post project.
One such success story is ai, a fast-growth and innovative SME with headquarters in Woking. It offers machine learning fraud detection and payment solutions to global financial institutions and international merchants, with a client list that includes household names such as Circle K, Diners Club International and Shell.
ai's long-term goal is to automate fraud detection to make the process more effective and less resource-intensive for its customers. Harnessing new science and technology would enable it to achieve this faster.
Oliver Tearle, Head of Technology Innovation at ai, was undertaking a PhD at the University of Southampton and approached his contacts to ask for ideas.
"We initially approached the University because we wanted to see if there were grants available to help us with a backlog of projects," explained Oliver. "That's when they suggested KTP."
"The more we looked into it, the more it made sense to have this ongoing relationship with the university. We'd already had consultancy sessions with them but bringing in an associate would mean we had that support on tap."
The KTP application process enables companies to build a commercial plan around their R&D idea. They receive support from a dedicated team at the University of Southampton, the Knowledge Transfer Network and SETsquared to develop this and ensure they meet the application criteria.
This effort in the early stages pays off, with 90% of KTP projects approved compared to less than 20% of standard grant applications.
"You need to do a lot of planning in the early stages," said Oliver. "It's important to understand what you're going to be doing at each stage and who the key people are within the project, as well as the finance side. This was a huge piece of work that I had to do with our CEO and the head of finance to try and put together projections. At the time, this was difficult because we were growing rapidly and moving from being a product-based company to a service provider."
On average, SMEs contribute a third of the KTP project costs – about £30,000 – while the remainder comes from Innovate UK. There is no upfront cost to the company and the contributions are broken into quarterly instalments, enabling businesses to plan their finances.
In January 2019, ai took on an associate who had just completed a Masters degree in Data Science and Analytics at Royal Holloway University. He formed a link between the University of Southampton and the business to help it run experiments, tap into cutting-edge research and gain insight from other academics.
It was this collaboration that helped launch a novel machine learning project – AutopilotML. It was designed to replace some of the manual processes involved in machine learning for one of ai's customers by significantly reducing the amount of repetitive, expensive work that its team needed to do, which allowed them to focus on more valuable activities within their business.
ai was able to deliver this to the customer ahead of schedule.
"It's been really successful and has exceeded our expectations," said Oliver. "We never thought we'd be able to deliver AutopilotML within the two years that we had set out for the KTP.
"A lot of this success is down to the planning process and having help from the University to solve technical problems. Everyone worked really well together.
"We've already got many other customers and potential customers interested in this technology, and that's driven the whole business forward. Where we are now is where we projected that we were going to be in two or three years."
As well as contributing to the launch of AutopilotML, the KTP has had other benefits across the business.
"It has helped us to optimise our internal processes," explains Oliver. "We're a lot more efficient as a business now.
"Planning has become an enormous aspect for our business. We don't do anything without having an extensive plan with checklists, stage gates and all kinds of processes that we picked up during the KTP.
"We've also put in place an innovation process to understand exactly what our customers want so that we always deliver to their expectations."
He added: "If other businesses are considering applying for a KTP I would say they should absolutely do it. You're not only going to be working with some of the best minds in the industry and bringing in the latest knowledge, you'll also be optimising your business.
"Our relationship with the University is now stronger than ever. We're continuing to work with the academics there beyond the KTP. They thoroughly understand our business to better answer our questions and work with us to help us deliver future projects. It's been an invaluable experience for us."
While the long-term financial benefit of the KTP for ai is still emerging, the Knowledge Transfer Network has data that shows the average uplift in net profits for the 47 KTPs in Wiltshire, Hampshire, Dorset and the Isle of Wight is almost £13 million over five years after the end of the project.
KTP applications are open now and SETsquared can provide funded support to SMEs interested in developing an R&D project, if this would be of benefit to your business – apply to join our Scale-Up Programme
Mailing List sign-up
Get all the fresh insights first! Stay up-to-date with all the
latest investment news, blogs and all things SETsquared.
Sign-up
Close