LettUs Grow and Octopus lighten energy costs for vertical farms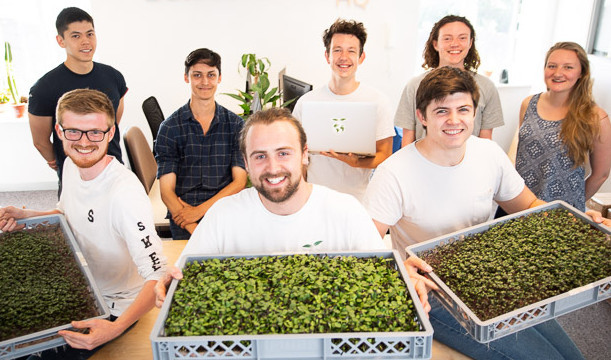 SETsquared Bristol members LettUs Grow has joined forces with Octopus Energy to demonstrate the most advanced proposition for indoor farm energy provision currently offered in the UK.
A year ago, Octopus Energy launched Agile Octopus, the world's first time-of-use energy tariff. The half-hourly tariff has demonstrated significant impact, with consumers shifting their consumption away from peak times – reducing the strain on the grid, lowering carbon emissions and saving customers money.
In the same year, Octopus Energy for Business was established out of the desire to bring a tech-focused green energy proposition to businesses, as well as tailored and flexible offerings. In a largely 'Big 6' dominated market, being the challenger who questions the status quo has helped drive and innovate exciting new opportunities for businesses.
Vertical farming is a huge emerging market and one that can reap the most out of an Agile tariff. By growing crops indoors and controlling the environments, farms can realise productivity of up to 100 times that of traditional farms. However, one of the biggest overheads for vertical farms is the cost of energy that can contribute up to 40% of the total costs of the business. Octopus Energy for Business identified that an Agile Business tariff could help indoor farms reduce their energy costs by up to 12%.
Octopus Energy for Business and LettUs Grow, one of the leading designers of irrigation and control technology for indoor farms, identified similarities to their approach for indoor farmers in the UK. LettUs Grow's software platform, Ostara, is a farm management toolbox, providing automation, optimisation and business planning insights to farmers. It can provide agile, closed-loop control for indoor and vertical farms remotely and be used to optimise plant growth. By integrating an Agile Business tariff into Ostara, indoor farmers can adjust their plant's growth cycles to align with lower energy costs, saving them money, reducing their impact on the planet and making the most of an automated system that links to the wholesale energy market.
Vertical farms are very stable and predictable energy users that integrate well with renewable energy production when the right systems are in place. Ostara's ability to optimise farm lighting, heating, cooling and irrigation cycles in response to cheaper energy provision can realise huge savings for farmers. LettUs Grow's plant scientists are working with world-leading researchers and key technical partners to optimise these conditions with a focus on growing the tastiest, highest quality, most sustainable crops.
The unique partnership between Octopus Energy for Business and LettUs Grow demonstrates the most advanced proposition for indoor farm energy provision currently offered in the UK. Here's to supporting budding indoor farmers, sowing the seeds for a greener future and a mint partnership between the two.
Mailing List sign-up
Get all the fresh insights first! Stay up-to-date with all the
latest investment news, blogs and all things SETsquared.
Sign-up
Close