Micrima raises £2.6million for ground-breaking breast imaging technology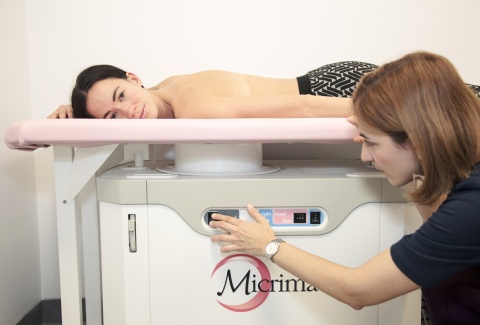 Bristol SETsquared member, Micrima a breast imaging company and developer of a ground-breaking radiowave breast imaging system, has successfully closed on a new financing round of £2.6m.
The new funding will support accelerated development of its patented MARIA technology, which aims to enable breast screening to become safer, more comfortable and more accessible to a larger proportion of the global female population. The company intends to start the commercialisation of its first system towards the end of this year.
"Breast cancer is the most common cause of death in women between the ages of 35 and 55 in Europe and the leading cause of death for women in many countries. The problem is that many tumours are not discovered early enough, largely due to the difficulty in discriminating between cancers and dense tissue using current imaging technology." said Roy Johnson, Micrima's Executive Chairman.
Using harmless radiowaves, the MARIA imaging system is capable of detecting tumours in dense tissue and allows routine and repeated scanning without any of the safety or comfort concerns associated with x-ray mammography. The process takes less than five minutes and avoids painful breast compression.
Almost half of the new funds has come from pre-existing institutional and individual investors with the majority of the balance from new high net worth individuals; 50% of the latter through the Venture Founders platform. Re-investing shareholders include Technology Venture Partners LLP, based at the Innovation Centre at Bristol & Bath Science Park, Swarraton Partners, a UK venture capital firm investing in European early stage technology companies and the British Business Bank supported Angel CoFund. The company welcomes the Parkwalk managed University of Bristol Enterprise Fund as a new investor.
Tim Mills, Investment Director at the Angel CoFund commented: "We originally invested in Micrima because we knew we'd found an extremely capable team working with some very interesting technology in a sector with considerable opportunity for innovation. The team has really delivered on our expectation in the last couple of years and we're very happy to be supporting them again through this next phase of development."
The MARIA radiowave breast imaging technology was initially pioneered at the University of Bristol in the UK. It received European regulatory approval in 2015 and is currently deployed in clinical trials based at several breast cancer imaging centres throughout the UK.
Mailing List sign-up
Get all the fresh insights first! Stay up-to-date with all the
latest investment news, blogs and all things SETsquared.
Sign-up
Close