Netplanting – happy planters and happy trees – helping plant a woodland for the future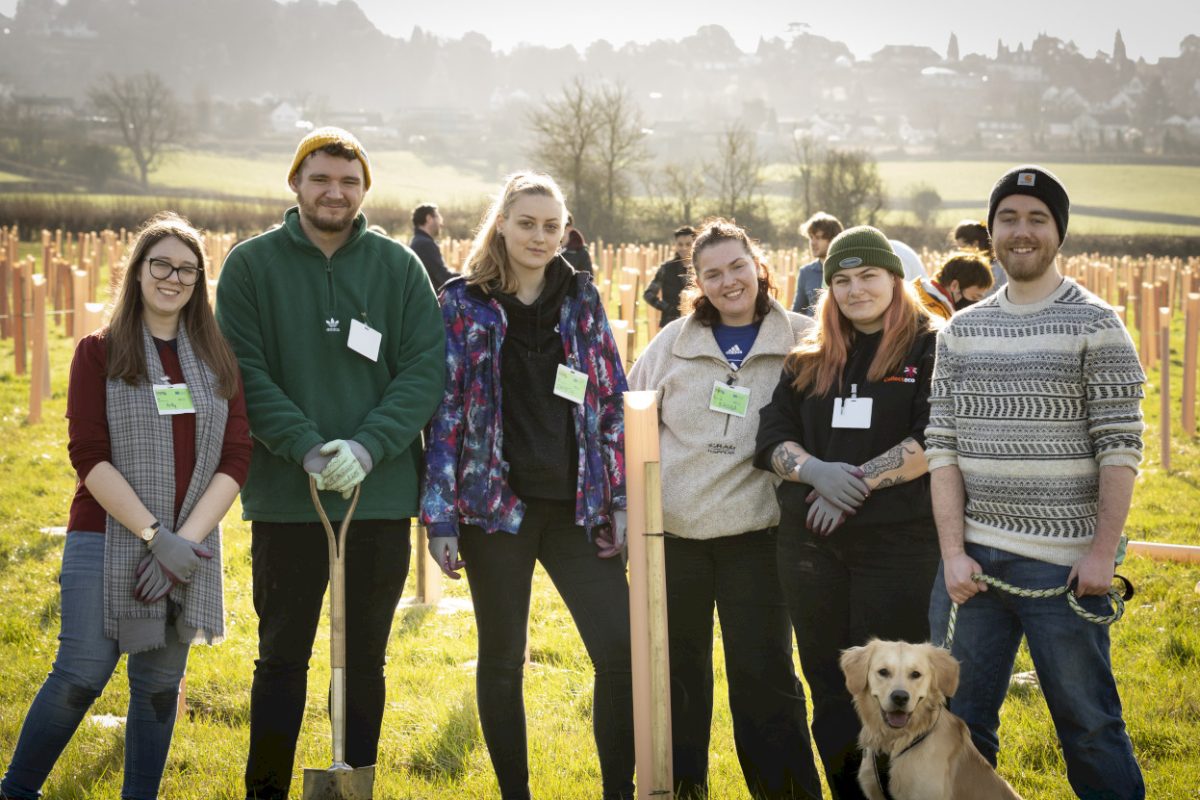 As quoted on CoForest webpage 'the best time to plant a tree was 20 years ago. The second best time is now'.
So this is what SETsquared and the University of Bath did and combined a networking event with tree planting in what will now be known as 'netplanting'.
For obvious reasons we've all become accustomed to online events, however the team at the West of England Sustainable Technologies Scale-up Programme saw a great opportunity to get their business cohort together face to face whilst providing support planting trees with CoForest.
On a fantastically sunny day in February the team and 40+ individuals and organisations met in a field in Almondsbury in the South West. Armed with gloves, wellies and warm drinks, everyone was greeted by the wonderfully friendly Wendy – CoForest's volunteer coordinator, who explained how and what needed to be done and it wasn't long before Wendy had the workforce geared up and working like clockwork.
During the day an incredible 450 trees were planted in the ground – these trees will spend the next few years growing, developing and evolving into a woodland.
Everyone was incredibly enthusiastic and supportive – small teams of 4-5 worked together following the instructions Wendy had previously provided on how to plant and all elements needed to plant were laid out in the areas to be planted.
There was a real buzz in the field – productive planting, lots of interesting chats, introductions and the sunshine, blue sky and fresh air kept everyone's minds clear and happy – and as Wendy said – happy planters means happy trees!
Chatting about the event, Steve Sliney, Founder of Collecteco, a Bristol based CIC, who donate and receive furniture for good causes, said: "I've always found the networking events the SusTech team host to be extremely interesting and have made many positive business connections, the programme of business support they provide has been invaluable for my business. When I heard about the planting event it struck me as a great thing to get involved with. It was a fantastic way of getting the team away from the office, outdoors and doing something positive. We all had a wonderful day and the whole thing was so well organised – an absolutely perfect day for all."
The beauty of the CoForest project is it has multiple benefits – they have purchased the 9 acre field so they can control the long-term security for the woodland they cultivate so the work has a permanent impact. Co-forest is also intent on creating genuine, natural habitats rather than just collections of trees, using diverse mixes in order to create varied, thriving ecosystems that will join up ecological corridors and create homes for all kinds of life for decades to come.
The hub of CoForest is in a smaller field where there is a horse box, fire-pit, picnic benches, eco-loos and a smaller woodland – this will be used by the community for forest school, outdoor activities and people are welcome to visit and walk through the land and watch the woodland take shape.
Thanks to everyone who came along to the netplanting event and to Wendy who's organisation and love of the environment shone through. It really was a refreshing way to connect with organisations and nature.
The West of England Sustainable Technologies Scale-up Programme is fully funded and open to organisations in the region who are looking to reevaluate their sustainability goals – a plethora of business support is available as well as the opportunity to join in and grow your network with like-minded individuals. Visit the webpage and simply submit the online form to register.
Keep an eye out for forthcoming networking events both online and outdoors and join the SETsquared mailing list.
Mailing List sign-up
Get all the fresh insights first! Stay up-to-date with all the
latest investment news, blogs and all things SETsquared.
Sign-up
Close