New fellows initiative aims to close the gap between commercialisation and research at Southampton and Surrey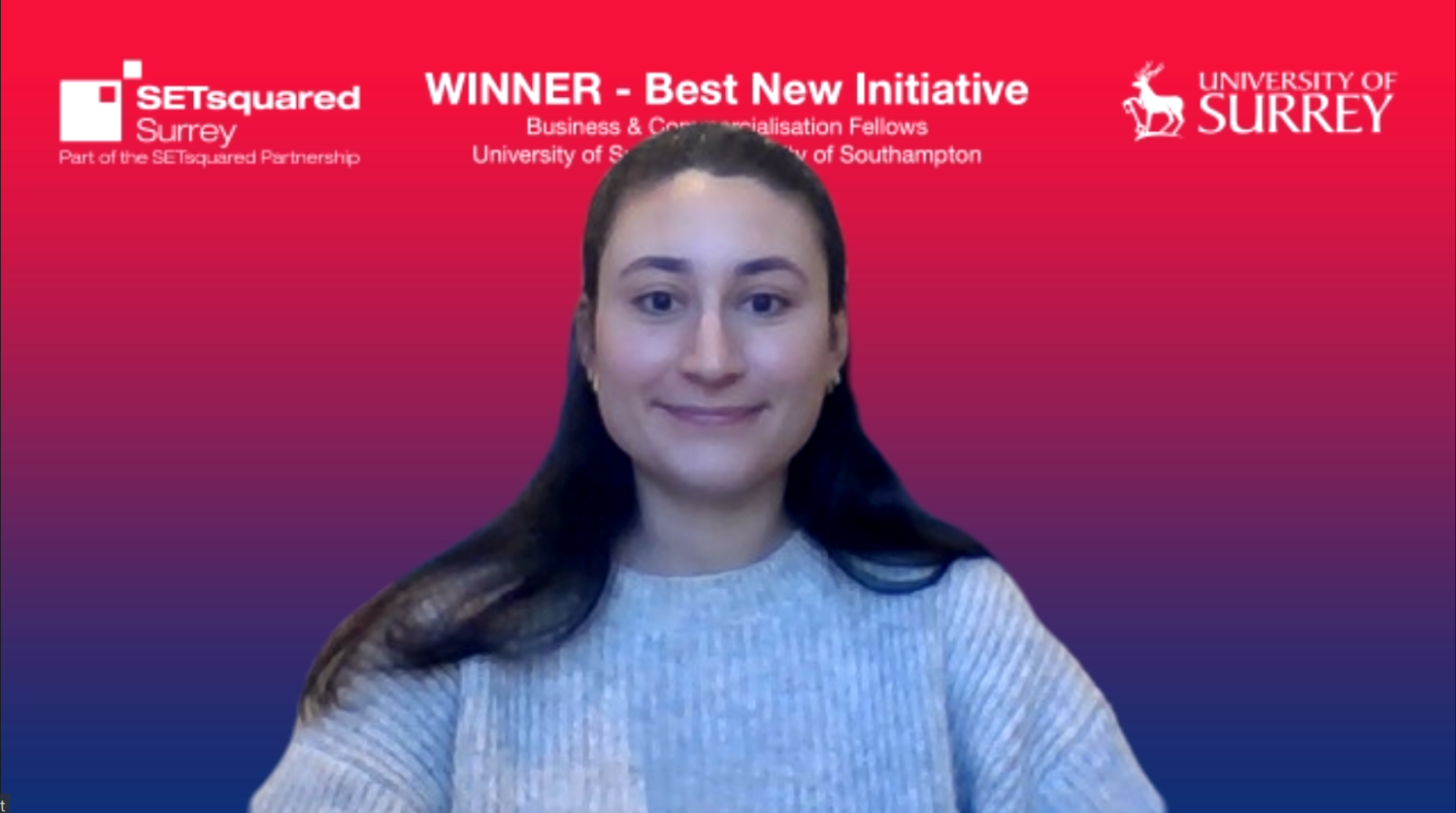 A pioneering programme to up skill Early Career Researchers (ECR) so they can support their peers to make real world impact has won the universities of Southampton and Surrey the 2021 SETsquared Best New Initiative Award.
ECRs are at the cutting edge of their field. But taking their discoveries to the next level where they benefit wider society is often outside their academic comfort zone. The Business & Commercialisation Fellows Cohort was born out of a shared desire by the University of Southampton and University of Surrey to see their researchers realise their potential by gaining knowledge and skills to collaborate with corporate partners.
It harnessed funding from the Engineering and Physical Sciences Research Council (EPSRC) to offer ECRs additional training and networking opportunities that would benefit them and other researchers in their faculties.
Dr Will Lovegrove, Director of Innovation Strategy, oversaw the Business & Commercialisation Fellows Cohort at the University of Surrey. He said: "Unquestionably, academics advance world knowledge. But they're focused on teaching and research, and don't necessarily have an understanding about how to translate that into positive impact for society."
"The Commercialisation Fellows are really important because they are an opportunity for people from within the research community to come in closer to innovation strategy and tech transfer."
"It's all about creating positive impact so the fellows can go back into their departments with a broader perspective on what it means to engage in knowledge exchange within a university setting."
The timing of the initiative, which piloted for the first time in 2020, could not have been better for tying in with the government's priorities for higher education establishments. UK Research and Innovation England's Knowledge Exchange Framework (KEF) has tasked universities with improving their relationships with businesses in order to give them access to world-class knowledge and expertise. The Fellows Cohort complements this by furnishing researchers with the skills they need to participate in commercial collaborations and become ambassadors for innovation within their departments.
"It's essential that we do more to help our early career researchers understand the importance of knowledge exchange and that's why this programme was so important," explained Dr Lovegrove. "It is blazing a trail in what will become a very big focus for this university and others in the future."
The skills offered to the Fellows Cohort in order to accelerate culture change include contracts basics; recognising, securing and protecting intellectual property; equality, diversity and inclusion; public engagement; policy creation; licensing verses spin out companies; collaborating with commercial partners; and responsible and ethical innovation.
The topic of ethical research struck a chord with the Fellows at both universities and resulted in a piece of work that demonstrated the power of the initiative.
Faraz Rizvi, Impact Acceleration and Knowledge Exchange Manager, ran the Fellows Cohort at the University of Surrey. He explained: "The Fellows here and at Southampton were tasked to look at the concept of responsible innovation – to think about the potential risks associated with research that they might be doing, the potential consequences and ethical questions that might come up.
"So, as a cohort, they embarked on a project to understand responsible innovation and how it can be applied."
The result was that the Fellows worked together on best practices of responsible research and innovation in preparation for producing their own set of guiding principles for the universities' research communities.
This is just one of the ways the Technology Transfer Office at Surrey and Research and Innovation Services at Southampton see their joint initiative having a lasting impact.
"One of the main aims of the Fellows Cohort is seeding culture change and enabling people to be able to help themselves."
"We don't want to be the gatekeepers of this information; we want it available at the place where research is being carried out," added Faraz.
Information about business collaboration and commercialisation has always been available to academics. However, the barrier has been that they have not had the right contacts or known the right person to ask to get the answers they needed. The Fellows will be the new knowledge exchange enablers.
"It's always easier for researchers to speak to a colleague or a peer who can effectively signpost them and help them navigate the commercial world," explained Faraz. "It's the Fellows who are taking their new knowledge back into their faculties and then to their departments to achieve this."
"With 10 applications submitted for two Fellowships at Surrey last year, there's clearly a demand," recalled Faraz. Six researchers won places in the 2020 cohort of Business & Commercialisation Fellows – two at Surrey and four at Southampton.
Winning the SETsquared Best New Initiative Award is further recognition of the potential of this approach for creating commercial ambassadors among university researchers.
"There's a lot of excitement about this initiative's potential," said Faraz. "It almost feels like we've dipped a toe into this space with two Fellows, but I can see this expanding into a body of fellows or ambassadors. I'd say this is the very first step on a path and I'm really excited about developing this year's programme."
He added: "We also want to expand it outwards and encourage other universities to come onboard so we can potentially have people rotating around. This is very much in line with the EPSRC's aim to support career mobility. The Fellows initiative brings early career researchers out of a purely research environment, introduces them to translational and impact work. There's also the opportunity to meet other fellows from other participating universities."
Mailing List sign-up
Get all the fresh insights first! Stay up-to-date with all the
latest investment news, blogs and all things SETsquared.
Sign-up
Close