Our key to growth success? Get your support networks right
When my husband and I started SEaB in 2009 we set out to find a niche in renewable energy options for large oil and gas corporates. Fast forward nearly ten years and we've grown the team to 22 people and become the leading small waste-to-energy product globally. Our patented MuckBuster and Flexibuster systems transform waste into energy and fertiliser on-site and are considered key components of the Future Cities planning process.
Despite our successes, it's not all been plain sailing and growing a company from two to 22 employees has taken a new level of determination and skill that we have developed as we go.
If you're an SME find out more about our Scale-Up Programme here
Some of the biggest challenges we've faced have been around growing the team and the hiring process. As soon as you start hiring, you also start managing people as well as managing the day-to-day business, and that is a challenge in itself. Initially it's hard not to micro-manage as you're so used to having control over everything. Life becomes more challenging when people are no longer sitting in the same room and you can't be party to every conversation. You've got to be clear about who is doing what and let people get on with it.
It's essential to keep up the pace that you started with too. As a start up you can be lean and nimble and react to changes as quickly as they arise. As the team and the business grows it's harder to do but that doesn't make it any less important.
For us, the real key success factor has been basing ourselves from very early on in an incubator environment. From the University of Southampton Science Park where we're based, we are constantly surrounded by favourable support networks and our visibility and profile have grown as a result.
SETsquared's support over this time has been invaluable. Both from casual advice down the hall from Alan Scrase, the SETsquared Southampton Centre Manager, through to more formal feedback and introductions to find both investors and contacts we need who can help solve business problems that we've encountered. Having all this on your doorstep really makes the difference.
My advice to other entrepreneurs going through the same transition would be to base yourself in an incubator. Don't work from home! You need to be in an environment to be visible and soak up the advice and support from like-minded people. Not to mention the fact that it's a great way to access all the business service offerings like HR or accounts support – allowing us to get on with our core business. When you've got  a strong base the only way is up from there.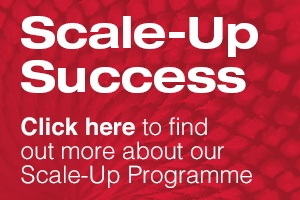 Mailing List sign-up
Get all the fresh insights first! Stay up-to-date with all the
latest investment news, blogs and all things SETsquared.
Sign-up
Close