Record investment raise shows resilience of SETsquared's ecosystem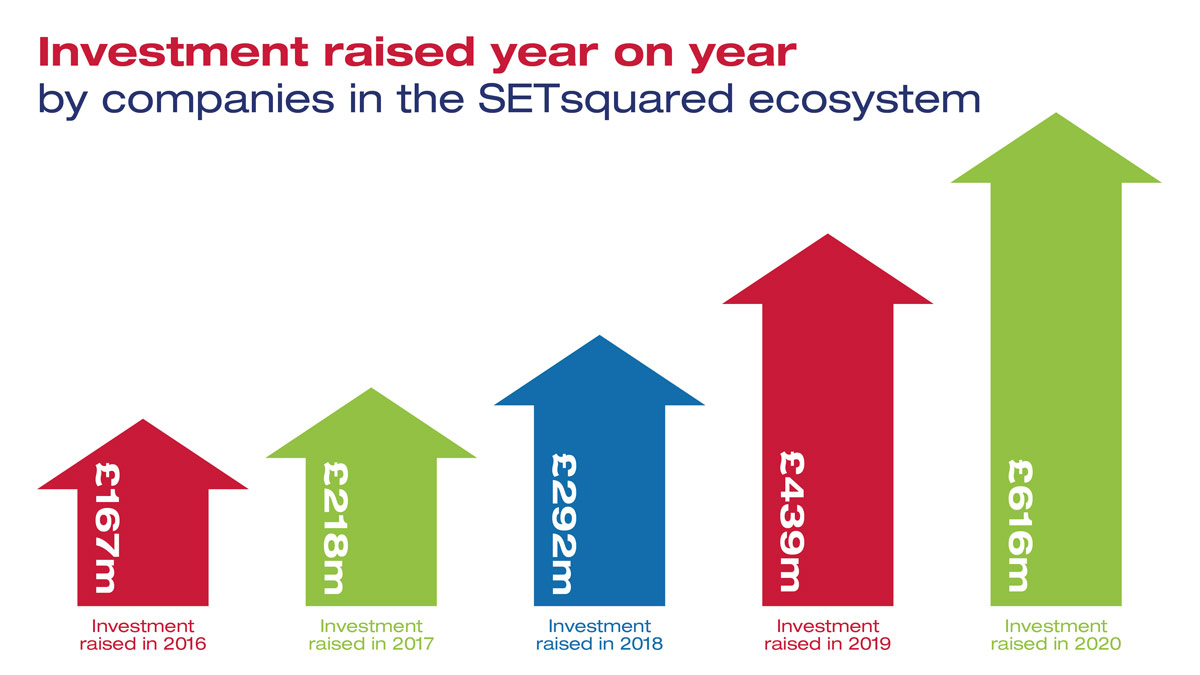 This week's news that SETsquared member companies raised record levels of investment during 2020 is a testament both to the skilful way their founders navigated the crisis and to the resilience of the SETsquared ecosystem itself. SETsquared members raised £616m in 2020, the largest annual sum since the Partnership was established in 2002 and a 40% increase on 2019.
The investment, which was largely venture funding for start-ups and scale-ups, ranged from pre-seed/seed rounds of £250-500k through to a £118m series E round for SETsquared alumnus Graphcore. Private investment accounted for 90% of the sum raised, with the remaining co-investment from publicly funded R&D grants and innovation loans. Read the full news release
It's true to say that SETsquared's achievement is part of a national success story which is well-documented in Tech Nation's report, 'The future UK tech built', and shows that VC investment into UK tech hit a record high last year.
However, it is SETsquared's track record that makes our ecosystem so distinctive. At its core, SETsquared's partner universities have developed major research portfolios and this globally competitive concentration of research talent is attractive to founders, innovators and investors. SETsquared is a critical ingredient in the ecosystem around the universities and ensures that innovation-intensive businesses find it easier to get established and grow, principally because of the access to the talent, ideas and capital we provide. At the pre-incorporation stage, SETsquared's programmes help under-grad and post-grad students, early and later career researchers and entrepreneurs from 'off-Campus' to test applications for innovative technologies and business models. For early-stage companies, SETsquared's programmes help start-ups to accelerate and scale-ups to collaborate with universities on R&D. Additionally, throughout the entrepreneurial journey, SETsquared addresses head-on the investability of the founder teams and companies. This, along with access to an impressive network of investors, results in the kind of raise data we've seen this week.
Looking ahead, I expect to see more venture capital deployed in our ecosystem. The world's largest investment funds target innovation and universities are the acknowledged go-to source for its 'raw material' – knowledge and talent. However, it is a contested space and our government's own innovation target to grow the value of domestic R&D to 2.4% of GDP is part of a competitive international race; in the UK's case to become a Science Superpower. Thankfully university-funder Research England has stepped-in to support universities across the country to work together to address this national mission and raise investment funds. This is set to build-on the great UK success story of the 'Golden Triangle' and add several new investment funds from the major university collaborations of the Northern Accelerator in the North East, Northern Gritstone in the North West, MICRA in the Midlands and SETsquared in the South. With the combined scale of such initiatives comes momentum and a growing realisation of the sector's incredible potential.
As this 2020 investment figure shows, SETsquared is ready for the future with a well-organised and efficient ecosystem, and a 20 year track record of high-quality deal-flow. It's a powerful formula that's sure to give us many more record-breaking years ahead!
If you're a founder seeking support for tech-based venture, find out more about SETsquared's support programmes
If you're an investor seeking high-quality investment prospects, you can view SETsquared  investment opportunities on our Investment Platform
Mailing List sign-up
Get all the fresh insights first! Stay up-to-date with all the
latest investment news, blogs and all things SETsquared.
Sign-up
Close