SETsquared sign partnership with leading Italian bank Intesa Sanpaolo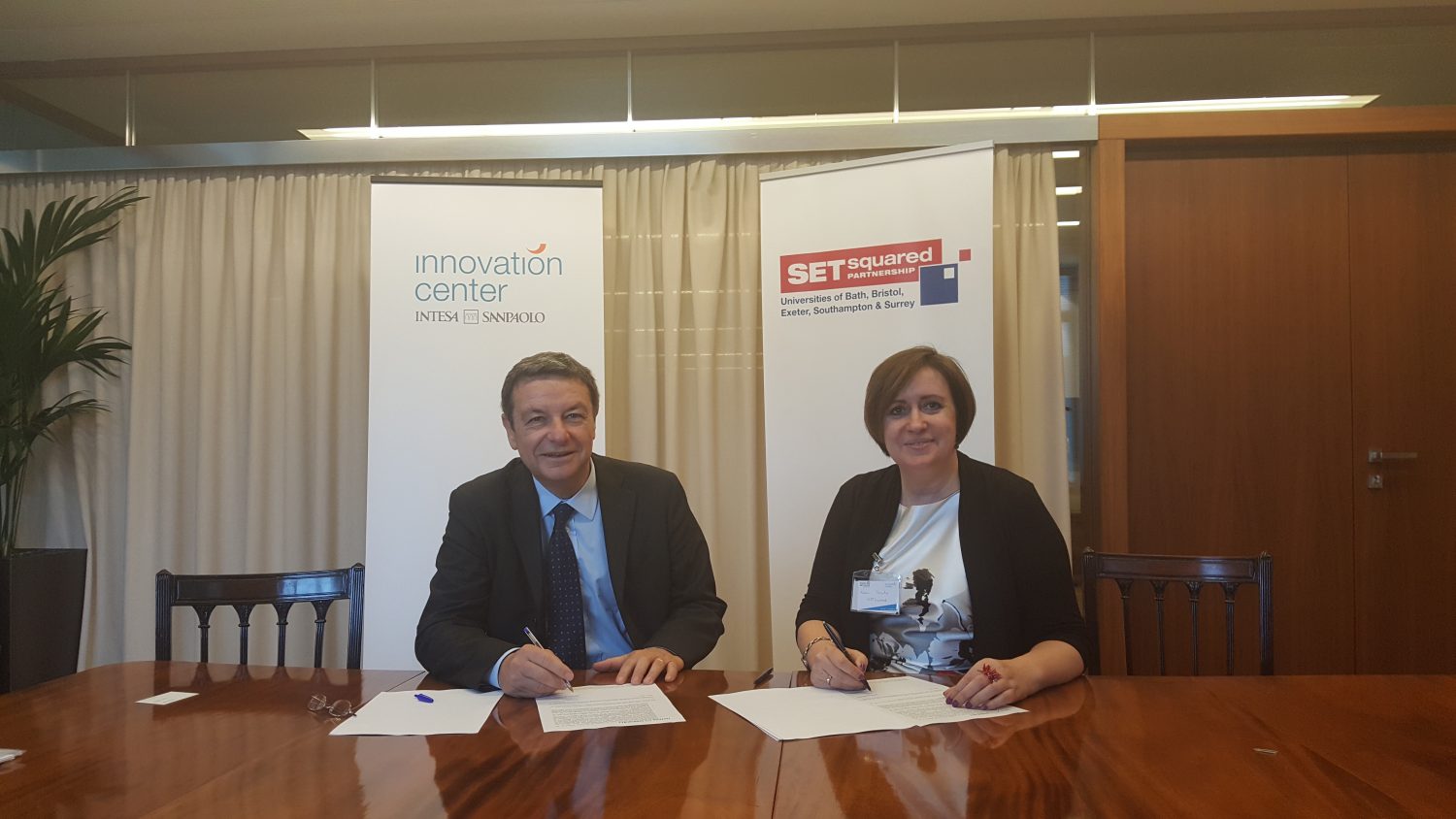 Maruizio Montagnese, chief innovation officer of Intesa Sanpaolo and Karen Brooks, programme director at SETsquared, sign the agreement in London
SETsquared, the global number one university business incubator, signed a collaboration agreement with prominent Italian bank Intesa Sanpaolo.
The agreement, which was signed at Intesa's new Innovation Centre in London, will see SETsquared support the pioneering banking group by introducing it to new high-tech companies and nurturing its internal culture of innovation through a series of entrepreneurship bootcamp events.
SETsquared works with over 250 high-tech start-ups, and the partnership will add value to clients and customers on both sides of the collaboration. For example, it will broaden the range of international corporates that SETsquared start-ups have access to for help with securing investment or adapting their technology for use by corporates.
Simon Bond, innovation director at SETsquared, said: "We are delighted to announce our partnership with Intesa Sanpaolo, one of the top banking groups in the euro zone. This partnership is highly beneficial to our companies who will have yet another international corporate to assist when securing investment or developing their product. Intesa Sanpaolo is passionate about innovation and the signing of this agreement was perfect to celebrate the opening of its new innovation centre in London."
Maurizio Montagnese, chief innovation officer at Intesa Sanpaolo, said: "We are pleased to sign this important partnership with the global number one university incubator. It forms an essential element of our international network as part of our innovation strategy."
Mailing List sign-up
Get all the fresh insights first! Stay up-to-date with all the
latest investment news, blogs and all things SETsquared.
Sign-up
Close