SETsquared welcomes Cardiff University to the partnership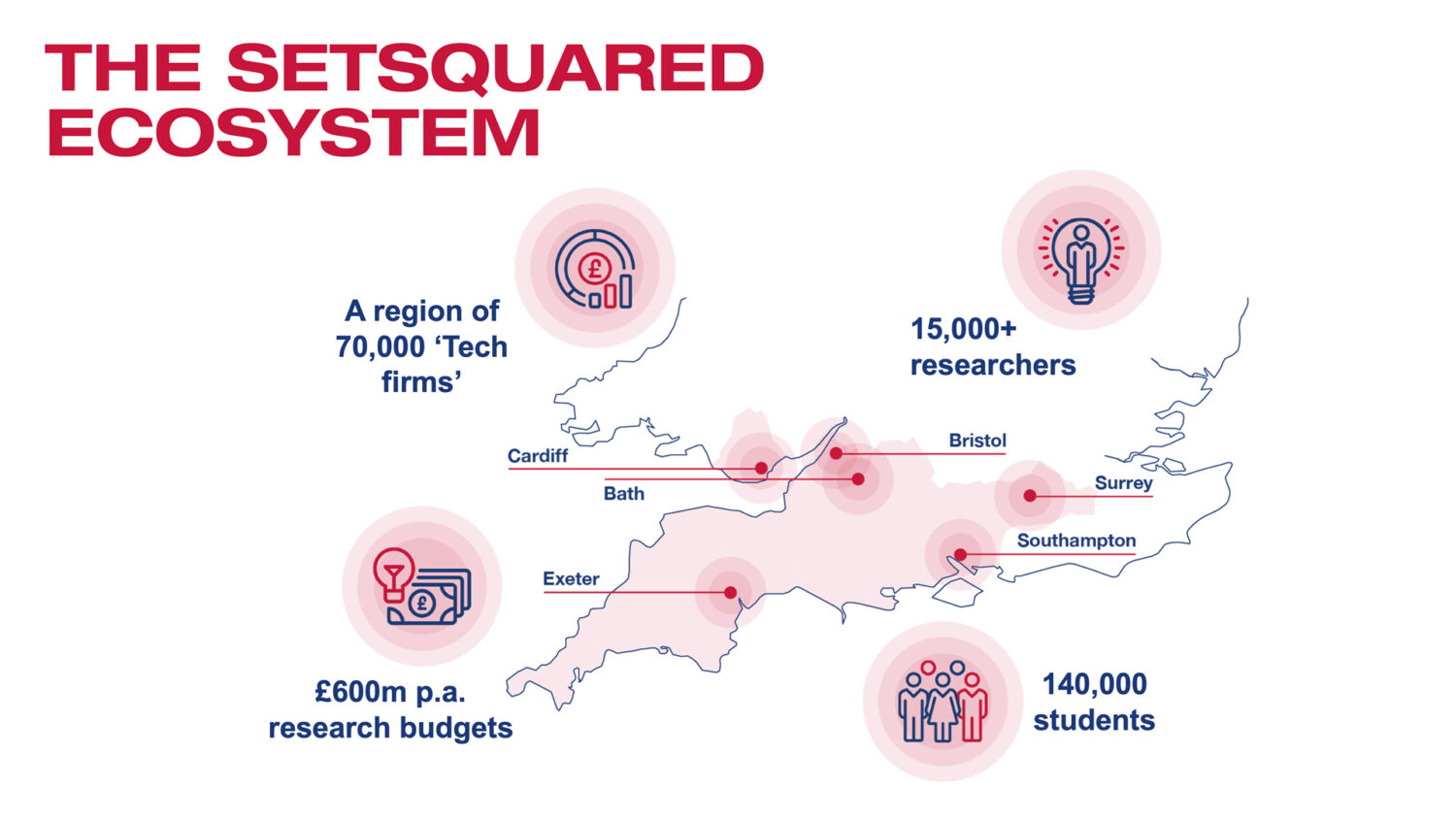 Today's news that Cardiff University joins SETsquared marks an important development for the partnership in terms of its scale, scope and its ambition.
Since it was founded, SETsquared has always been growing. In fact, today's membership of spin-out, start-up and scale-up companies is ten-fold the original scale envisaged for SETsquared. Cardiff University joining is set to further increase our scale – the university's new incubation space – Cardiff [email protected] – which opens this winter will add significantly to our network of innovation Centres in Bath, Bristol, Exeter, Southampton and Surrey. Meanwhile the university partners continue to develop new facilities that attract high-growth companies by embedding SETsquared into their innovation and applied research initiatives. Two recent examples are the Surrey Heartlands Health Tech Accelerator of which the University of Surrey is a core partner and the University of Bath-led Innovation Centre for Applied Sustainable Technologies, both of which offer access to SETsquared to the companies they work with.
Cardiff increases SETsquared's scope too. SETsquared member companies have always made an important contribution to the economic development of our region. As a partnership of six universities, SETsquared will now develop across a bigger geography which includes the south of the Wales as well as England, and undoubtedly our scope of activities will develop as well.  Alongside helping our member companies to grow with access to entrepreneurial advice and investment, we have been developing new ways of helping them access talent from our universities as well. The University of Exeter-led Intrapreneurial Knowledge Exchange Enterprise Pathway (known as IKEEP) is a great example of this. IKEEP has been very successful in helping students engage with companies on innovation projects as business advisors, developing business model solutions and market awareness, enhancing student's skills as intrapreneurs and future employees. Meanwhile the University of Southampton's continued success in leading the SETsquared ICURe Programme with Innovate UK has helped provide research commercialsation skills development and opportunities to the benefit of many Early Career Researchers. With a partnership of six leading UK universities, you can expect to see new initiatives from SETsquared to develop the flow of innovation and entrepreneurial talent from and to our universities.
Finally, the growth of the partnership is a sure sign of our ambition. We wouldn't be growing the partnership if we weren't ambitious to do more in the university-business knowledge exchange arena! The partnership has never stood still since and with Cardiff now 'on board' we have set ourselves a new mission to accelerate the growth of the SETsquared ecosystem of support and infrastructure for high-tech, high-growth enterprises. Our doubling-down on growing the ecosystem in many ways draws on the success of the SETsquared Business Acceleration Centres which have been so effective in extending their networks beyond the walls of the physical incubators to the benefit of our members, investors, mentors and university partners – SETsquared Bristol's role at the heart of the University's Engine Shed facility and city's Temple Quarter develop is one great example of this.
Today's an exciting day for SETsquared as we welcome Cardiff University.  This new, bigger partnership has set its sights on an ambitious future for the companies, entrepreneurs, innovators and investors that join our ecosystem and join us on the next stage of SETsquared's journey.
Mailing List sign-up
Get all the fresh insights first! Stay up-to-date with all the
latest investment news, blogs and all things SETsquared.
Sign-up
Close