Shadow energy minister calls on young entrepreneurs to help UK meet low carbon goals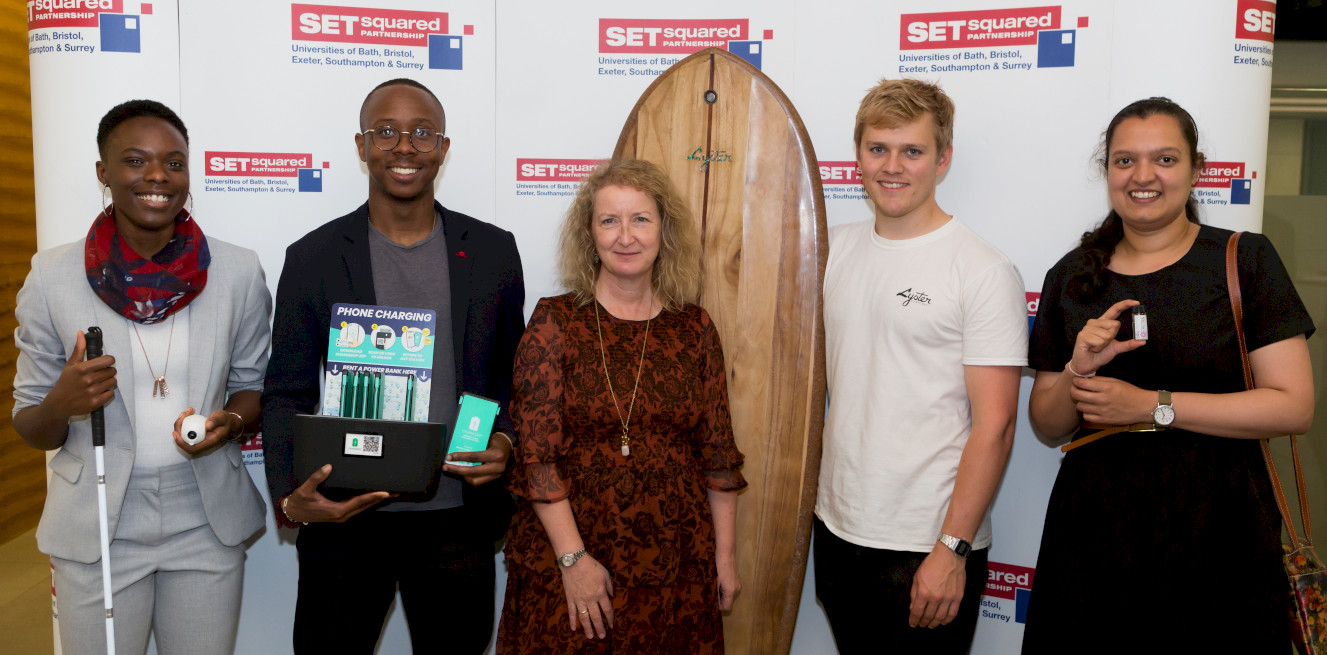 Image shows from left to right: Nia Simpson, Founder, Compact Cane; Hakeem Buge, Founder, ChargedUp; Siobain Hone, Chair of Student Enterprise Group, SETsquared; Duncan Lyster, Director, Lyster Surfcraft; Parimala Shivaprasad, CEO, Retra
**Dr Alan Whitehead MP delivers speech at inaugural Graduate Acceleration Showcase event, organised by the SETsquared Partnership**
**Nineteen of the brightest graduate start-ups pitched to more than 100 investors, mentors and entrepreneurs at Deloitte in London**
Dr Alan Whitehead MP, shadow minister for energy and climate change, has called for 'an enormous amount of new tech' to help the UK meet its low carbon goals at this week's inaugural Graduate Acceleration Showcase.
The event, organised by SETsquared and hosted by Deloitte, saw 19 of the brightest graduate tech start-ups from the universities of Bath, Bristol, Exeter, Southampton and Surrey – many with a sustainability focus – pitch their innovative business ideas to more than 100 high-profile investors, mentors and entrepreneurs.
Speaking at the event on Wednesday (26 June), Dr Alan Whitehead MP, shadow minister for energy and climate change at the Department of Business, Energy and Industrial Strategy (BEIS), said: "It has been an honour to meet such talented young people at today's Graduate Acceleration Showcase, all with the passion and dedication to take their businesses to the next stage. An enormous amount of new tech is needed to meet Britain's low carbon goals so it's particularly encouraging to hear how important the low carbon economy is to the graduates and that many of the key solutions are right here in front of us. I wish everyone the best of luck in their endeavours, whatever the outcome of today."
Start-ups taking part in the Graduate Acceleration Showcase included high-tech, not-for-profit, creative services and consumer products, with each having undergone rigorous market validation. After a competitive selection process, the 19 shortlisted companies included a surfboard company which is tackling plastic ocean waste, an environmentally-friendly skincare range, an AI-enabled gift finding platform and the world's first digital white cane for people with visual impairments – Compact Cane. Each of the graduate entrepreneurs was looking for support to take their businesses to the next level, either through investment or securing mentorship.
Nia Simpson, founder of Compact Cane, commented: "SETsquared has supported my business since its inception last year, helping me develop my business strategy and prepare for pitches like today's. There's so much knowledge and wisdom within the Partnership that graduates like myself can tap into, as well as a really strong belief in all our businesses. Without it, we simply wouldn't have access to the contacts or know-how we need to turn our ideas into commercially successful enterprises."
Sally Clifton, a business advisor and mentor who attended the Graduate Acceleration Showcase, added: "The quality of the pitches I saw today was exceptional, there were absolutely no weak links. Even though all the businesses are at various stages of their development, there were a few standouts that I'll certainly be recommending within my networks. I'd encourage any investor looking for early access to graduate talent to come along to the next event."
The event was SETsquared's first Graduate Acceleration Showcase, which builds on a 17-year history of running successful investment showcases. Since its inception in 2002, SETsquared has supported more than 3,500 technology-based organisations through their lifecycle, helping them raise more than £1.8bn.
Siobain Hone, Chair of the SETsquared Student Enterprise Group, concluded: "We're so proud of each and every business who pitched their business ideas today. For some, it was their first time in front of a room full of potential investors, so the pressure was really on, but they all delivered exceptional presentations. We can't wait to see the outcomes of the event in due course!"
The award-winning, world-leading SETsquared Partnershipis a long-standing partnership between the universities of Bath, Bristol, Exeter, Southampton and Surrey which specialises in growing high-tech start-ups through its support programmes and other business acceleration services.
Graduate Acceleration Showcase 2019 Image Gallery
Mailing List sign-up
Get all the fresh insights first! Stay up-to-date with all the
latest investment news, blogs and all things SETsquared.
Sign-up
Close