Student entrepreneurs of the future hone their skills at SETsquared event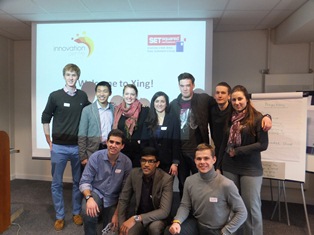 SETsquared held the Xing Challenge at the Innovation Centre, Exeter yesterday. This was the second event this year supporting student enterprise and providing the students with the opportunity to improve their business and entrepreneurial skills ready for the challenges after graduation.
The Xing challenge was a day long event, where five teams made up of students from each of the five SETsquared universities, were each given a hypothetical business idea based on a genuine company. During the day, they used the Xing tool, a visualising planning game, to develop a strategy that would make their team's company grow successfully.
The event concluded in a 'Dragons' Den' style finale where each team pitched their business plan to a panel of six invited expert judges from different business sectors. There were two winning teams. One for their impressive pitch, and the second for their sound financial modelling. In addition, two students were individually recognised for the clear presentation of the financial aspects of their businesses. Each person received a £50 Amazon voucher.
Financial director of software testing and training company, TCL, and judge Chris White said: "Xing is excellent and I have really enjoyed being involved. Engaging students in these activities will go on to foster the entrepreneurial spirit that we like to see across the SETsquared universities, and help students start their own businesses."
A business and economics undergraduate at the University of Exeter, Edward Latham, whose business provides unique opportunities for businesses to market to student on university campuses, said: "The Xing competition was a great way to meet other entrepreneurial students, and develop the skills I need to help make my business successful. It's given my business partner and I the chance to practise our pitching skills and gain access to helpful and influential alumni."
Mailing List sign-up
Get all the fresh insights first! Stay up-to-date with all the
latest investment news, blogs and all things SETsquared.
Sign-up
Close