AMLo Biosciences: Making waves in the prognosis of skin cancers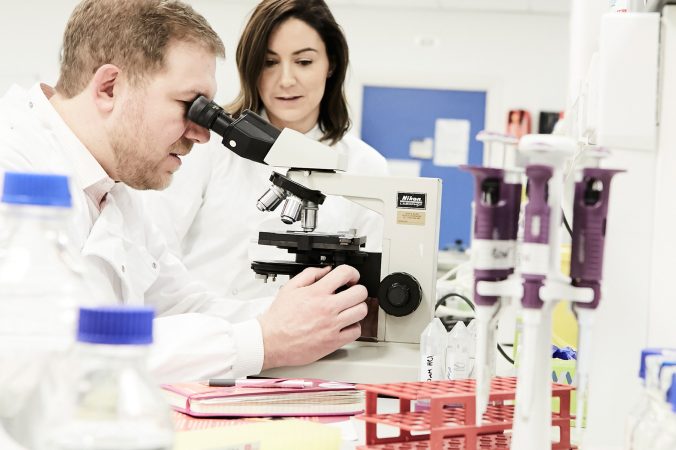 AMLo Biosciences is an early stage spin-out company from the University of Newcastle which aims to develop a suite of tests to help improve the management of patients with skin cancers. AMLo's first product, AMBLor, is a prognostic test for early stage cutaneous melanoma, which can identify patients at true risk of disease progression. The test is set to transform the current melanoma care pathway, stratifying patients to the most appropriate treatments and follow up, reducing the psychological burden of patients, as well as saving health authorities millions of pounds in unnecessary patient surveillance.

FACT FILE
Start date: 2017
Website: Visit website
Location: Newcastle
Employees: 7
Innovation to Commercialisation of University Research (ICURe)
Funding: Grants: £374k; Equity: £2.4m
KEY MILESTONES
January 2017
Started on ICURe programme
October 2017
Company incorporated
October 2017
£218k Innovate UK funding
January 2018
Won £15k NICE Advise Me prize
January 2018
ESIF Northern Accelorator award £15,500
August 2018
Seed funding investment of £890k
October 2018
IIIP-NE PhD Studentship £105,297
October 2019
Shortlisted for Bright Ideas in Health Awards
October 2020
MRC DiMENS PhD studentship case award
November 2020
£1.5m seed funding round closed

Dr Ashleigh McConnell undertook the iCURE training as the Early Career researcher and subsequently became Research And Development Manager for AMLo Biosciences. Ashleigh says:
"AMLo Biosciences was created as a direct result of my time spent learning the ropes of research commercialisation during the ICURe programme. Up until that point, I had no idea how to commercialise university research, not least how to spin out a company or where to begin to find investment. We believed we had discovered a new diagnostic test that could benefit patients, but we didn't know if it could be commercially viable or how to take it to market".
"By enrolling in the programme, I was forced out of my academic comfort zone into the world of business development. The ICURe programme guided me through carrying out in-depth market research and competitor analysis giving us a wealth of evidence for the real need for the test. As a result, at the ICURe Options Roundabout in May 2017 we were advised to spin the company out and start applying for grants and investment. That advice gave us the confidence and support we needed to take that first step, and shortly after, we had secured our first investment from Innovate UK of £218k. This was crucial to advance our first AMBLor prognostic test and start validating it".
"Furthermore, the ICURe programme enabled me to make a lot of valuable contacts with future collaborators, and we were able to use those connections to start validating our test in patient groups around the world. I found the ICURe programme not only invaluable for accelerating the commercialisation of our test, but massively rewarding on a personal level. Before taking part, I had no real business inclination outside of my academic work. The programme really opened my eyes to the commercial application of science.
Dr Marie Labus was the Business Advisor on the ICURE project and tookup the role of CEO after AMLo Biosciences was formed. Marie says:
"Since ICURe we have made great strides towards our goal of being able to offer diagnostic tests to all patients. We have set up a business relationship with cellular pathology at Newcastle upon Tyne NHS Foundation Hospital Trust to initiallyoffer the test prior to regulatory approval as a lab develop the test for the private market over the next couple of months. Following regulatory approval we plan to launch in the UK first and then the US and Australia in 2022."
"As we've moved to work on the commercialisation of our products, we've had to bring in different skill sets to our team. We have hired a Quality Assurance and Regulated Affairs Manager to help us with regulatory compliance, and a marketing director to help develop our marketing strategyand sell the products in to the private sector."
"Of course, there are always going to be challenges with any start-up business, and Brexit has had a big impact. Right up until the date the UK left the EU there was a huge amount of uncertainty about regulatory approvals and what we would need to do to continue working with Europe. Leaving without a deal has forced us to find a new EU-based manufacturer rather than a UK option for our CE marked product. It was a massive challenge. On top of that, COVID has caused a lot of delays, particularly with getting out clinical validation samples in from around the world whilst we've been at the mercy of global lockdowns. Despite these hold ups, we're still expecting to receive our CE marking for the UK and Europe later this year, so we have done well to work around the delays and changes."
"In November 2020 we closed out Series A funding round for £1.5m. This investment will enable us to complete our clinical studies and fund the launch of AMBLor in the UK with NICE support. Furthermore, it will create new jobs in the north east as we scale up. It is a really exciting time for the company; our life-saving diagnostic tools will be one step closer to helping real people manage their cancer diagnosis"

Dr Marie Labus, CEO
AMLo Biosciences Ltd