SETsquared Surrey programme helps UK tech start-ups raise £8m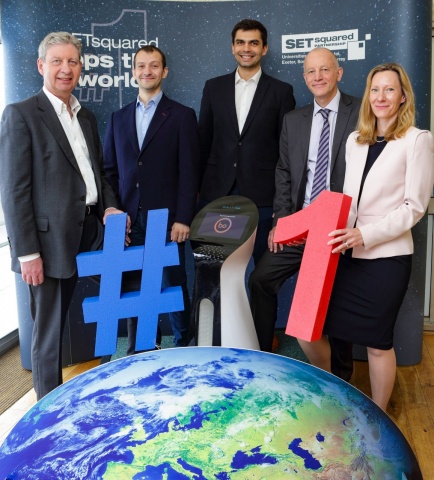 Surrey-based robotics company, BotsAndUs was successful in securing a £100k Innovate UK grant and a £40K EIC SME Instrument grant after taking part in SETsquared's Entrepreneur's Programme.


New figures show that SETsquared Surrey's Digital Business Acceleration Hubs (DBAH) have helped over 100 UK tech start-ups raise a combined total of more than £8m in investment.
The programme, which is funded by the European Regional Development Funding (ERDF), offers entrepreneurs and start-ups the opportunity to stress test their business proposition through its award winning entrepreneur's programme. To date 305 fledgling businesses have been through the programme. The most promising are then offered business support, mentoring and the opportunity to pitch for investment
The figures reveal that across the 109 companies given further support within the SETsquared incubator since the programme launched in 2017, a total of £8 million-plus investment has already been raised and more than 200 jobs created.
This is the result of over 500 hours of support and more than 50 events run by SETsquared, which have given these aspiring tech businesses valuable advice and mentoring to help them grow.
Caroline Fleming, Head of Incubation at the University of Surrey, said:
"I'm delighted with the latest figures. It proves that the DBAH programme works and is having a positive impact on the EM3 digital technology sector. We've helped more than 100 businesses to date and look forward to helping many more."
Speaking about the support he's received from SETsquared, Alex Cowan, CEO of cybersecurity company, RazorSecure, said:
"The Entrepreneur's Programme really was the springboard for RazorSecure. The investment we've raised will allow us to properly kick off with the next stage of the business."
James Hill, Director at Fudge Animation Studios, added:
"SETsquared's Entrepreneurship Programme was life changing. It was an incredibly valuable experience and I wish I'd had the opportunity to take part in a programme like this when I originally went into business 10 years ago."
Since 2002, SETsquared has helped more than 3,500 businesses raise over £1.5bn in investment, as well as contributed over £8.6bn in GVA (Gross Value Added) to the UK economy – figures that contributed to it being named by UBI Global as the top university business incubator in the world in February 2018.
To find out more about the DBAH programme and apply, click here
Mailing List sign-up
Get all the fresh insights first! Stay up-to-date with all the
latest investment news, blogs and all things SETsquared.
Sign-up
Close