University of Bath plugs PPE hole for NHS during pandemic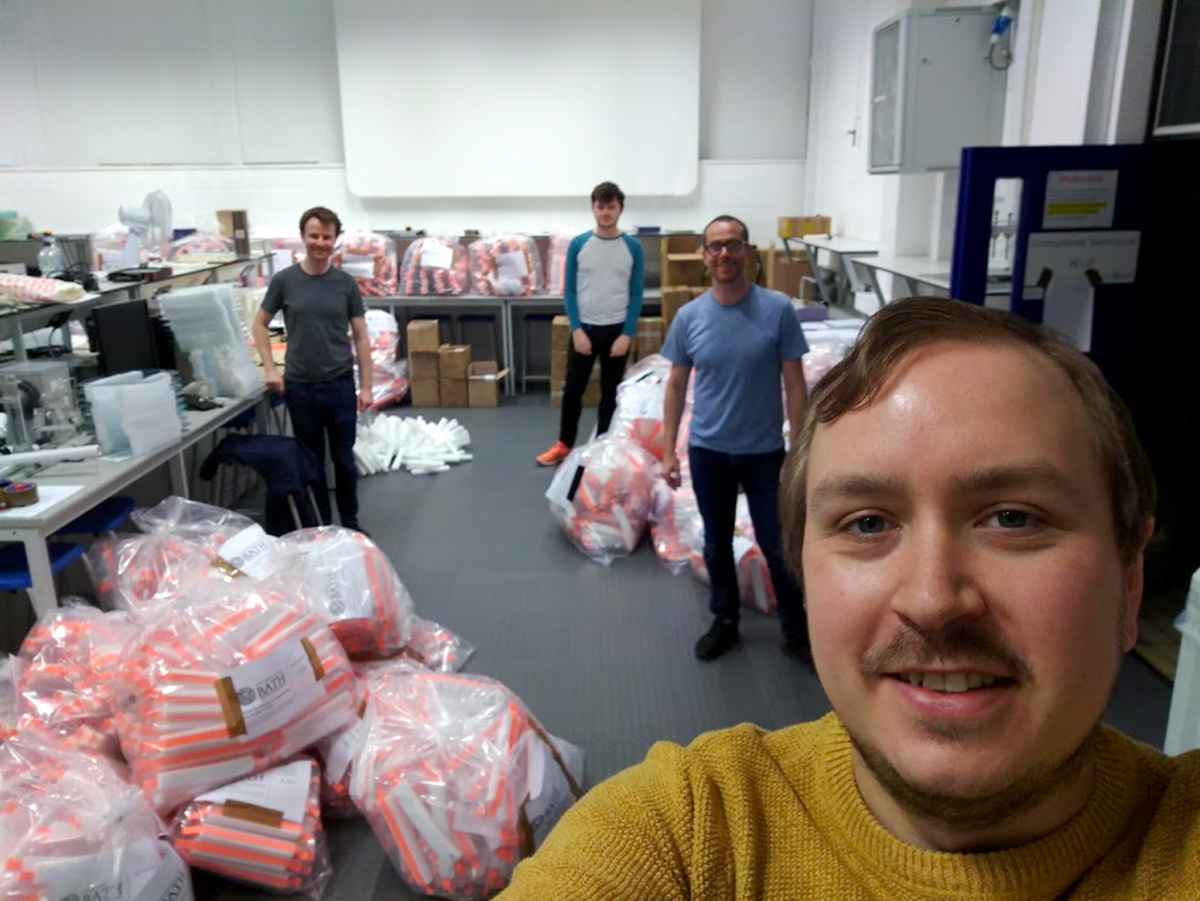 (Image above shows Dr Alexander Lunt and colleagues in the lab at the University of Bath)
The SETsquared 2021 awards took place in January as part of SETsquared Conference. The awards aim to recognise individuals and teams from across the wider SETsquared community – including our university partners, member companies and centre and programme teams – who have gone above and beyond during the past 12 months.
The University of Bath's Faculty of Engineering and Design scooped the #MakingItWork Award after reverse engineering and manufacturing more than 400,000 items of personal protective equipment (PPE) for frontline workers in the NHS.
Like many of the great innovations of 2020, this one started with a WhatsApp chat during the first days of the Coronavirus pandemic.
A group of the faculty's Early Career Researchers (ECRs) were discussing the highs and lows of lockdown when their digital discussion turned to action. Rather than riding out COVID-19 they wanted to use their skills to help.
This is when Dr Alexander Lunt, a lecturer in the Department of Mechanical Engineering, asked his wife Dr Natasha Butters, a doctor at the Royal United Hospitals Bath (RUH), to put him in contact with her colleagues to find out how they could help with the coronavirus outbreak.
It was Dr Andy Georgiou, the RUH's Lead Consultant for Intensive Care that jumped at the chance to task Dr Lunt and his colleagues with finding solutions to their pain points.
They started by looking at ways to make hospital ward equipment, like of trolleys and cabinets, more COVID secure. This helped to reduce the time-consuming cleaning regime that had to happen every time equipment moved in and out of wards.
Members of the university also offered advice and ran simulations to pave the way for ventilators to be adapted for use with two patients, should there be a shortage. Thankfully, the number of ventilators in the UK continued to meet demand so this body of work was never required.
The biggest win in the university's collaboration with the RUH was PPE.
In the early stages of the pandemic a shortage of PPE was a critical issue for the hospitals, as it was for NHS and care teams around the country. Big manufacturers and their supply chains were simply not prepared for the unprecedented demand.
"We worked with the hospital to develop new PPE designs by reverse engineering the items they had and utilising existing materials that could be produced quickly and easily using very simple equipment," explained Dr Lunt, who helped lead the project.
"Within two weeks of my first conversation with Dr Georgiou we started to deliver PPE. In the first instance there were four of us working around the clock to quickly boost the hospital's supplies to make sure staff had enough PPE to carry on safely."
The ECRs were soon granted access to a secure lab on the university campus to expand production.
"I think it says a lot about the management of the university," said Dr Lunt. "They were still focusing on how to safely close down the faculty but had the foresight to say: 'OK, this is an important project so we're going to focus our resources on making sure we can support our local healthcare facilities'."
By this point the project was gaining interest in the local community too. The team of volunteers manufacturing the PPE grew to 60, and there were financial and material donations from the people and businesses in Bath. Not least a supply of more than 2,000 pastries from Bertinet Bakery to keep the volunteers' spirits and energy up!
"It was thanks to donations from local businesses and from individuals that we were able to keep the project going," said Dr Lunt. "Volunteers were working three, three and a half hour shifts a day, including bank holidays and weekends. Over 7,000 working hours were donated in total.
"It was this massive effort that allowed us to produce as much as we did."
Added to the 128,000 face shields produced in the lab were 9,000 surgical gowns stitched together with the costume design department and volunteers at Bath Spa University, and 200,000 eye protectors made by local firm 4Ground using designs developed at the university.
By September 2020, when the industry supply of PPE had caught up with demand, the university and its supporters had made 400,000 protective items for the regional frontline NHS teams including the RUH, GPs, pharmacists, dentists, hospices and care homes.
It is this huge collaborative effort in the face of a global crisis that won Bath's Faculty of Engineering and Design the SETsquared #MakingItWork award in 2021.
"Winning an award is obviously not what you aim or set out for, but it's incredibly nice when this kind of recognition happens", said Dr Lunt.
"There was a really big team involved and I think we all found it a good distraction from some of what was happening early in the pandemic.
"The great thing for me is to be able to share this acknowledgement with all of those that put the time and effort into producing the PPE. So many were generous with their time in what was a rapidly evolving situation. There was still a lot of uncertainty about transmission and the impact of COVID. But the community resolve in wanting to support healthcare professionals was really, really strong," said Dr Lunt.
The university has already received local and national recognition in the form of award nominations, a visit by the Minister of State for Universities, Michelle Donelan MP, a letter of thanks from the Lord Lieutenant of Somerset and personal letters from people in the community and NHS staff on the frontline.
"I think it's the letters that get to me more than the awards," said Dr Lunt. "We've received so many from people saying they've been wearing our PPE and without it, they wouldn't have felt half as safe."
 So, what's next for the university's Engineering and Design ECRs?
They have already shared their PPE designs with the UN run Social and Development International so they can be distributed to developing countries, and journal papers have been written explaining their processes. Dr Lunt has also participated on government panels to offer advice about how the supply of PPE can be made more resilient in the future.
He added: "Beyond that, our relationship with our local healthcare facilities has grown enormously.
"Big industry has now caught up with its PPE production – they can produce a million face masks in a day. We never set out to match that. But if, for whatever reason, support is needed in future our friends at local NHS facilities know we're ready and willing to support them," said Dr Lunt.
Mailing List sign-up
Get all the fresh insights first! Stay up-to-date with all the
latest investment news, blogs and all things SETsquared.
Sign-up
Close