University commercialisation programme is all about creating research impact not just new spin outs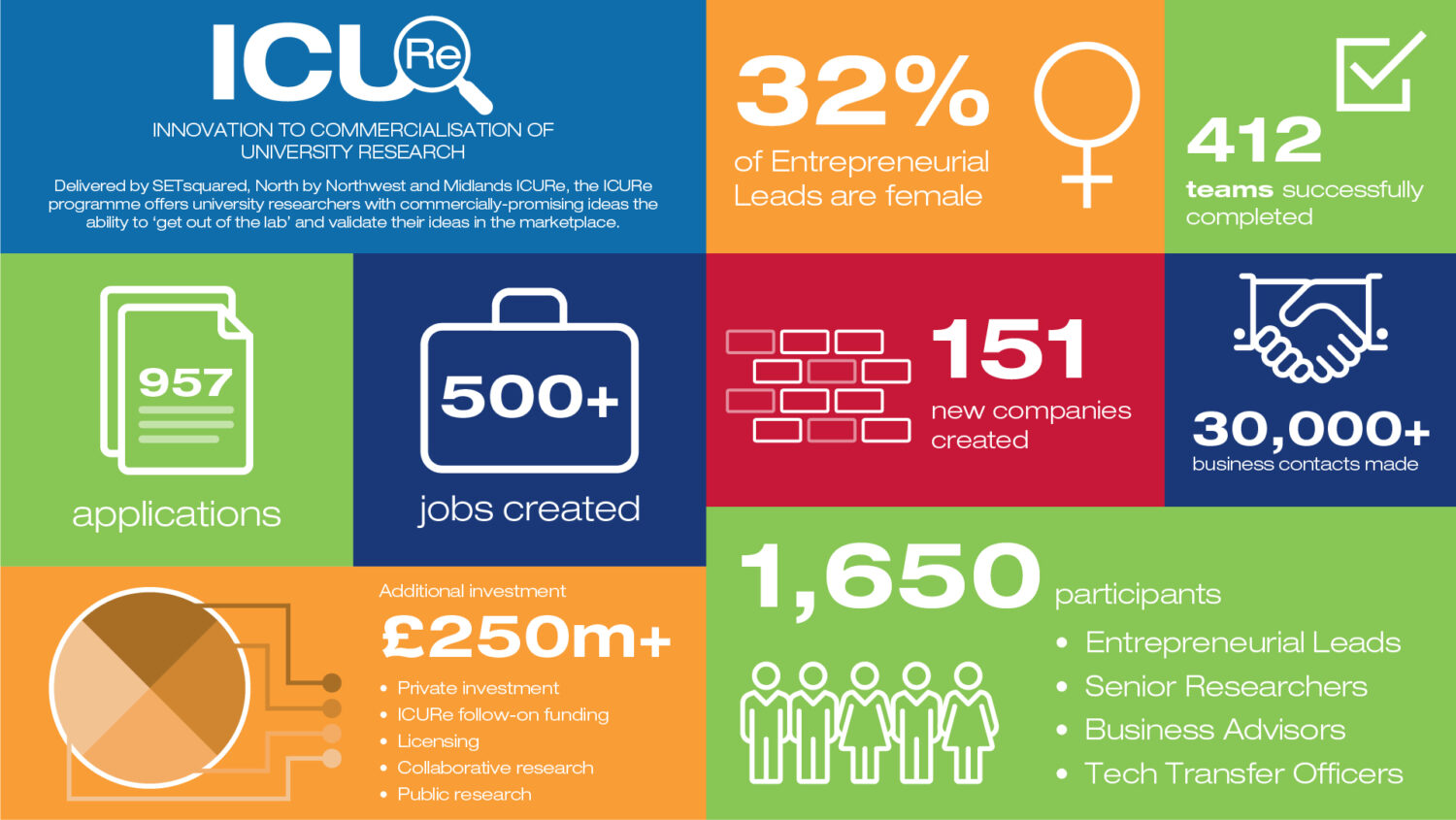 Funded by Innovate UK, SETsquared along with partners NXNW and Midlands has been running the Innovation to Commercialisation of University Research (ICURe) for 7 years now.
Over that time, we've supported 400+ teams with commercially promising research to explore whether there is a market for their innovation.
The overall impact of the programme makes for impressive reading:
1,650 participants
30,000+ business contacts made
£250m+ of additional investment raised
500+ new jobs created
But what's story behind the figures, how does the programme work and who should take part?
1) Market discovery stage 
Broken down in practical terms, the programme trains, funds, and supports teams led by university early-career researchers (ECRs) to determine whether there is a market for products or services that utilise their research and up to £30k of funding is available for this validation. Over a 3 – 4-month period, the ECR undertakes a full-time, intensive market discovery – interviewing potential customers, suppliers, funders, and competitors – to understand whether there is commercial potential for their research. They test assumptions they have around their business model to further inform the market discovery. The ECRs takes part in the programme backed by a team from their university including a senior researcher, a Technology Transfer Officer, and an external business advisor.
Past participants say that having 3 – 4 months of support, dedicated time, and funding to spend on customer discovery has dramatically changed their perspective on their innovations as well as helping them understand industry's needs and requirements.
We've had a vast array of research and innovations come through the programme and it's important to note to that it's not limited to deep science disciplines – social sciences, humanities, and arts-based research – are equally valid if there is a potential commercial outlet.
2) Commercialisation pathway 
Following the customer discovery, participants attend what we call an 'options roundabout'. At this point an advisory panel suggest the best commercialisation pathway for the team to take – this could include carrying out further public or private sponsored research, exploring licensing opportunities or seeking public or private funding for spinning-out. Whilst the creation of a spin-out company is a hugely valid outcome and the programme has supported the creation of over 150 of these, we focus more on creating impact. Ensuring that the next generation of innovators that will change the way we live, travel and work – get the support they need to bring their products and services to market where they can have the most impact. Further training and support is available for those take the next step in commercialising their research after the first stage of the programme is completed.
Here are some examples of projects supported by ICURe:
ViridiCO2: is setting out to revolutionise the sustainability of chemical manufacturing processes by deriving products from carbon dioxide (CO2) feedstocks to close the carbon loop. Its innovative technology is able to directly replace fossil fuels used in the chemical manufacturing process, with repurposed CO2. Read about their experience on ICURe
TRUEInvivo: is transforming the success of radiotherapy treatments through its use of specially designed micro silica beads that can measure the exact dose of radiation a patient receives. The many advantages of this include better targeting of cancers, high confidence in dose accuracy, and a significant reduction in the damage of healthy tissue around the cancer. Find out more about TRUEInvivo's commercialisation journey
ScubaTx: expertise in software design to commercialise a proven but unexploited organ preservation technique and in doing so, is able to offer healthcare providers significant net savings, and help clinicians around the world to increase the pool of life-giving organs. Read about its lifesaving innovation
If you are supporting research teams that could potentially benefit from this funding and customer discovery support – please do spread the word and engage those teams within your university.
We encourage applications from all UK universities, particularly from those which have never participated.
How to get engaged
Want to find out more?
We have an informal information event on 10 September, 12.00 – 13.00, online. Register here
There are currently two cohorts open for applications:
SETsquared ICURe:
Cohort 38 is now open for applications until 4 October 2021. Find out more
Midlands ICURe:
Cohort H is open for applications until 27 September. Find out more
Mailing List sign-up
Get all the fresh insights first! Stay up-to-date with all the
latest investment news, blogs and all things SETsquared.
Sign-up
Close